When handbags aren't in use, it can be a pain to store and organize them. However, with proper storage and organization, you can preserve your bag's life and save you money in the long run.
From large handbags to small clutches, try out these simple bag organization ideas to protect your prized possessions!
---
How To Organize Handbags
1. Nest Smaller Bags In Larger Bags
If you own a lot of bags, it can be a challenge to store everything especially when you're working with limited space. To maximise storage space, nest smaller bags into larger bags – for example, you can keep multiple small clutches in a large tote bag.
Not only does this method save space, but it also keeps your bag upright, maintaining its shape and condition!
2. Display Bags On Shelf
Swipe <- or click on image to view gallery
You've spent a hefty sum of money on these handbags. Instead of hiding them in storage, display your prettiest bags on a wall shelf! Alternatively, you can opt for standing racks or bookshelves if you're not a fan of drilling. Not only are you utilising the vertical space at home, but it also keeps your bags visible and accessible.
When organizing bags on a shelf, ensure there's a 1 to 2cm space between each bag to prevent any possible colour transfers. You can use shelf dividers to demarcate a space for each bag while keeping them upright and organized.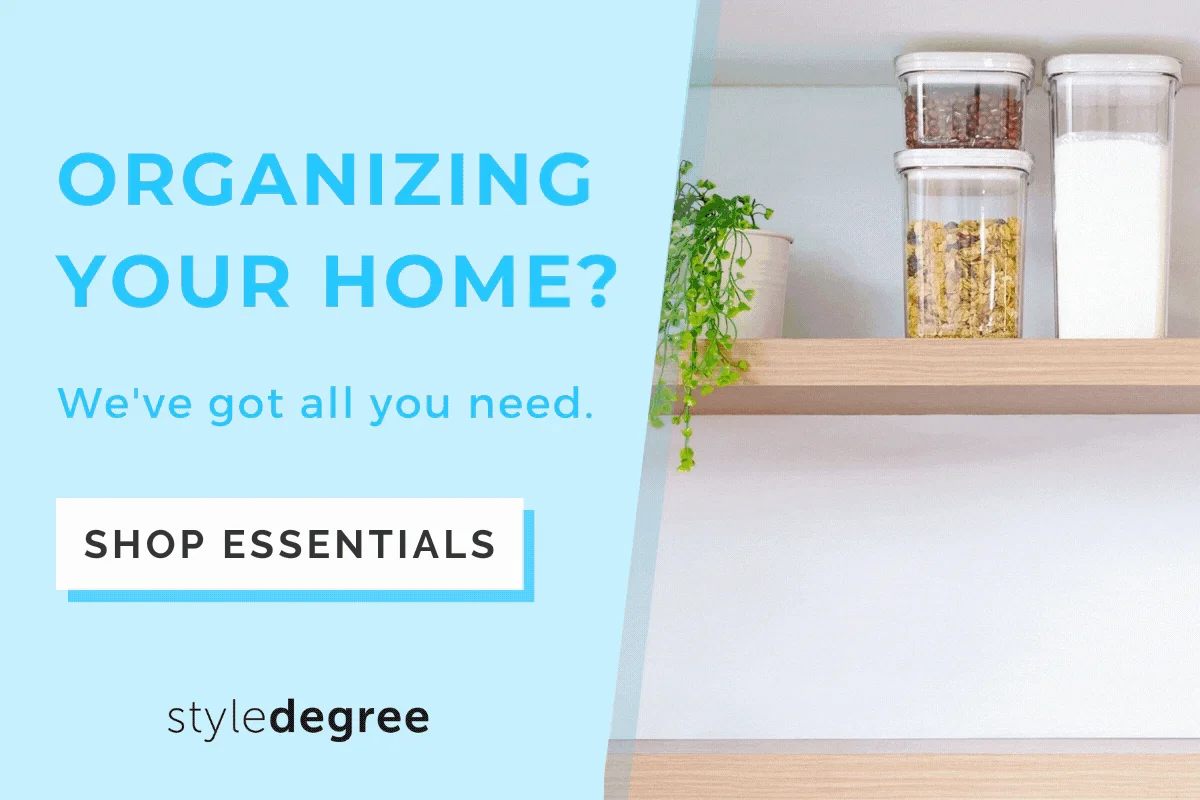 3. Corral Clutches In A Magazine Holder
Magazine holders and storage bins are perfect for storing slim bags and clutches – it keeps everything upright, neat and organized. Consider opting for clear ones so you can easily see what clutches you own to match with your outfit.
Alternatively, you can repurpose a pot & pan organizer rack to neatly file your slim bags and clutches. Say goodbye to misshapen clutches with this storage idea!
---
4. Hang Bags On Hooks
For daily-use handbags, hang them up on a wall hook – it keeps your bags visible and within reach for easy grab-and-go. However, avoid hanging heavier bags as the long-term stress on the straps might cause them to wear out over time.
Tip: If you have kids at home, keep the hooks at their eye level so they can easily hook their backpacks when they come back from school!
Also check out on StyleMag: 15 Space-Efficient & Unique Kids Room Organization Ideas
Another space that's often underutilised is the back of your door. Simply hook an over-the-door hanger to create instant storage space for your bags.
Explore our range of Wall Hanging Holders here!
If you have some extra space to spare in your wardrobe, you can hang your bags using shower curtain rings or S-hooks. Simply attach the rings to the rod and loop your handbag strap over it and you're done.
Tip: Add tension rods to your wardrobe to add storage space without making any permanent adjustments.
Hanging bags from their straps will cause your bags to turn sideways, allowing you to save a ton of wardrobe space too!
5. Use A Handbag Closet Organizer
If you have extra space to spare in your wardrobe, consider organizing your handbags in a handbag closet organizer. It protects your bags from dust and dirt while keeping everything organized and accessible.
Tip: For bags with long straps, tuck them inside for easy storage. If your bag has a metal chain strap, wrap the hardware in a tissue or soft cloth before tucking it in.
---
How To Protect Handbags
Handbags are quite an investment, so it's important to store them properly. With proper care and attention, your bags can be kept in pristine condition for an extended time. No matter what material of bags you own – leather, faux leather, suede, nubuck or fabric, follow these simple tips to ensure the longevity of your bags!
Clean Bags After Use: Care tips vary across different materials, so do double-check before cleaning your bags. For fabric and faux leather handbags, gently wipe the exterior with a damp non-abrasive cloth – keep the cloth moving to avoid creating water spots. As for leather, suede or more delicate fabrics, gently wipe the exterior with a dry paper towel instead.
Tip: For suede bags, give it a brush every 2 weeks or so to remove any dust particles and maintain the soft look of the material.
Stuff Your Bags: To prevent your bag from losing its shape during storage, stuff your bags with old t-shirts, bubble wrap or tissue paper. Ensure that you're not overstuffing the bag as it will cause it to stretch and sag.
Store In Dust Bag: Protect the exterior of designer handbags from light, dust and mould by storing them in a dust bag. If you don't have a dust bag on hand, opt for a soft breathable fabric such as a cotton pillowcase to keep your handbags.
Keep Bags In Dry Condition: Keep your bags in an air-conditioned room as the cool air has less moisture than warm air. Alternatively, place a dehumidifier or silica gels in your bags to reduce the level of humidity in the air and prevent mildew growth.
Tip: Every month, bring your leather handbags out of storage and leave them under the sunlight to kill any mould.
---
Did these ideas inspire you to makeover your handbag collection? Get on your feet and start organizing – you won't feel the benefits of an organized home until you do it!
How do you protect and organize your bags? Let us know in the comments below!