Congratulations on your newly renovated home! Before moving in, it's important to give your new crib a thorough post-renovation clean for a comfortable living experience.
Your renovation contractors may have provided a general cleaning service after renovation, but did you know that there's still a lot of dust circulating the area? If you're lost on where to start cleaning, read on for a guide to deep-cleaning your HDB flat after a renovation!
---
Click on the links below to directly navigate to the different cleaning steps and options!
---
How To Clean Your Home After Renovation
Step 1: Open The Windows To Encourage Ventilation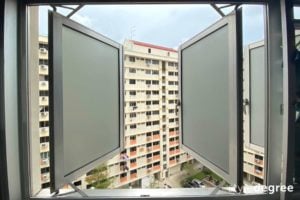 Before you start cleaning your home, make sure to open all the windows. It's a great way to draw the dust out, allow fresh air in and reduce the post-renovation smell. If you have an air purifier at home, switch it on as well to absorb excess dust – inhaling too much dust could cause respiratory problems such as coughing or a runny nose.
Have your cleaning tools and supplies ready at hand by corralling them in a portable caddy or bucket. Some items to include in your cleaning toolkit:
Also check out on StyleMag: 7 Non-Toxic & Natural Cleaning Sprays You Can Easily Make At Home
Step 2: Begin By Dusting All The Surfaces
As tempting as it is to wipe everything down with a damp cloth, avoid doing so until you've conducted a dry clean. Working your way from top to bottom, sweep or vacuum all dust and dirt from the surfaces at home. Here are the surfaces that you should dust:
Step 3: Disinfect The Surfaces
How To Clean Flat Surfaces (Countertops, Cabinets)
After doing a dry clean, thoroughly wipe down the surfaces using a microfiber cloth or mop and disinfectant to remove any dust and dirt. If you prefer using a natural cleaner, create a vinegar solution by mixing 1 part water with 1 part vinegar – the acetic acid in vinegar thoroughly cleans and disinfects the surfaces.
Tip: For cabinets, leave the door open for 10 to 20 minutes after cleaning to encourage airflow and prevent any mould or rust from growing.
How To Clean Mirror & Glass Surfaces
Do you have a mirror feature wall at home? Using a vinegar solution or a glass cleaner, wipe down your mirrors and glass surfaces with a cleaning cloth to eliminate any dirt and dust. Working from top to bottom, wipe the mirror in a tight S-shaped pattern to obtain the cleanest results while eliminating any streaks.
Tip: When cleaning a mirror, spray the cleaning solution on the cleaning cloth instead of directly on the mirror as the soap could seep behind the silver coating and create black tarnish marks.
How To Clean Walls, Ceilings & Wallpapers
To clean the walls and ceilings, dampen a microfiber cloth with dishwashing liquid and water mixture. Wrap the cloth around the broom wiper and tuck it into the holder. Remove all the dust sitting on the walls by pushing the towel firmly against the wall. For those using wallpaper, make sure to scrub lightly to prevent the wallpaper from peeling.
You might need to wipe down your home multiple times over a few days to completely get rid of all the post-renovation dust.
Psst! Check out our Cleaning Accessories for an easy cleaning experience!
Step 4: Clean Air-Conditioner Vents & Kitchen Hoods
When a home renovation is being carried out, dust and dirt particles will inevitably make their way to the vents. Remove the filters from the air-conditioner and kitchen hood and clean them with soap and warm water. Let it fully dry before putting it back.
If the filters are old and dirty, take this opportunity to change them. Ensure that everything is clean to prevent any dust particles from circulating the house.
Also check out on StyleMag: How To Clean Aircon & All Types Of Fans Yourself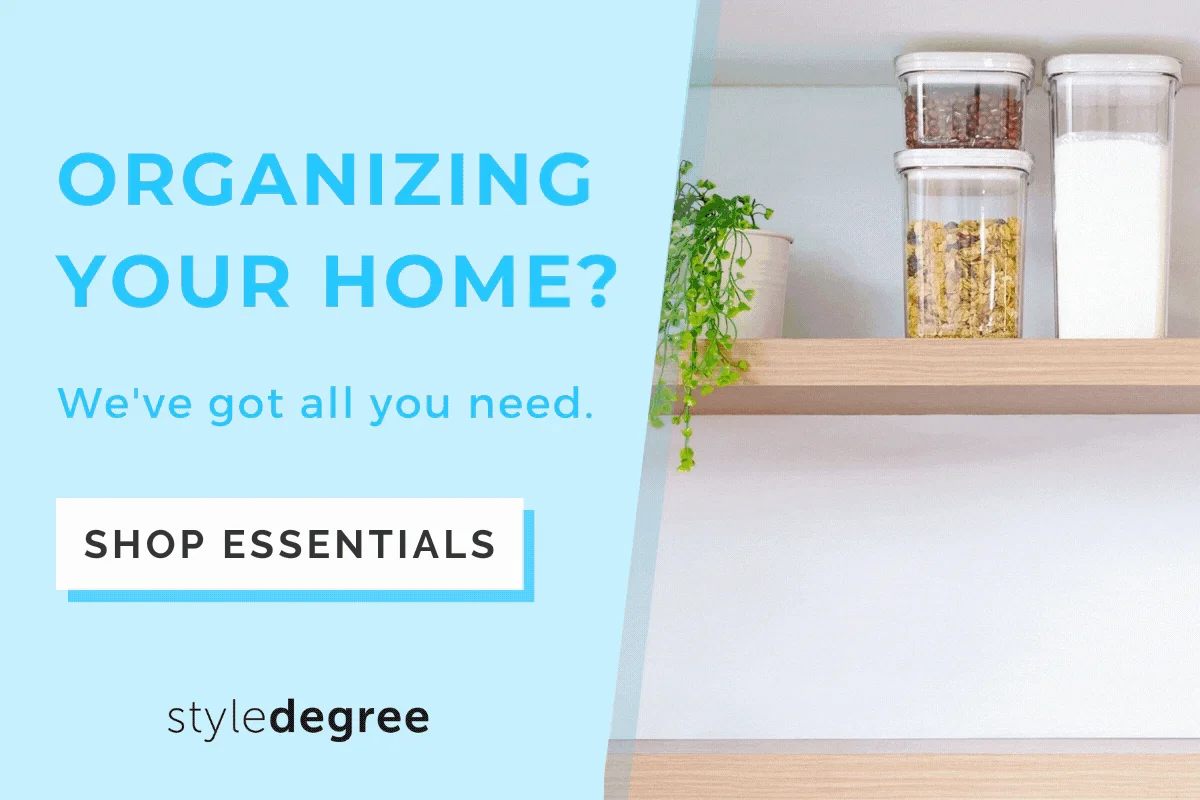 Step 5: Vacuum & Mop Floors
Start by vacuuming the floors to remove any stray hairs and debris – it reduces the risk of scratching floor tiles with fine grains of dust when you're mopping. If there are any larger debris from the construction works, sweep it up with a broom and dustpan before vacuuming.
As for baseboards and ledges, wipe away the dust with a dryer sheet – not only does it effectively collect all the dust, but it also leaves behind a residue that repels dust in the future.
Once your floors are clean, end off your deep-cleaning session by mopping the floors. Be sure to clean even the tightest spaces to ensure there's no hidden dust.
Step 6: Wash & Vacuum Furniture & Soft Furnishings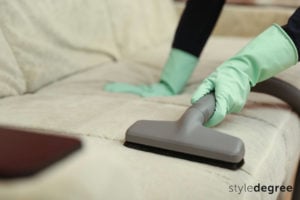 Now that you've vacuumed and mopped the floor, it's time to bring in your furniture. Before you start relaxing on your new sofa or mattress, do take the time to vacuum up all the hidden dust. Change the vacuum attachment as needed to get every single speck of dust out of the crevices.
Similarly, slowly run the vacuum over your newly rolled-out carpet to ensure that it's picking up all the dust particles. 
Dislike the smell of your new sofa or carpet? Sprinkle some baking soda on these items and let them sit for about an hour before vacuuming them away. The baking soda will absorb any chemical odours, leaving your furniture and carpet smelling fresh!
For removable covers and soft furnishings such as pillowcases, bedding, and curtains, give it a good shake outside your home before washing it. This is to ensure that you've completely gotten rid of any dust that might be residing in the furniture. Additionally, these specks of dust can loosen the fabric weave, leading to wear and tear.
---
Hiring Professional Post-Renovation Cleaning
If you find the post-renovation cleanup process to be too taxing to be done alone, consider hiring a professional cleaner to help you clear your space!
There are plenty of local home cleaning services out there such as Helpling, Singapore House Cleaning and Fresh Cleaning. Depending on the size of the house and the customer specifications, prices will range between $140 to $600.
Tip: When looking at the various cleaning packages, it would be advisable to refer to the square feet of your home rather than the type of house! If you are unsure, do contact the cleaning company for a better price estimate.
How Much Does A Professional Post-Renovation Cleaner Cost?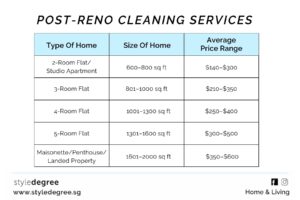 Be sure to inform the cleaning company of the size of your home so they can dispatch the right number of cleaners to get your home clean efficiently. Additionally, let them know exactly which areas you want them to clean so they won't miss out on it.
How To Choose The Right Cleaning Company?
Now, when it comes to choosing the right professional home cleaning service for yourself, do read the online reviews or get referrals from your family and friends. This gives you a better understanding of the company's services.
Another factor to consider before hiring a cleaner would be the company's insurance and policy. Find out if they will cover the costs of any damage, theft or injury that occurs in your home; the company should be able to provide you with a copy of their policies upon request.
Also check out on StyleMag: 10 Home Services Every Homeowner Should Know
---
---
No matter how major or minor your home renovation works are, your home must undergo thorough cleaning to get rid of all dust and dirt. With a clean home, you and your family can live and breathe comfortably in the space.
After undergoing a home renovation, do you prefer cleaning up yourself or hiring a professional cleaner? Let us know in the poll below!
[yop_poll id="8″]
Enjoyed this post? Join us on Instagram @style_degree, Facebook and Telegram @HomeownersSG, where we share the best home organization tips and cleaning hacks!