Picnics are a great way to spend time with your loved ones. To help you plan for a fuss-free picnic day, we've created a complete picnic checklist so you won't forget anything!
P.S Read till the end to download our FREE picnic packing checklist that has interactive checkboxes too!
Aren't sure where you should go for a picnic day out? Check out our StyleMag article 20 Best Picnic Spots For Family & Couples in Singapore to get an idea!
Tip: Choose a picnic location where there's a playground or an open space so your kids can play after their meal!
---
Food, Drinks & Tableware
What's a picnic without delicious food and drinks? You can prepare various dishes such as quiche, pasta, brownies and even fruits! Alternatively, you could order pizza or take-outs for convenience.
If you have children with you, it's advisable to pack finger food such as chicken nuggets, cheese sticks or meatballs. These food items are easy to eat and prepare, and your little ones will less likely make a mess. Click here for more kid-friendly picnic food ideas other than sandwiches!
Picnic basket or bag

Use a thermal insulated

bag

to keep your food items warm.

Picnic mat/blanket

Be sure to bring one that is big enough to fit everyone that's going on the picnic trip.

Disposable plates, bowls and cutlery

Ensure that you pack the necessary quantity depending on the number of people and serving dishes.

Food packed in reusable containers
Bottled or packet drinks

Freeze the bottled drinks and pack them in your bag to avoid diluted drinks. By the time you reach the picnic spot, the drinks would be defrosted and chilled. It also saves you from having to carry an ice pack!

Condiments

Bring along small sachets of condiments from fast food joints for convenience!

Corkscrew or bottle opener
Food sealing clip for the leftover chips
Check out the video below to learn how to properly seal a half-eaten snack bag with a food sealing clip!
How To Keep Food Safe During A Picnic
Store food in proper conditions: For cold food such as chilled salads and sandwiches, wrap them in foil before keeping them in a cooler (75% food, 25% ice) to maintain a safe temperature. As for hot food, do consume it within 2 hours to reduce the risk of food poisoning.
Tip: Save time by preparing chilled food the night before your picnic. However, for cooked/hot food, do prepare it the day of the picnic to maintain the freshness.
Don't let your food sit out: While it's tempting to lay your food out on the mat, it's advisable to leave it in the cooler box and serve it from there. This is to keep your food out of the danger zone (5ºC to 60ºC), where bacteria multiplies best. Remember to keep an eye on the perishable dishes, especially those that contain dairy products!
---
Cleaning Up
While you're at the picnic spot, it's important to keep the space clean after use. The restrooms and dustbins are usually located far away, so remember to pack along with these essentials in your picnic bag.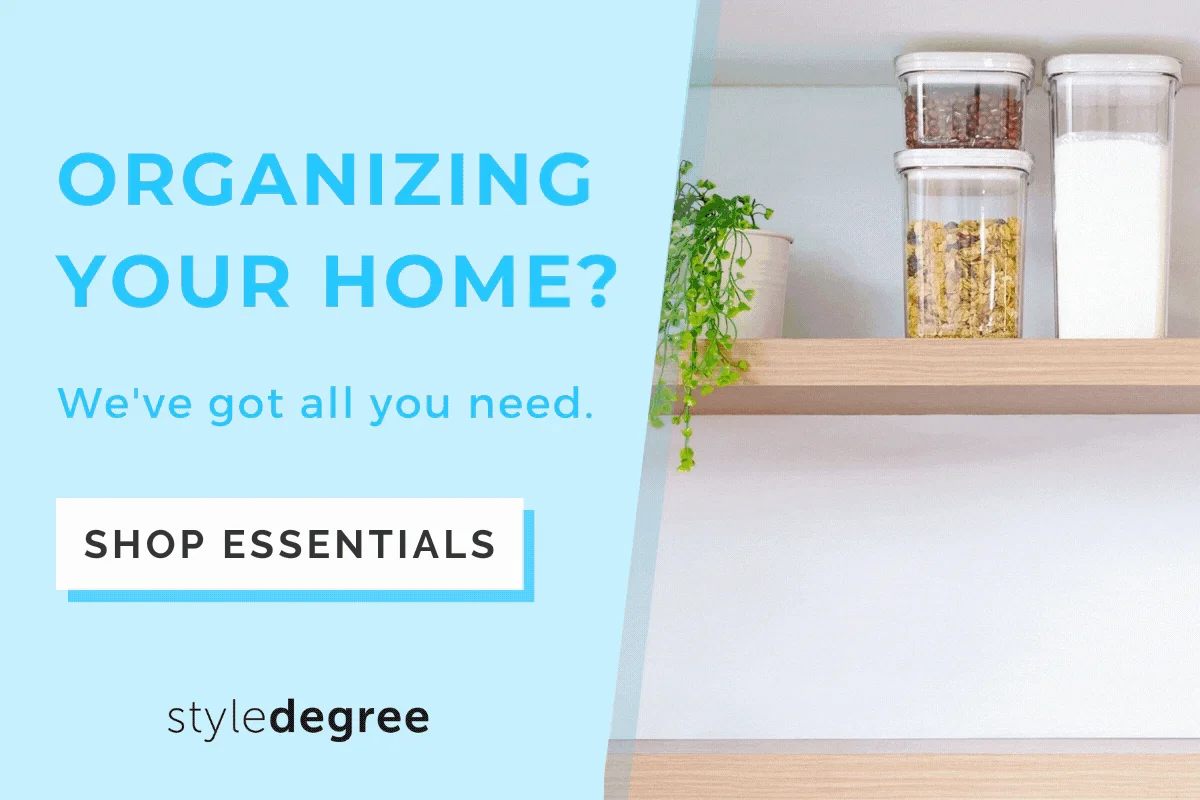 ---
Personal & Hygiene
People often forget to pack these small essentials whenever they're going for a picnic. Stay prepared by storing these items in a pouch to stay safe and prepared for any emergencies!
Note: Remember to observe the Phase 3 restrictions – keep to no more than 8 pax per social gathering and put your masks on whenever you're not consuming food or drinks.
Also check out on StyleMag: Natural & DIY Mosquito Repellents To Keep Dengue Away
---
Miscellaneous
Consider bringing these essentials along with you on your trip for a comfortable and enjoyable picnic experience.
---
Ready for a picnic day out with your family?
Download our FREE interactive PDF checklist here. Do download and save it as a file on your computer or phone for the checkboxes to be interactive!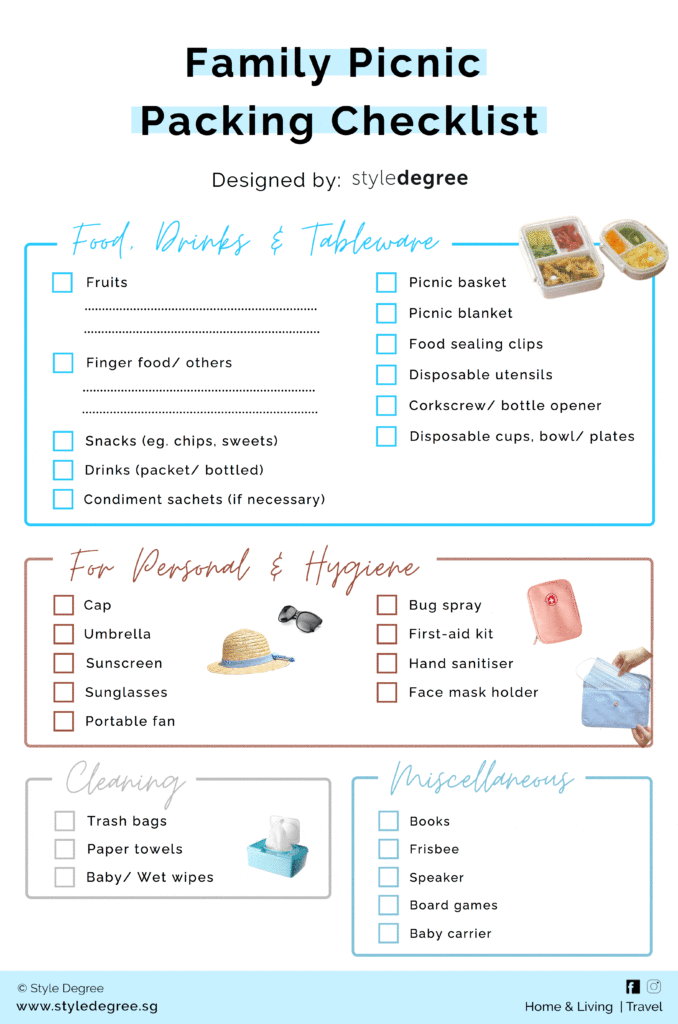 Here are some final tips for you to keep in mind when choosing a picnic spot:
Choose a picnic spot that's located near the restroom so you can easily bring your kids there whenever needed.
Try to find shadier picnic spots; not only does it protect you from the sun, but it helps your ice pack melt at a slower rate.
Check how far the car park is from the picnic spot – if the location is quite far, ensure that you have everything with you so you don't need to go back to the car to retrieve something.
Use this time to bond with your family and have lots of fun 😊 What are your picnic essentials? Let us know in the comments below!