Ft. Staycation & Travel Duffle Bag
With travel restrictions easing up after the COVID pandemic, you may be excited to fly overseas with your friends and family!
Regardless of whether you are travelling to a cold or hot country, we've got you covered with complete packing lists for both weather conditions, plus what to pack in a COVID travel safety kit!
---
Winter Travel Packing List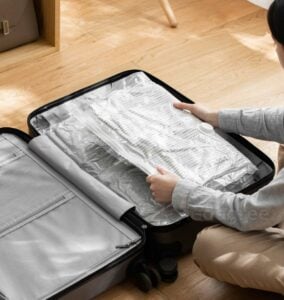 Ft. Clear Vacuum Storage Bags (10pc Set)
Keep yourself warm and well-layered in the cold weather. Be sure to bring enough winter clothes to embrace the weather!
However, with all the bulky coats and winter shoes, it might be hard to fit it all in your luggage. Here are some tips to help you with that:
Plan ahead and pack clothes you can mix and match. More outfit options with less clothes!
For a 7-day trip, stick to a rule of 3-2-1 for winter clothes – 3 tops, 2 bottoms and 1 winter coat or jacket, scarf, hat and gloves.
Invest in packing cubes to compartmentalize and compress your winter clothing.
Instead of packing your scarf, bring it onto the plane and use it as a blanket.
Pack along with our interactive 7-day winter packing list, Download it here. Feel free to adjust the quantity of clothes to your liking, or according to the duration of your trip.
Tip: If it's snowing at your destination, use waterproof luggage to prevent melted snow from seeping through.
Summer Travel Packing List
Ft. Classica Travel Toiletries Organizer
Without having to bring thick and layered clothes that take up a lot of luggage space, packing for a warm country is much simpler.
However, be sure not to fall into the trap of overpacking. You wouldn't want to pay extra just because of overweight luggage, would you?
Here are some tips to prevent overpacking:
Keep things simple by bringing interchangeable pieces such as basic tops.
Follow the "1-2-3-4-5-6" rule if you are determined to bring only one 1 luggage/backpack. 1 hat, 2 pairs of shoes, 3 of pairs pants, 4 shirts, 5 pairs of socks, 6 of pairs underwear are all you need.
Pack a small bottle of laundry detergent with you and wash your clothes in your hotel room's bathroom sink.
When preparing for your trip, check off what you've packed in our interactive summer packing list. Download it here. Adjust the quantity of clothing according to your liking or the duration of your stay.
Tip: Pack along 1 or 2 dresses for dressier occasions, like a fancy lunch or a night out!
---
When you're back from your winter trip, check out our Guide To Folding & Storing Winter Clothes In Your HDB Home on StyleMag!
We wish you a safe and joyful trip with your loved ones!