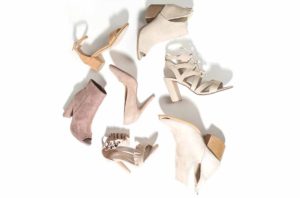 Are you stuck with a pile of shoes and a super disorganized shoe cabinet/rack?
If you are, stay on as we have got 8 nifty shoe organizing and storage tips to transform your shoe collection into an organized mess you will love.
Follow the tips closely and thank us later!
---
1. Try On Shoes With Clothes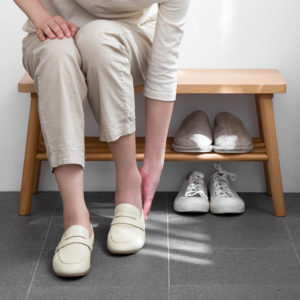 Before you even think about organizing your shoes, you'd need to edit your shoe collection first. Try on your different shoes to see if they still fit. You can try it with your normal day-to-day outfits to see if they match – no point keeping shoes that won't match your style.
Tip: If you aren't sure of what shoes to keep, considering saving your classic-designed shoes that are in neutral colours. These pieces are timeless, so you can never go wrong with it.
For your favourite pair of shoes that are broken and tattered, you can get them fixed at shoe repair shops. However, remember to weigh your options – should you spend a lot of money to repair that shoe or should you just get a new pair? If the repair costs are too much for a pair of shoes, it's time to let it go.
---
2. Consider The 12-Month Rule
To maintain a neat and organized shoe storage system, your shoes mustn't pile up again. Stick to the 12-month rule – if you don't wear that pair of shoes for a year, it's time for you to toss it out or give it a new home by donating!
Greensquare: Drop off shoes that are in wearable condition at any point that is part of Greensquare's list.
Ten Feet Tall: Donate any wearable shoes (both children and adult) at their store located at Holland Road Shopping Centre, 211 Holland Avenue #02-16, Singapore 278967.
MINDS: Place them in the collection bin outside every MINDS shop during operating hours or pass them to the shop's staff. The exception is MINDS Shop [email protected] Healthcare as they don't take in donations.
---
3. Less Is More, Try A Capsule Wardrobe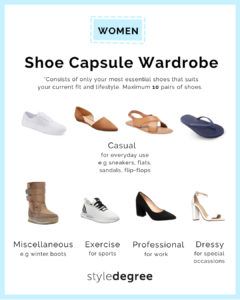 A shoe capsule wardrobe consists of only your most essential shoes that suit your current fit and lifestyle. Having lesser shoes also makes organizing a breeze and you no longer need to spend hours thinking about which shoe to pair with your outfit.
As tempting as it is to buy new shoes, let's be real – you usually gravitate towards the same few pairs of shoes. Pare down your shoe collection and only keep the essentials; you don't need more than 10 shoes in your collection.
Based on your lifestyle, the number of shoes you need per category varies. If you spend a lot of time at work, consider having about 3 to 4 pairs of work shoes.
Here are the categories to consider:
Professional: These are shoes that you wear to work or to an interview. Depending on your job, the type of shoes varies from black pumps to heavy-duty boots.
Casual: This category houses your everyday shoes for going out with your friends or running an errand such as sneakers, flats, flip-flops or sandals.
Dressy: Dressing up for a special occasion? This is the pair of shoes you'll grab for before heading out. More often than not, this category consists of your dressy pair of heels or flats.
Exercise: For the exercise junkies out there, this category holds your running shoes, trainers and various types of sport-related shoes.
Miscellaneous: This is the "catch-all" category for shoes that serve a specific purpose, for example, winter boots for when you're travelling. You can exclude these shoes from your overall shoe count!
---
4. Keep Your Shoes Off The Floor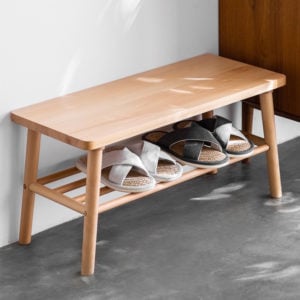 Do you face the problem of cluttered piles of shoes at your entryway? Save your family from tripping over stray shoes by placing a shoe rack or cabinet to keep your shoes neat and organized!
You can also place a bench at the entryway if you have floor space to space – it doubles as shoe storage and a seat for you to put on your shoes.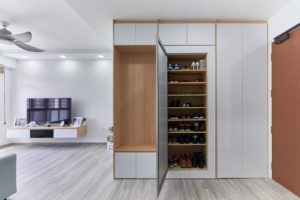 Another alternative would be installing a bomb shelter feature wall with hidden shelves. You can use the space to store shoes – this keeps your shoes accessible while giving you a visual reminder of what shoes you have in your collection.
Also check out on StyleMag: 8 Brilliant HDB Bomb Shelter Ideas To Hide & Utilise It Fully
---
5. Categorise Your Shoes
If you are currently storing new shoes in any space you can find in your shoe cabinets or shoe racks, it is time to change this habit of yours!
Categorising your shoe collection gives you a clearer idea of where to retrieve your shoes when you need them.
Here are some suggestions on how you can group your shoes:
Group by frequency of use (Frequently used, Only for occasions, Weekend staples)
Group by type of shoes (Heels, Flats, Slip-on, Sneakers, Slippers, Sandals)
After deciding how you would like to categorise them, be clear of where to store them. Less-frequently worn shoes can be tucked away in your storerooms, while frequently worn shoes can be kept near your entrance walkway.
Tip: Allocate a designated spot or storage space for every family member and have each person stick to his/her own space when storing shoes.
Also, labelling your shoe cabinets accordingly could help in keeping your family reminded. Avoid having shoes getting mixed up and you having to search high and low for them!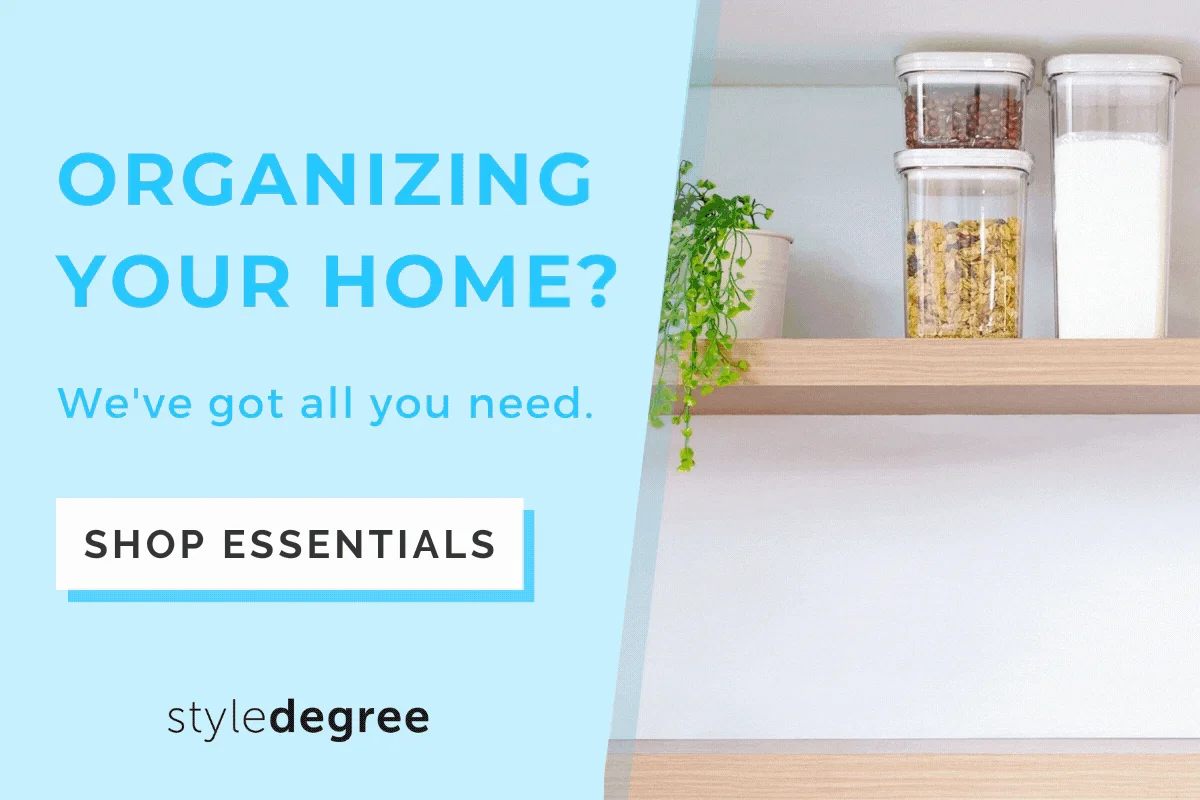 ---
6. Face Shoes In Opposite Directions When Storing In Shoe Bags/Boxes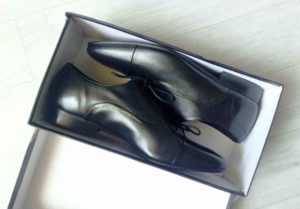 Ever wondered why shoes are always kept in opposite directions in a shoebox? It is because storing them in this position makes the most out of a restricted space.
Storing shoes in a shoebox is great for keeping it dust-free and organized. You can opt for clear stackable shoe boxes – they keep your less frequently worn shoes visible and easily accessible whenever you need them. As these boxes are stackable, you can maximise height space as well!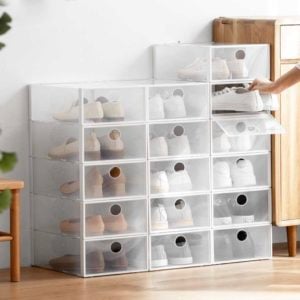 Tip: For easy identification, label your shoe boxes (e.g stick an image of the shoe on the outside) if you prefer storing your shoes in opaque boxes.
This technique of storing is also useful when you are packing for your travels. Keep in mind to position your shoes this way inside shoe bags to maximize space and store even more shoes!
---
7 . Double Up Your Space With Shoe Organizers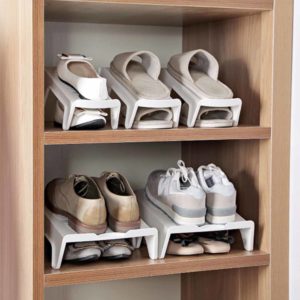 When you're working with tall and deep cabinets, it's important to maximise every inch of the space yet keep your shoes accessible. As introduced in another of our StyleMag articles, the basic principle of storage is utilizing height and reducing bulk.
Utilise shoe organizers such as shoe stackers or shoe organizer trays to double up your shoe storage space instantly.
---
8. Store Shoes In The Correct Environment
Shower your shoes with care by ensuring that they are kept under these conditions:
Cool and dark environment: Ensure that your shoes are not exposed to direct sunlight as it could discolour your shoes.
Dry condition: Before storing your shoes away, make sure it's clean and dry. You can use silica gels, newspaper, or dehumidifier to remove any excess moisture.
Tip: Apply leather conditioners to prevent your leather shoes from cracking and to keep its shine!
---
With the above shoe organizing tips in mind, take a weekend off to spring-clean your shoe collection. Get rid of or donate your unwanted shoes and keep only the ones that spark joy in you.
Share with us how your shoe decluttering and organization session went in the comments below!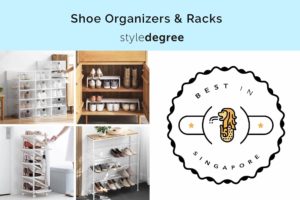 Explore our range of shoe rack organizers for your home and find one that suits your home the most.