Finally booked a part-time cleaner to give your home a much-needed deep cleaning? Before you sit back and relax, take some time to prepare the correct cleaning tools and supplies for your part-timer cleaner.
Follow along with our must-have list of cleaning tools and supplies and download our free downloadable checklist at the end!
---
This post is done in collaboration with Helpling, a digital home concierge service with a vision to provide quality living for everyone through their tech-enabled platform and dedicated home advisors.

They take care of the time-consuming and dreadful household tasks for you so that you can spend time on other things that matter.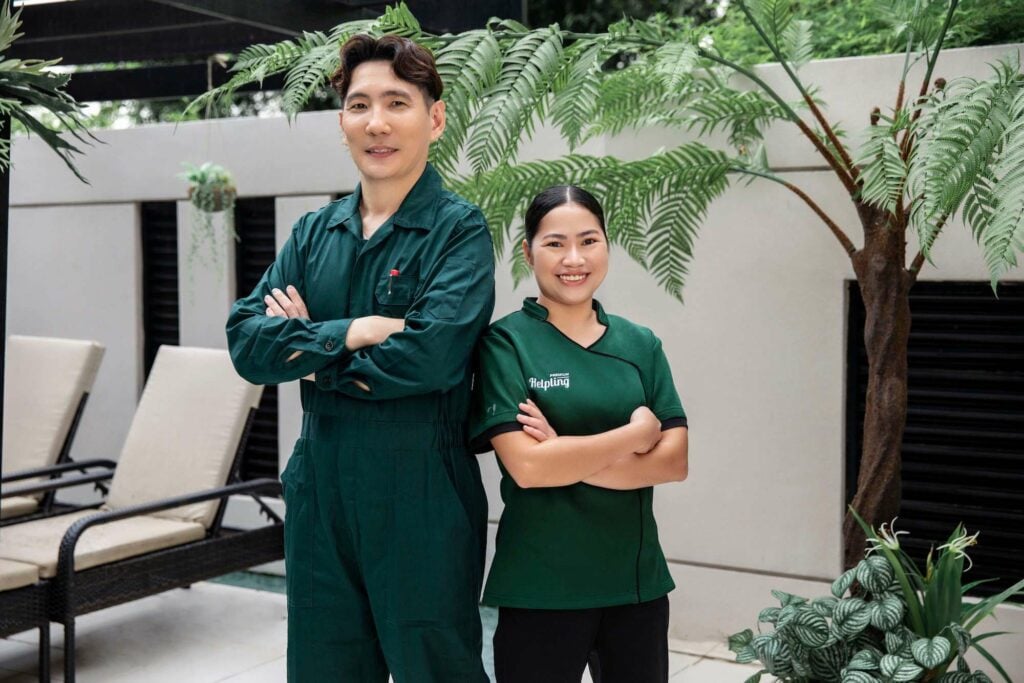 P.S Helpling is giving StyleFans an exclusive $20 off home cleaning and 10% off other services. Read till the end to unlock the offer!
---
General Rules When You Engage A Part-time Cleaner
If there are particular tasks that require prioritisation or are extremely important to you, communicate them to the cleaner at the very beginning. This is to avoid any miscommunication on the expectations required.
Be reasonable on what needs to be done within the hours booked. If there are numerous areas that require deep cleaning, spilt it up into various sessions.
---
For The Entire Home
Basic chores include vacuuming and mopping floors. Sanitising high-touch surfaces such as light switches, door handles, and TV remotes is also important to keep germs away.

If you see dust starting to accumulate on fixtures such as ceiling fans, pendant lights and window blinds, equip the part-timer cleaner with extendable cleaning tools so they wouldn't need to climb to reach.
Cleaning tools required:
Cleaning solutions required:
Floor cleaner (choose solution according to your floor material)
Antibacterial all-purpose surface cleaner
Tip: Store all cleaning tools and products in a dedicated storage caddy for your part-timer helper to carry them around your home easily.
---
For Living Room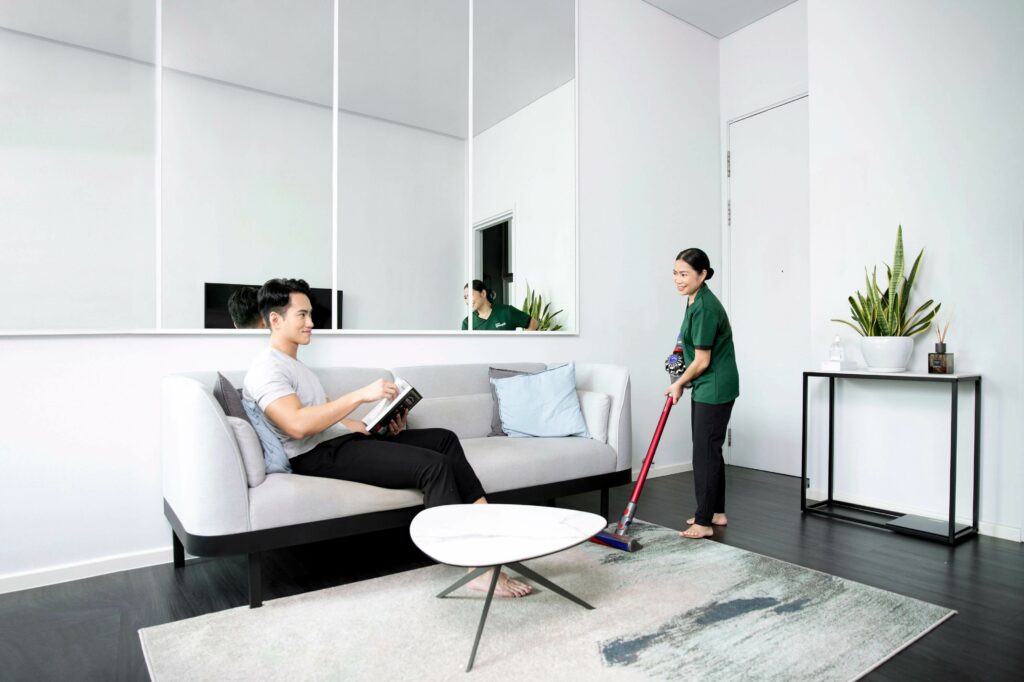 Common cleaning in the living room involves vacuuming upholstery, carpet, and changing cushion cases.
Wiping of furniture surfaces range from the coffee table, entryway cabinet, TV console, and mirrors. You might also require the cleaning of home decor items such as vases, photo frames, and more as dust tend to accumulate overtime.
Tip: If you would like the part-timer cleaner to clean behind bulky furniture such as an entryway console table, do move the furniture slightly forward before the session begins.
Cleaning tools required:
Upholstery cleaning machine
Vacuum cleaner
Cleaning solutions required:
Antibacterial all-purpose surface cleaner
---
For Bathroom
The moist environment in bathrooms makes the occurrence of mold, hard water stains, and mildew extremely prevalent.
Scrubbing of bathroom basin, sink faucet, grout, toilet bowl, and the showerhead is required regularly to get rid of germs and bacteria while keeping their shine. 
Regular cleaning of water stains on mirrors and glass shower screens prevents hard water stains from forming too.
Also check out on StyleMag: 3 Natural Ways To Remove Hard Water Stains From Glass Shower Doors
Cleaning tools required:
Cleaning solutions required:
Toilet bowl cleaner
Tile and grout cleaner
Glass and mirror cleaner
---
For Kitchen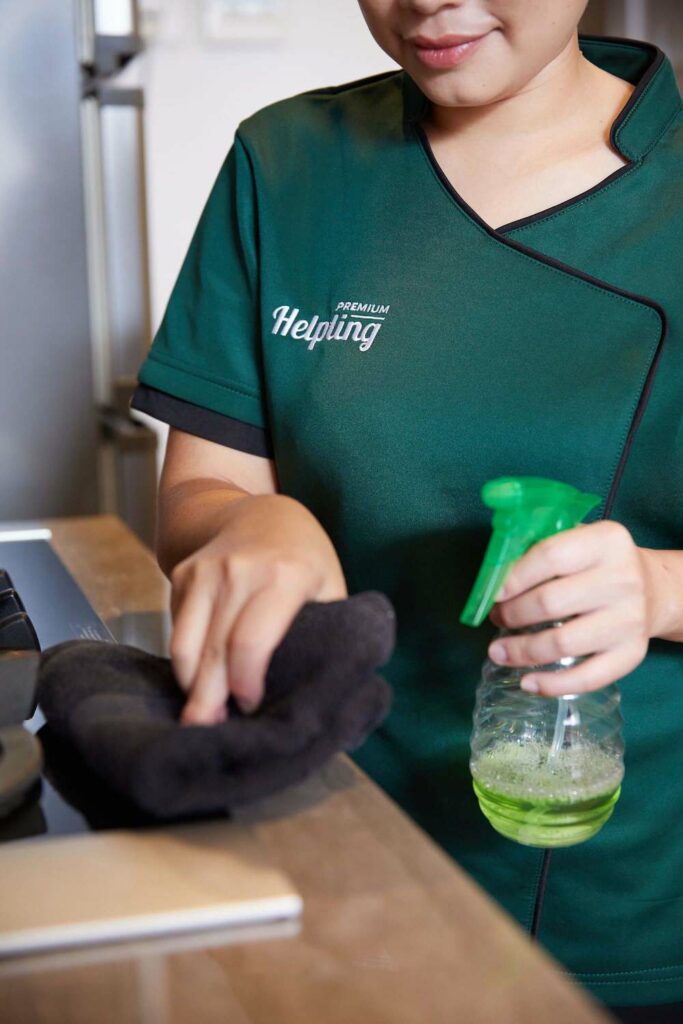 If you adopt daily clean-as-you-go habits when you cook, your part-timer cleaner could simply help you to spot clean appliances (e.g microwave, oven interior, boiler/water dispenser, coffee machine), kitchen accessories (e.g condiment holders, utensils holder, dish rack), and the exterior of kitchen cabinets and fridge.
Other greasy and germy areas include the kitchen hood, stovetops, backsplashes, and kitchen sink. These will require more attention from your part-time helper.
Cleaning tools required:
Cleaning solutions required:
Antibacterial all-purpose cleaner
Stovetop cleaner
Oven cleaner
Stainless steel cleaner or baking soda
Rust and limescale remover
Also check out on StyleMag: These 6 DIY Natural Sprays Are A Must-Have For Your Cleaning Arsenal
---
For Bedroom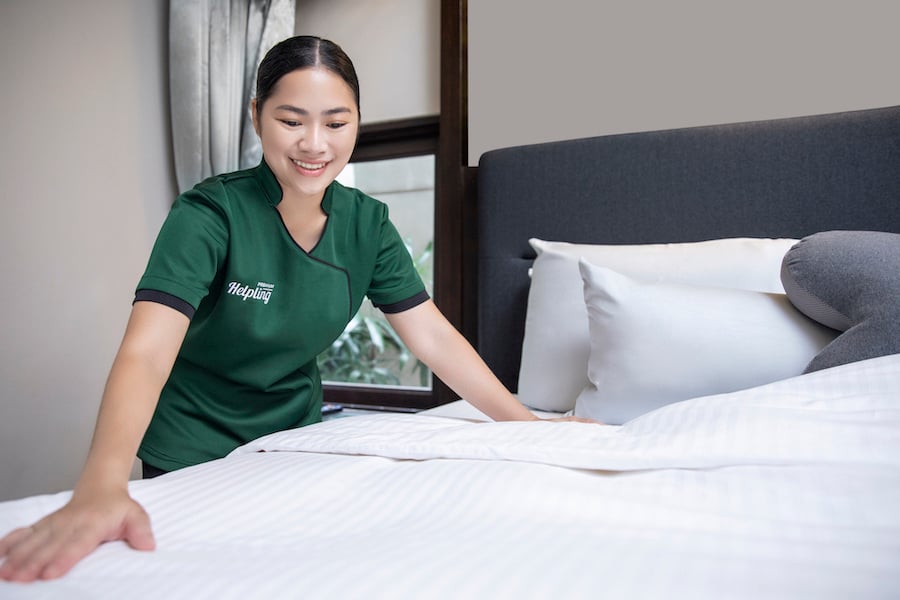 A part-timer helper will often help in changing bed linen weekly.
Communicate to them where to get clean bedsheets, place dirty ones, and if she/he should help run the washing machine for you.
The other cleaning required would be giving your bedside and vanity table a wipe down to remove dirt, dust, and stains.
Cleaning tools required:
Optional: Anti-dust mite mattress vacuum cleaner
Cleaning solutions required:
Antibacterial all-purpose cleaner
---
Free Downloadable Cleaning Supplies Checklist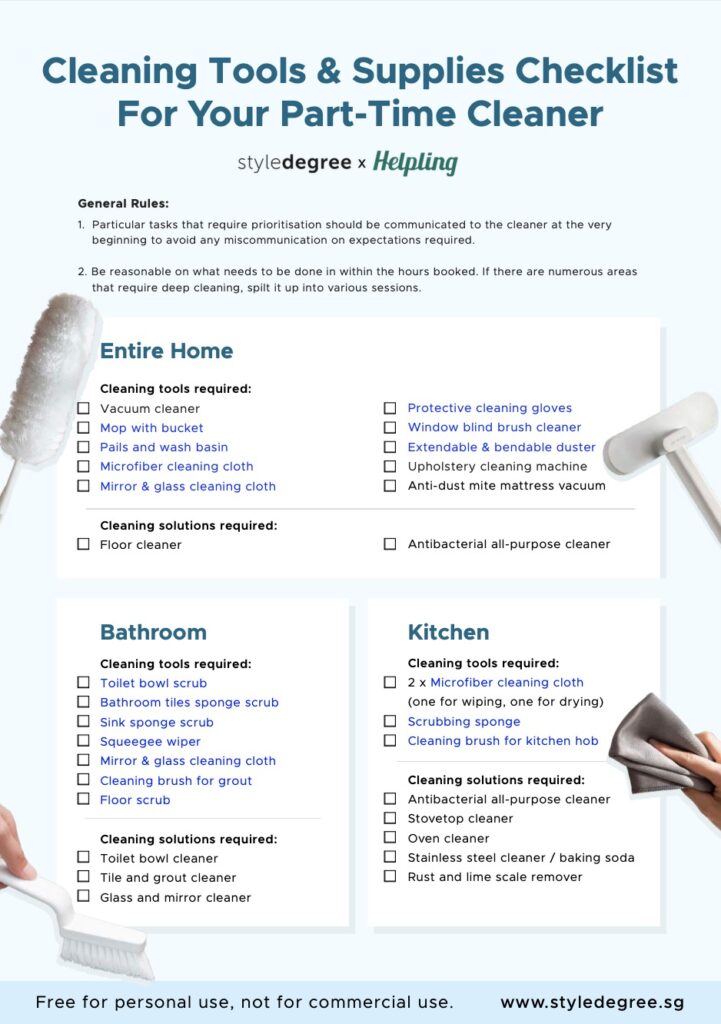 Click here to download our interactive checklist, save it on your phone or print it out.
Save the hassle and get everything you need for your part-timer helper with our Cleaning Gift Set. Find out what is in this comprehensive set here.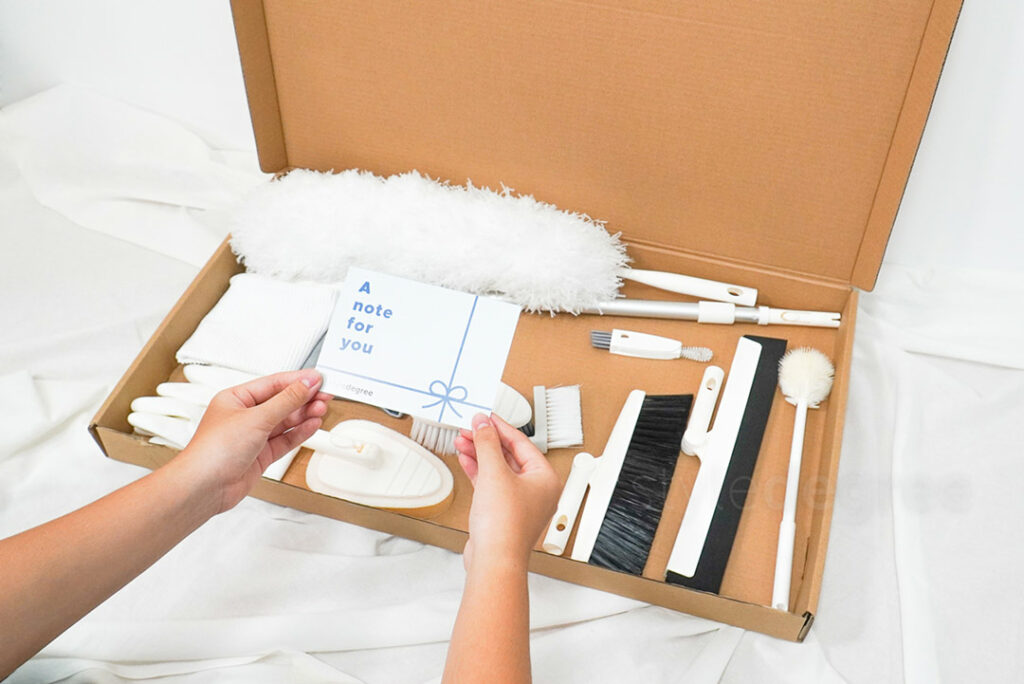 ---
Looking to hire a part-time helper to free up your precious weekend time? Get help with Helpling. Simply download their app (on App Store or Google Play) or head on to their website to enjoy this exclusive discount just for StyleFans!
"HelplingxSD" for $20 off home cleaning (valid for new users only)
"HelplingxSD1" for 10% off all other services such as upholstery cleaning, aircon servicing, home disinfection and more.
T&Cs: General cleaning promo code is only valid for new users. Minimum spending/booking period applies for certain services. This cannot be used in conjunction with any other offer. The voucher amount will be reflected upon checkout. Full T&Cs are available on the website.