Getting your house spotless and presentable for Hari Raya celebrations may sound daunting and draining, especially if you're preparing during fasting month.
Here are some quick tips to pace yourself during the process of doing so:
Don't overexert yourself and take regular breaks in between cleaning
Make cleaning more fun with happy tunes! Check out our upbeat Spotify playlist.
Break big tasks into smaller tasks. For example, instead of cleaning your whole house in one go, assign 1 hour each day to tackle different areas in your home.
To help with your Hari Raya preparation, we have got you covered with a weekly cleaning challenge to get #RayaReadyWithSD!
---
Click to go to the different weekly tasks!
---
Week 1 – Decluttering
Declutter Your Bedroom
To kick off the cleaning challenge, start with where you spend time the most – your bedroom. Go through all your things and sort out what you don't need anymore. You can focus on areas like your wardrobe, drawers and vanity desk to get rid of old items and make space for new ones.
Tip: Switch up the placement of furniture after decluttering! This is an easy way to give your bedroom a simple makeover.
During Ramadan, Muslims practice fasting to empathise with the less fortunate. Another way to do so is to donate your unwanted items to them! With the items you don't need, categorise them into items to donate, sell and discard.
Below are some platforms you can check out to give away your items:
Olio mobile app on Apple and Android: Just like Carousell, but food and household items are given for free. Simply list your items and make arrangements with people who needs them.
GoodHood.SG app on Apple and Android: Reach out and connect with your fellow neighbours who might need some essentials.
Facebook groups in Singapore that help:
Declutter And Clean Your Kitchen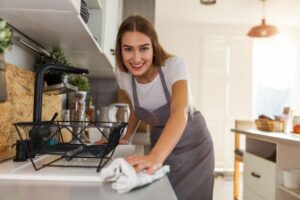 One area of the house that is often overlooked is the refrigerator. Because its doors are always closed, you may not be aware of how dirty the inside is.
Start by clearing out food that has been in the fridge for too long, such as leftover meals and condiment packets from restaurants.
With a damp cloth, wipe off stains and spills on the bottom and sides of jars and bottles.
If you can, remove shelves, containers and drawers and wash them in the sink with dish soap and water.
Clear out that messy kitchen cabinet you've always wanted to deal with! Here are some decluttering tips to get you started:
Relook and remove cutlery, crockery, pots and pans that you have not used for the past year.
Sort through your plastic or glass containers and get rid of old and stained ones.
Donate items that are still in good condition, throw out those that are not.
Maximise space in your cabinet with tiered racks
You should also clean-as-you-go when you cook your Hari Raya delicacies in the kitchen to prevent a mess from piling. For example, wipe down your countertop after using it to prepare ingredients, and wipe oil and food stains off your stove after using it.
Week 2 – Cleaning
Wipe Down Furniture And Mop Floors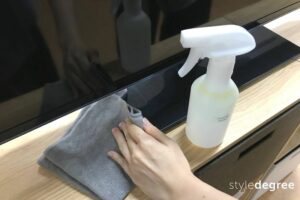 In every house, dust may not be easily seen, but it forms very quickly on exposed surfaces like furniture, tabletops and appliances. The floor also collects dust and other dirt particles daily.
To prepare your house for Raya, you should also focus on dusting exposed surfaces in your house and wiping them down with a damp cloth to get rid of dust. You can also use a dust repellent spray which can be DIY-ed, find out how here!
These are common surfaces you can focus on dusting and wiping down:
Table tops
Shelves
TV screen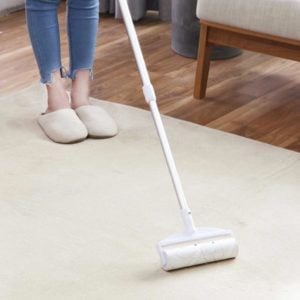 Ft. Extendable Sticky Mop & Lint Roller
For larger pieces of furniture like your sofa and carpets, if you can't get them professionally cleaned, use a vacuum to get dirt out of them, especially in the deep crevices of your couch. You can also use a lint roller on your carpets and sofa to attract dust and dirt.
For your floors, vacuuming or sweeping can be done every few days as there is always bound to be dirt on them, especially in corners. Sanitise your floors to get rid of germs and bacteria by mopping them.
Update Your Living Room
The living room is where your guests will be spending the most time chatting and relaxing in your home! So you should provide them with a clean and refreshing space to give them (and yourself) a great peace of mind.
Here are some ways to update your living room:
Paint over old walls with a fresh coat
Switch your curtains out with new ones
Get your sofa and rug professionally cleaned
Declutter by getting rid of broken or old items (e.g sort through the pile of magazines displayed on your coffee table)
Replace cushion covers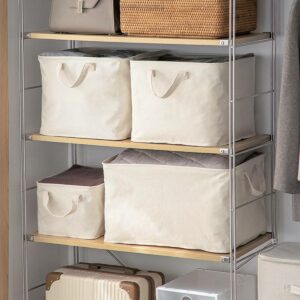 Ft. Canvas Storage Bin (With Handles)
Tip: If you have an open shelf, use matching storage bins or boxes to store your items! This is an easy way to make your shelf look cleaner and more organized.
Clean Windows And Curtains/Blinds
Just like any other glass surface, your windows also tend to form hard water stains from the rain. You can use a normal glass cleaner to get rid of them, but you can also do so with common household products like lemon. Find out more home remedies for water stains on glass surfaces here.
Another area to clean is the small crevices in your windowsill. To reach these narrow areas, our Window Sill & Corners Cleaner can help with sweeping up dust and dirt particles.
If you can't get your curtains washed, simply use a linen duster brush to remove dust and dirt from it. For blinds, you can use our Easy Blinds Cleaner Brush!
Ensure A Clean Guest Bathroom
Ft. Minimalist Toilet Bowl Scrub Wall Holder
Your guests need a space to freshen up every now and then during the celebration. Focus on these areas of the bathroom for a quick and easy cleaning process:
Tidying and wiping down the bathroom countertop
Getting rid of hard water stains on mirrors, glass surfaces and metal surfaces
Cleaning and scrubbing the toilet bowl and sink
Scrub between grout lines of floors and wall tiles
Replace and stock on toilet paper
Make bathroom smell fresh with an air freshener
Also check out on StyleMag: The Ultimate Bathroom Cleaning Checklist (+ Free Printable)
Week 3 – Dazzle With Decor
Give Your Sofa A New Look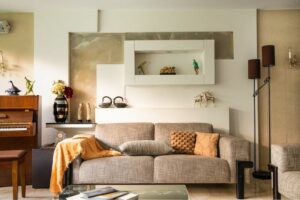 Give your sofa a simple makeover for Raya! Switch out your cushion covers for new ones to fit the Hari Raya theme. If you have throw blankets laying around, layer one or two on the sofa, and voila! An easy and inexpensive way to switch up your sofa's look for the season.
Setting The Dining Table
Ft. Raya Airtight Glass Food Jar, Exquisitely 3-Tier Snack Platter
When decorating the dining table, sometimes less is more. To start, use a tablecloth or table runner to lay on the dining table. You can leave it as it is, or place a few centerpiece items like candles, flowers or lanterns to set the cheerful celebration vibe.
Week 4 – Finishing Touches
Decant Your Snacks Into Jars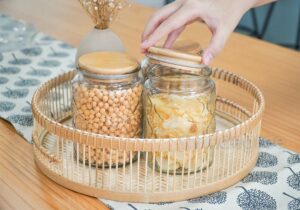 Ft. Raya Airtight Glass Food Jar
Get your Hari Raya goodies ready by decanting them into beautiful, matching jars for an elegant display. Place them on the coffee table in the living room so your guests can easily reach for them to munch on!
Tip: Make sure your guests have access to napkins and a trash can wherever they are enjoying their snacks!
Get Ready For Guests!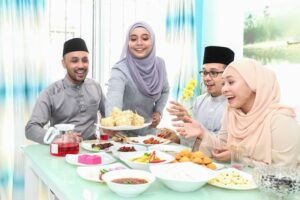 Before your guests come over, set the mood by hanging festive lights and adding more decorative items of your choice, like festive or fairy lights. Do a quick sweep and dust down of furniture and floors, and just make sure your house looks presentable and clean!
Tip: Letting natural light in can make a space look bigger. Using a curtain tieback holder, tie your curtains to let natural light enter, and your house will look bigger than it is!
---
Follow these weekly tasks and your house will be ready for Hari Raya with your loved ones. Here's wishing all our Muslim StyleFans a blessed Ramadan and Hari Raya ahead!