As much as you dread cleaning the bathroom, it's important to maintain its cleanliness as it's the most commonly used room in your home. The damp and humid environment causes mold and mildew to build up easily.
However, this task isn't as daunting as it seems – doing small daily projects will ease the deep-cleaning process. Here's what you can do daily, weekly, monthly, and quarterly to keep your bathroom clean!
Click below to go directly to the specific time frame –
Before you get started, be sure to put together a bathroom cleaning caddy to ease the bathroom cleaning process!
---
Prepare A Bathroom Cleaning Caddy
Gather all your different bathroom cleaning tools and supplies into a caddy or large bucket. This is a neat and handy way for you to transport all your supplies from one place to another. It also saves you the trouble of having to walk back and forth for a new cleaning cloth.
Items to store in bathroom cleaning caddy:
Cleaning agents (e.g. all-purpose spray, glass cleaner)
Baking soda (often used for cleaning tile grouts and clearing drain)
Spray bottle (e.g. create a natural disinfecting spray by mixing 1:1 parts water and vinegar)
Sponge for cleaning sink
Psst! Check out our Pristine Interchangeable Cleaning Series Starter Kit for a seamless cleaning experience!
Also check out on StyleMag: 7 Non-Toxic & Natural Cleaning Sprays You Can Easily Make At Home
---
To help you get started, click here to download our A4 printable bathroom cleaning checklist.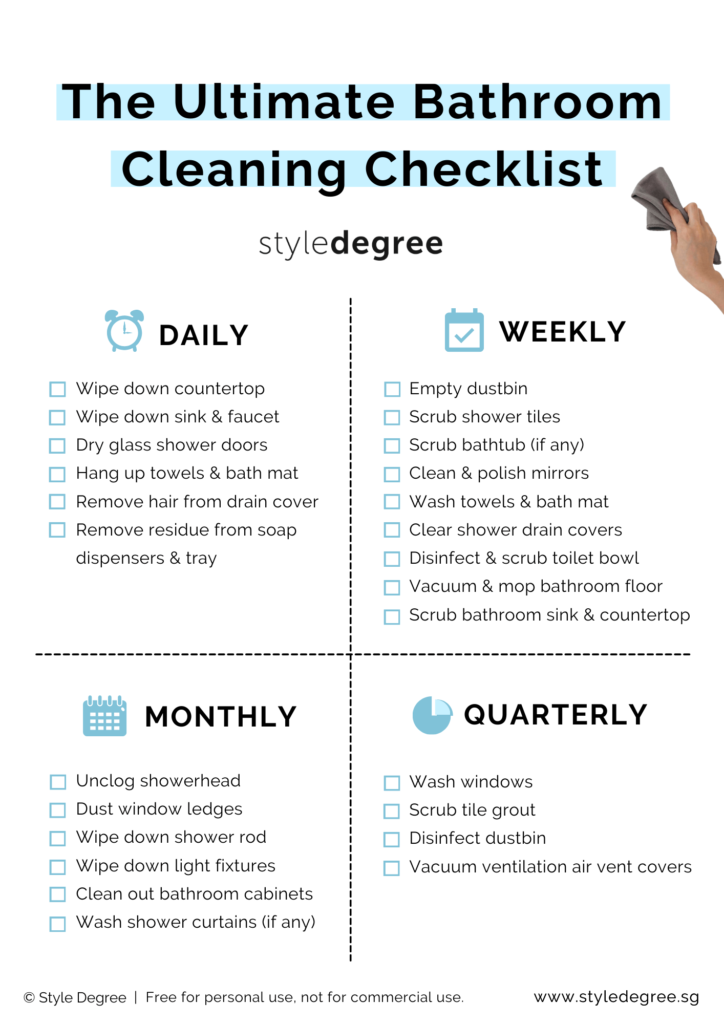 ---
Daily Bathroom Cleaning Checklist
1. Wipe The Faucets & Fixtures
After showering, wipe down your bathroom countertops or vanity, faucets, and sink with a cloth or disinfecting wipe to remove any spills. You can also wipe down the soap dish or soap dispenser to remove any residue.
2. Dry The Shower Tiles & Doors
Using a squeegee/wiper, dry off any excess water from your shower tiles and doors to prevent any soap scum buildup and hard water stains. Leave the shower door open after showering to allow residual water to evaporate away.
Tip: To keep your glass shower doors extra clean, spray your daily shower cleaner (1 cup water, ½ cup vinegar, a few drops of liquid detergent and a few drops of essential oil for a nice scent) and wipe it down with a wiper or microfiber cloth after you shower.
3. Hang Towels & Mats
Having a damp towel and bath mat can lead to the growth of mildew and unwanted microorganisms. Keep them clean by hanging it up on a towel rail or wall hooks to dry after every use.
---
Weekly Bathroom Cleaning Checklist
1. Wash Towels & Bath Mats
The basic rule of thumb is that bathroom mats should be washed at least once a week. If you're sharing the bathroom among multiple people, wash it every 3 to 5 days. For towels, it should be washed twice a week.
Before washing your bath mats, be sure to vacuum them and shake out any loose debris or dust. Do check the care tag of your bathroom mats to see if there are any specific instructions.
Then, toss your towels and machine-washable bath mats (e.g. memory foam, plastic, rubber, cotton, polyester, nylon & chenille) inside the washing machine.
Note: If you're washing memory foam mats, use cold water instead to prevent any damage to the synthetic material.
Run your washing machine on a gentle, warm cycle setting. Fold the bath mats in half and place them into your washing machine together with a few towels to act as scrubbers.
Add gentle laundry detergent. If you're washing a plastic/rubber mat, add ¼ cup of distilled white vinegar to give the mat a thorough cleanse.
Once the cycle is done, air dry your bathroom mats on a drying rack or on a towel bar to let the backside of the mat dry completely. Avoid hanging it under direct sunlight as it could cause your rugs to be discoloured.
For bath mats that aren't machine washable (e.g. natural fiber mats), you can wash them by hand.
Soak it in a large tub of warm water and add a few tablespoons of laundry detergent. Using a protective glove, give this mixture a quick stir.
Dip a scrub or sponge into the mixture and gently scrub away the dirt.
Once you're done, drain the mixture away and rinse the bath mat with cold water.
Psst! Check out our range of Bathroom Mats to keep your feet dry after a shower!
2. Polish Bathroom Mirror
With distilled white vinegar or glass cleaner, wipe down your bathroom mirror with a microfiber cloth to remove dirt and stains. Working in a tight S-motion, start wiping down your mirror from top to bottom to ensure you're cleaning the mirror thoroughly while eliminating any streak marks.
Tip: Don't spray your cleaning solution directly onto your mirror – the cleaning solution could create black tarnish marks if it seeps behind the silver coating.
To prevent your mirrors from fogging up after a hot shower, lather shaving cream on your mirror and wipe it down with a microfiber cloth. Shaving cream contains surfactants – it'll leave an invisible and protective layer that prevents fogging when in contact with moisture in warm air.
3. Rinse The Shower Tiles
The shower tiles should be cleaned weekly to remove any soap scum and mildew that's building up. Spray vinegar solution (mix 1 cup of water with 1 cup of vinegar) on shower tiles and let it sit for 5 to 15 minutes.
Working from the top to bottom, left to right, use an extendable sponge scrub to scrub the shower tiles at the highest point in your bathroom.
4. Clean The Bathtub
Cleaning your bathtub regularly will keep the surface grime at bay and makes deep cleaning easier in the long run. Start by spraying your bathtub with a vinegar solution (1 cup of water and 1 cup of vinegar) and let it sit for 5 to 15 minutes.
Using a microfiber cloth, wipe down your tub. Remember to work from top to bottom, left to right so you won't miss any spots. For soap scums and stains, sprinkle some baking soda and scrub it away with a brush. Rinse the tub thoroughly and wipe it dry.
5. Scrub Bathroom Sink & Countertops
Clear everything from your bathroom countertops. Fill the sink up with hot water and pour 2 cups of white vinegar. Using a microfiber cloth or soft sponge, dip it in the mixture and scrub down your tap and countertops. Wipe it dry with a soft cloth to prevent water spots.
After 10 minutes, drain the water mixture and rinse the sink with water.
6. Clear The Drain
Once you're done cleaning your shower, bathtub and sinks, check if your water is draining properly. If it isn't, it's time to address the problem. Start by removing any clumps of hairs from the drain covers.
Pour ½ cup of baking soda and ½ cup of white distilled vinegar down the drain to loosen the drain clog. Let it sit for a few minutes before flushing it down with hot water to remove all the germs and bacteria.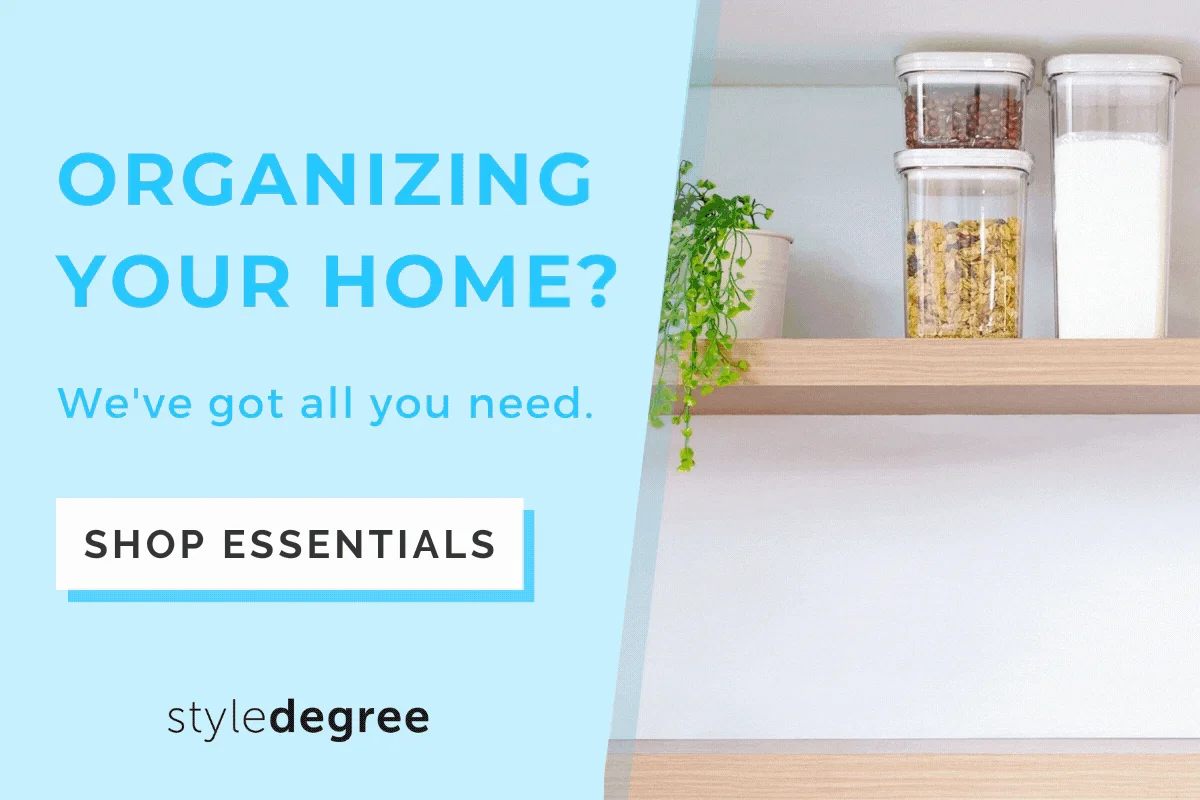 7. Disinfect Toilet Bowl
Toilets should be cleaned at least once a week as it's the most germ-ridden area in your home.
Start by pouring bleach as close to the rim of your toilet bowl as possible to prevent the solution from diluting. Then, spray disinfectant on the exterior of your toilet – flush handle, lid, seats, and tank. Let these solutions sit for a few minutes to let them work their magic.
After a few minutes, wipe down the exterior with a clean cloth. For the toilet bowl, use a toilet brush to scrub from the rim and make your way down to the bottom opening. Make sure to scrub the inside of the bowl well. Close the lid and flush it away.
8. Empty Dustbin
At the end of every week, empty your dustbin and replace it with a new trash bag or liner. You can keep extra trash bags at the bottom of your dustbin for easy replacement.
Shop our range of sleek dustbins here!
9. Vacuum & Mop Bathroom Floor
Clear your floors of any items such as stools or dustbins. Using a sweeper or vacuum, clean up any dust, dirt and hair.
Combine warm water and bathroom cleaner that's suitable for your flooring. Dip the floor scrub in the mixture and start scrubbing your tiles to remove any grime and dirt from the tile surface. Rinse your floors with water and use a mop or floor wiper to remove excess water.
Monthly Bathroom Cleaning Checklist
1. Wash Shower Curtains
The excess moisture in the bathroom makes it an ideal breeding ground for moulds and mildew. Toss your shower curtains and a few bath towels into the washing machine – the bath towels provide the shower curtains extra scrubbing.
Wipe down the shower rod with a disinfecting wipe. Once the shower curtain is clean, hang it back onto the shower rod and let it dry.
2. Dust Light Fixtures & Window Ledges
Using an extendable duster, brush off any accumulated dust on your bathroom light fixtures to the ground. You can also wipe down the light fixture with a damp cloth, just be careful when you're climbing the step ladder or stool.
Don't forget to clean the window ledges of your bathroom as there's a lot of accumulated dust there!
3. Declutter Bathroom Cabinets
Look through your bathroom inventory – beauty supplies, toiletries refill and first aid kit, if you keep it in the bathroom. Dispose of any unused or expired supplies.
Remember to get rid of empty shampoo or shower gel bottles as well. If you're someone who decants their toiletries, it's a good time to check if your bottles need a refill.
Also check out on StyleMag: How To Organize Every Corner Of Your Bathroom
4. Unclog The Showerhead
If you feel like the water flow from your shower head isn't smooth, it's time to unclog it. Submerge your shower head in a plastic bag filled with vinegar. Secure it with a rubber band and let it sit for a few hours.
Note: If you're using brass, gold or nickel-coated shower heads, remove it from the vinegar after 30 minutes. Leaving it for a longer time will damage its finish.
Remove the fixture from the bag and let hot water run for a few minutes to remove any mineral deposits and debris. If you find that there's still debris stuck in there, use a soft brush and scrub the shower holes. You can also use a toothpick to poke out any leftover deposits.
Once you're done, use a dry microfiber cloth and wipe down the surface of the shower head to remove any excess residue.
---
Quarterly Bathroom Cleaning Checklist
1. Vacuum Ventilation Air Vents
There are plenty of benefits to having ventilation air fans in your bathroom – it improves airflow by drawing in fresh air and removing humidity. To ensure that it's running smoothly, vacuum the air ventilation vent covers using a small vacuum brush attachment.
Also check out on StyleMag: How To Design An Easy-To-Clean Kitchen & Bathroom
2. Clean Dustbin
Even if you line your dustbin with every use, it's good to give your dustbin a good cleanse every once in a while. Remove trash and extra liners from the dustbin and fill it up with warm water.
Add a few drops of multi-purpose cleaner or liquid dish soap and let it soak as needed. Using a soft brush, give it a good scrub before draining the water and wiping it dry with a soft cloth.
3. Scrub Tile Grout
Every few months, give your wall tiles a good scrub to remove any dirt and grime buildup. Start by mixing 2 parts baking soda and 1 part water to create a baking soda paste. Apply this paste to your wall or floor tile grout and let it sit for a few minutes.
With an old toothbrush or soft brush, give the grout a good scrub. After that, rinse it off with lukewarm water and wipe it dry with a microfiber cloth or floor wiper.
---
Free Printable Just For You!
Click here to download our free A4 bathroom cleaning printable featuring daily, weekly, monthly and quarterly tasks to help you get started on giving your bathroom a good clean!
What are some of your daily cleaning habits? Let us know in the comments below!