Behind those closed fridge doors…is your fridge currently in a state of mess?
Turn mess into neatness by learning these practical fridge organization tips on how to optimise your fridge space. Get ready to wow your family and friends with a beautifully organized refrigerator the next time they visit!
---
1. Categorise Your Food Items
Store food items of the same category together in an allocated area within your fridge for easy identification of items. After categorising your different food items, think about where you'll place them in your refrigerator.
Different food categories should be stored in different parts of the refrigerator – the upper shelf, middle shelf, bottom shelf, doors and drawers – so it's important to organize it accordingly.
Check out our StyleMag article on The Right Way To Store Food In Your Fridge to learn where you should keep your different food categories for longer shelf life.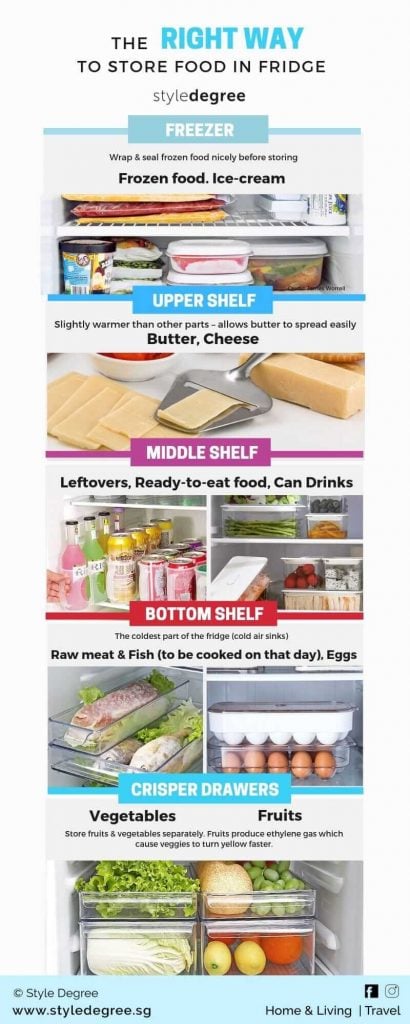 ---
2. Use Clear Organizers For Different Categories
To properly demarcate your fridge space for different categories, utilise clear organizers to separate them. These clear bins create a makeshift drawer, allowing you to retrieve your items stored even at the inner corners of the fridge. No excuses for items being "out of sight, out of mind" anymore!
Here are some tips and ideas on which containers you should use for your different food categories:
Vegetables: To keep your leafy vegetables (e.g: spinach, lettuce) fresh, remove the stem before washing and drying it thoroughly. Store it inside a container – pack it loosely so the vegetables have space to breathe. Packing your greens too tightly would cause them to rot quicker.
Fruits: Do not store fruits and vegetables together – fruits emit ethylene, a ripening agent that could cause your vegetables to prematurely ripen.
Leftovers: Leftovers can be kept for up to 4 days in your refrigerator or 4 months in your freezer. However, if it's stored for too long, your leftovers might lose their flavour.
Opt for reusable food covers instead of cling wraps when wrapping your leftovers. Simply stretch and pull these stretchable silicone covers to fit containers of various shapes and sizes – it prevents leakage so no more dirty fridge trays due to accidental spilling!
Drinks: Easily restock and retrieve can drinks with a handy organizer with pull-out handles!
Meat & Fish: If you're planning to keep your uncured and raw meat for longer than 3 days, be sure to freeze it as it'd help retain the nutrients and keep the food fresh for a longer time.
Garnishes: Don't keep your freshly bought garnishes in the bag as it would cause them to wilt. Instead, store them in a glass of water to prevent it from wilting.
Eggs: Do not store your eggs at the door compartments as the temperature at the door fluctuates the most. To make it last longer, store your eggs in an egg holder box and keep it at the bottom shelf to prolong its freshness.
Sauces & dressings: A lazy susan will save the day to ensure that your jams and sauces are easily retrievable. For your sauces stored at the fridge door, repurpose an egg tray to keep leakages in check and to prevent sauces from toppling over.
For smaller food items such as sauce packets, keep them organized and accessible with fridge hanging holders – simply hook it on the ledge of the door compartments.
Shop our range of Fridge Organizers here to help you keep your fridge neat and tidy so that you will be clear of what's in it!
---
3. Label Containers/Organizers
This keeps you reminded of what you have in your fridge and ensures that new additions are stored properly in an allocated area. At a glance, you will be clear on where to get your items with labelled organizers.
Did you know that you should consume opened milk within 2 to 3 days?
Other than labelling the content of each organizer, it's important that you label the date that you store your food inside your refrigerator. It helps you keep track of whether your food is still safe for consumption after a period of time.
Refer to the table below from Singapore Food Agency (SFA) for the guidelines on how long you can store your food in the refrigerator.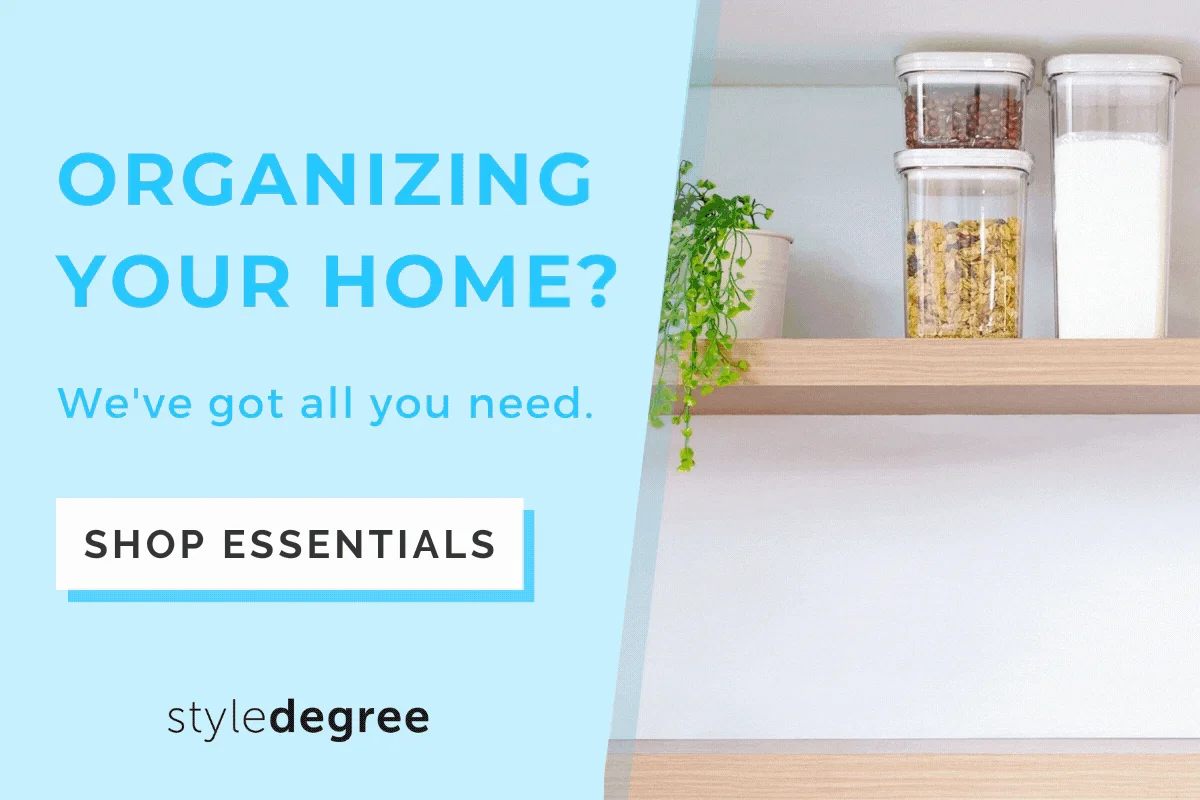 ---
4. Keep Track Of Your Smaller Food Jars
Smaller food items such as peanut butter jars or canned drinks often get pushed to the back of the refrigerator by your bigger food items. You'd have to rummage through all your items to access it, which will then mess up your organized fridge.
In order to maintain an organized fridge, make sure that these food items are easily accessible by placing them on a lazy susan – it keeps them in place so they won't get pushed to the back of your refrigerator and you can easily grab it whenever you need it.
Psst! Check out our range of Lazy Susan to find the one that's perfect for you!
---
5. Declutter Your Fridge Every 3 Months
The first step to kickstart your decluttering session is to empty everything inside your fridge onto your kitchen counter. Discard any expired or rarely used items.
Wipe down the shelves and surfaces with an all-purpose cleaner to get rid of any stains or food spills. After that, add a dehumidifier to remove any excess moisture – too much moisture could cause bacterial growth, causing your fruits and vegetables to spoil faster.
Also check out on StyleMag: Secrets To Keeping Your Fruits & Vegetables Fresh
For ease of cleaning, line your fridge with a paper towel or liner mat. With a removable surface, you can simply remove and rinse it whenever it gets dirty. You wouldn't need to fret about nasty stains or accidental spilling that gets stuck onto your fridge!
---
Unnecessary clutter builds up in your fridge when you simply chuck your food items into whatever space there is left in your fridge. Start by fostering good organization habits mentioned above and you'll feel happier opening up to a neatly arranged fridge!
Watch our Youtube video below to see our fridge containers and organizers in action while learning some useful tips!
Enjoyed this post? Join us on Instagram @style_degree, Facebook and Telegram @HomeownersSG, where we share the best home organization tips and cleaning hacks.