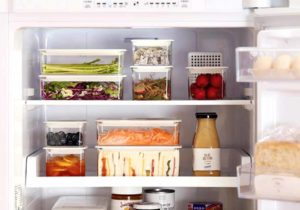 Behind those closed fridge doors…is your fridge currently in a state of mess?
Turn mess into neatness by learning these practical fridge organization tips on how to optimise your fridge space. Get ready to wow your family and friends with a beautifully organized refrigerator the next time they visit!
---
1. Categorise your food items & designate a spot for each category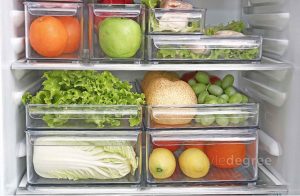 Store food items of the same category together in an allocated area within your fridge for easy identification of items.
Tip: To allow everything in your fridge to be visible at one glance, organize your items in a way such that the taller sauce bottles/spreads are at the back whilst the shorter ones are at the front. This also makes your fridge look neater!
To properly demarcate your fridge space for different categories, utilise clear organizers to separate them.
Our Klear Stackable Fridge Organizer Bins comes with a front handle for easy sliding, allowing you to retrieve your items stored even at the inner corners of the fridge. No excuses for items being "out of sight, out of mind" anymore!
Shop our range of Fridge Organizers here to help you keep your fridge neat and tidy so that you will be clear of what's in it!
---
2. Label your containers/ organizers 
This keeps you reminded on what you have in your fridge and ensures that new additions are stored properly in an allocated area. At a glance, you will be clear on where to get your items with labelled organizers.
Tip: Allocate an organizer/container in your fridge to store all items that are expiring in a week's time to remind yourself to eat them first before anything else! Have a part to play in reducing food wastage while having a little fun to it.
Utilise our "Eat First" and "Leftovers" stickers to do so!
Rather than using plastic cling wraps to wrap around bowls/plates containing your leftover food, switch to using reusable food covers. Simply stretch and pull these stretchable silicone covers to fit containers of various shapes and sizes.
Best of all, it prevents any leakage from happening – no more dirty fridge trays due to accidental spilling!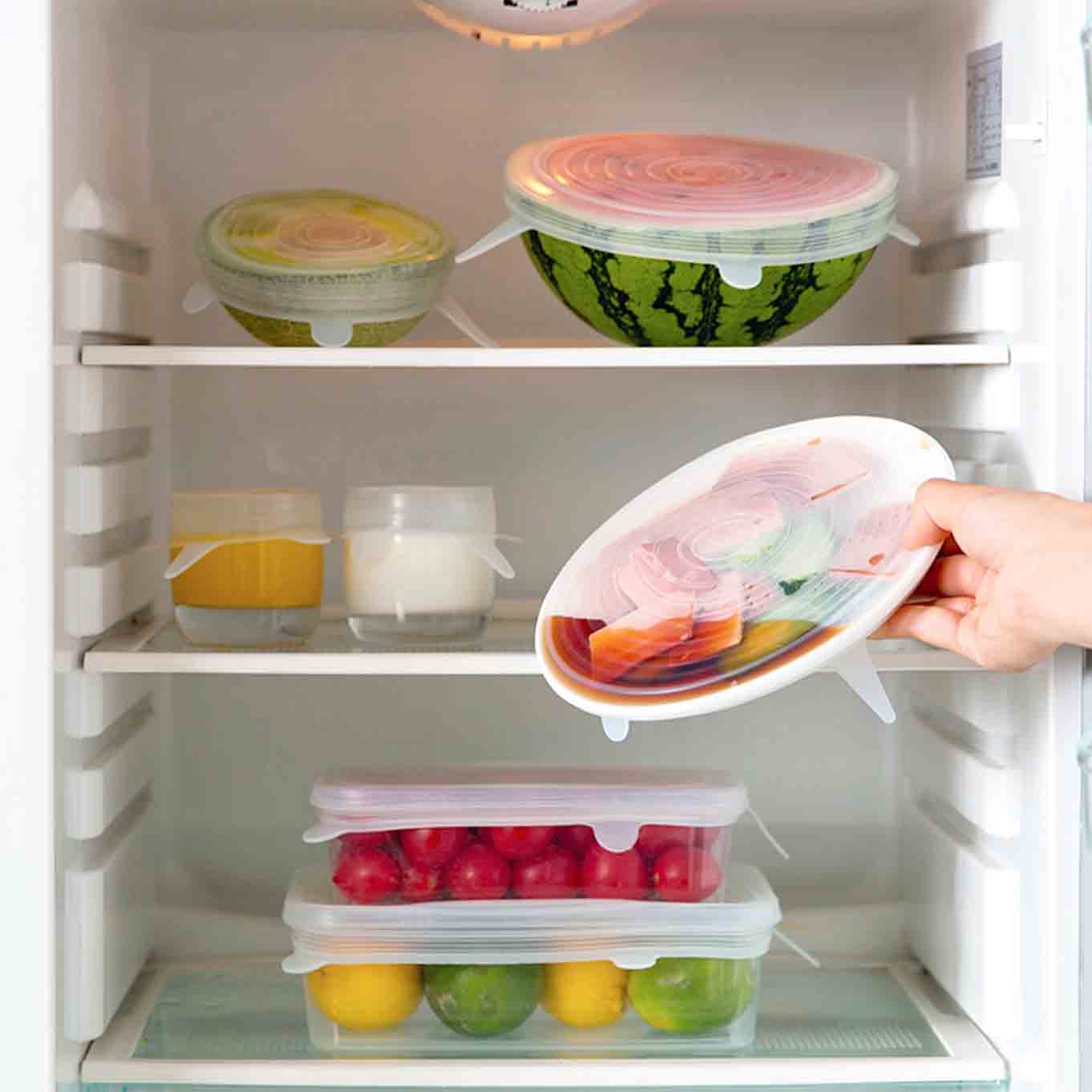 If you are looking to organize items from specific categories as seen below, consider using organizers that are specially designed to store them.
---
3. Establish a fridge decluttering session every 3 months
The first step to kickstart your decluttering session is to empty everything inside your fridge onto your kitchen counter.
Discard any expired or rarely used items.
Do not hoard over a bottle of sauce or spread despite knowing that you won't use it anymore!
For an ease of cleaning, line your fridge with a liner mat. With a removable surface, you can simply remove and rinse it whenever it gets dirty. You wouldn't need to fret about nasty stains or accidental spilling that gets stuck onto your fridge!
---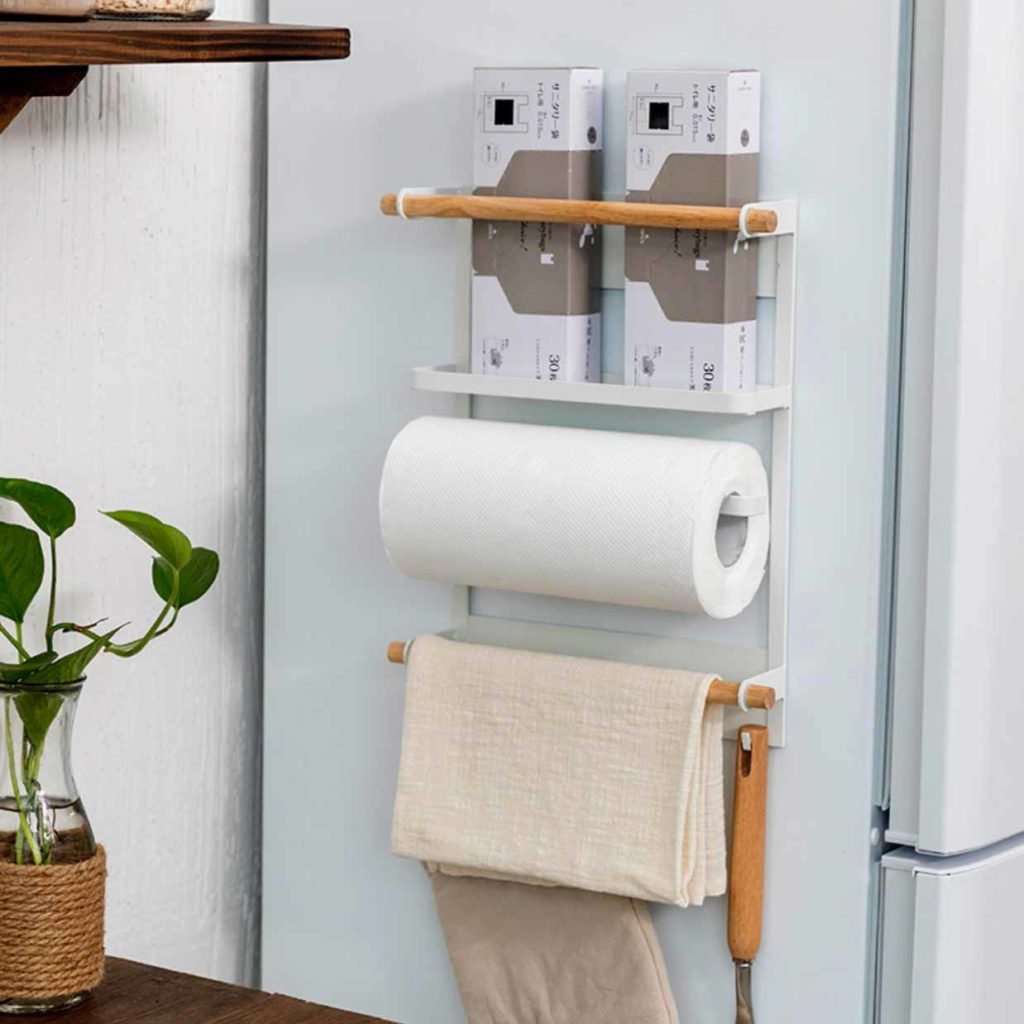 Unnecessary clutter builds up in your fridge when you simply chuck your food items into whatever space there is left in your fridge. Start by foster good organization habits mentioned above and you'll feel happier opening up to a neatly arranged fridge!
Tip: Transform the sides of your fridge into a storage area for your paper towels, cloths, aluminium foil with the help of a handy magnetic fridge holder.
---
Watch our IGTV below to see our fridge containers and organizers in action while learning some useful tips!