In light of COVID-19, restrictions have been put into place to ensure the safety of everyone. Nonetheless, you can still enjoy the festive spirit safely!
If you have guests (maximum 8 unique visitors at one time) visiting your home this Chinese New Year, here are 8 tips for a COVID-safe Chinese New Year celebration!
---
Singapore Phase 3 Rules For Chinese New Year
To prevent a resurgence in the virus transmissions, the Ministry of Health (MOH) announced several restrictions for homeowners and visitors to take note of while celebrating Chinese New Year.
Every household should only receive up to 8 visitors each day.
Limit house visits to maximium 2 households per day. There are no restrictions as to how long you can stay at 1 household, but keep in mind that increased social interactions could increase the risk of infections.
Keep your masks on unless you're eating and drinking. Even when you're visiting homes, wear a mask and maintain a 1-meter safe distance from others.
No shouting or cheering when tossing yusheng. Instead, you can consider using the Lohei app to chant the auspicious sayings.
---
1. Host A Virtual CNY Party
It's highly advised for you to celebrate Chinese New Year virtually instead of going on physical house visits.
Organize a family gathering through video calling apps such as Zoom, Skype or Google Meet. Our Ergonomic Adjustable & Foldable Laptop Stand will provide the best video angle!
P.S Download our Chinese New Year exclusive Zoom virtual background wallpaper here to jazz up your virtual celebration!
Add a special touch by sending Chinese New Year themed invitation cards with the time and date of the call. Gather your family in front of your computer or tablet and celebrate together!
Games To Play Online With Family & Friends
How do you host a fun and engaging virtual party? Other than catching up with each other's lives, consider adding a game segment to keep things interesting! Some of the games you can try out are:
Virtual Bingo: Similar to physical bingo, assign everyone a bingo card, call out the numbers and see who wins! If you'd like, you can even create a custom bingo card ahead of time for your guests.
Charades: It's time to move that body! Using a phone or tablet, hold up the phone against your forehead while your guests give you hints to the answer. The end goal is to answer as many questions correctly as possible.
Skribbl.io: This is a game to test your artistic abilities and it's perfect for playing online with your family. Choose a keyword and draw it out while the rest of your family members try to guess it.
Also check out on StyleMag: 42 FREE Online Courses, Games & Skills To Learn While Staying Home
If you're still planning on having guests over, here are some tips to keep you and your loved ones while celebrating Chinese New Year!
---
2. Provide A Mask Holder & Hand Sanitiser
In view of the COVID-19 Phase 3 rules, everyone will have their masks on even when they're indoor except when they're consuming food and drinks. Provide your guests with a zipper plastic bag or mask holder – it keeps them clean, dry and undamaged for the time being.
It's also advisable to have multiple bottles of hand sanitiser throughout the house. Place a bottle at the entryway so your guests can sanitise their hands immediately upon entry. Otherwise, you can direct them straight to the bathroom so they can wash their hands.
---
3. Ensuring Your Bathroom Is Guest-Ready
Your guests will probably be visiting the bathroom often to wash their hands. Ensure that the hand soap bottles are filled up and toilet paper rolls are well-stocked up. Place hand towels next to your sink so your guests can easily dry their hands. You can also add a dustbin for easy disposal of any waste too, especially for guests with kids.
Note: You can opt for disposable paper towels instead of hand towels – it's the most hygienic method of hand drying. Your guest can easily dispose of it once they're done drying their hands.
Store extra paper towels and toilet paper rolls in visible areas of your bathroom such as the countertop, in an over-the-toilet organizer or on a standing rack so your guests can easily access it.
---
4. Opt For Disposable Dinnerware
Instead of serving with your best chinaware, opt for disposable and eco-friendly dinnerware. Your guests can simply dispose of it in a large trash bag after they're done, making post-cleanup a lot easier for you. It also leaves you plenty of time to interact with your family afterward.
Tip: Prepare a permanent marker or labels so your guests can note down their names on their respective disposable cups or boxed drinks.
If you're serving your food buffet-style or having a steamboat, make sure to have 1 serving spoon per dish to avoid cross-contamination. Check out our range of serving ladles below!
Also check out on StyleMag: The Ultimate Steamboat Ingredients List For A Fuss-Free Reunion Dinner
---
5. Set Up Multiple Dustbins Around The House
When you have guests over at your home, it'd inevitably get messy with food wrappers, tissue papers and food crumbs. Set up multiple dustbins or trash bags in the visible areas of your home – if your guest sees these bins, they'd be more likely to dispose of their trash there instead of leaving it on the coffee table.
Not only does it keep your home neat and tidy, but it also reduces your cleaning workload after your guests leave for the day.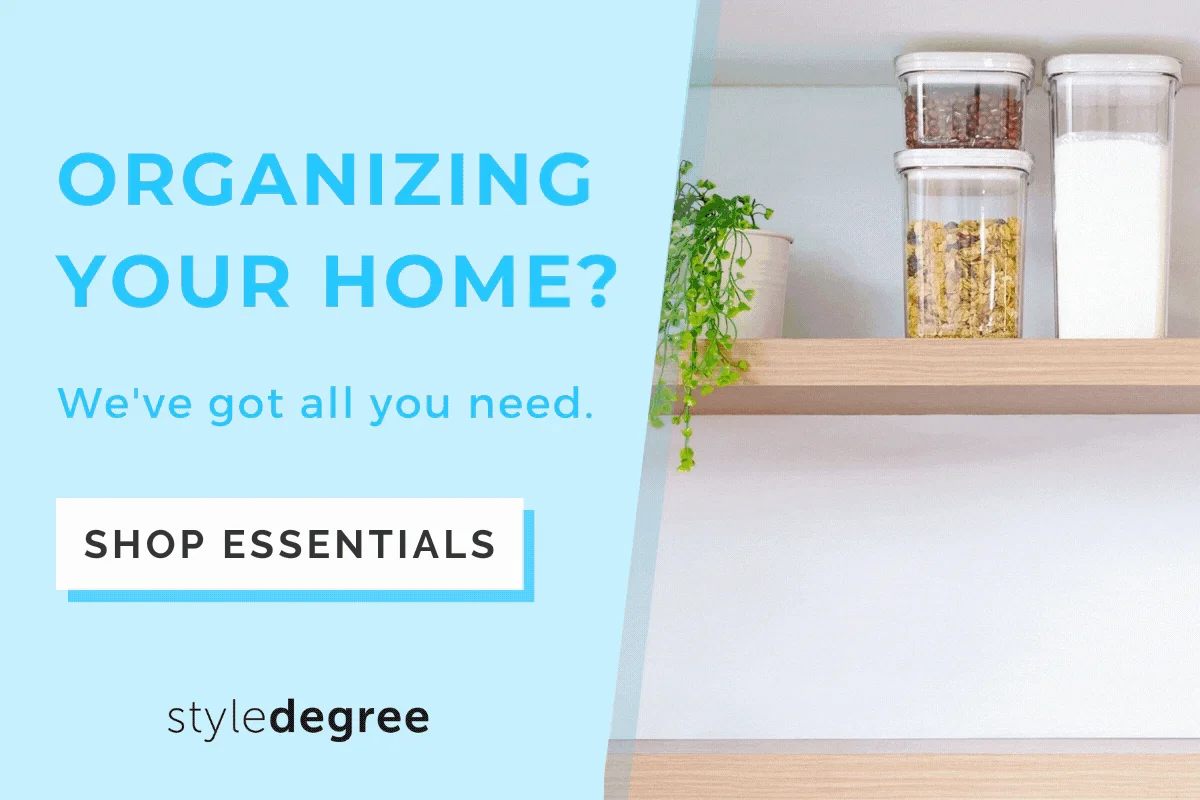 ---
6. Prepare Extra Seats In Your Home
Before your guests arrive, ensure there are sufficient seats so they'll feel welcomed and comfortable upon entry. Keep in mind the 1-meter safe distancing measure – make sure your tables and chairs are well spread throughout your living and dining room.
This is where folding tables and chairs come in – invest in a few stylish foldable furniture and store them away in your storeroom when they're not in use to save space
---
7. Use E-Hongbao Instead
With the world going digital, it is highly encouraged for you to switch to e-hongbao. There are plenty of benefits to using e-hongbao. Not only is it an environmentally-friendly option, but it'll also shorten the queues for new banknotes.
E-hongbao can usually be redeemed by scanning a QR code or via fund transfer. For DBS Bank, you can opt to send money through PayLah! or gift a DBS QR Gift (seen in the image above).
For DBS QR Gift, you can reserve it online by 2 February 2021 and have it delivered to your doorstep by 10 February 2021. Otherwise, you can drop by any Sheng Shiong outlets islandwide between 30 January to 11 February 2021, while stocks last.
Other banks such as OCBC Bank, UOB, Citibank, Standard Chartered Bank and Maybank allow you to send money digitally via PayNow. All you need is their NRIC or mobile number and you can send them e-hongbao. You can type in encouraging messages or choose e-hongbao design or animation (depending on the bank).
Note: Both sender and recipient need to have a PayNow account for this transaction to be successful. You can register for an account with either your NRIC or mobile number.
If you prefer gifting physical hongbao, an online reservation is mandatory in order for you to get the new banknotes. This is an exception to those aged 60 and above, and people with disabilities.
Do check with your respective bank providers for more information!
---
8. Keep Your Home Well-Ventilated
Due to Singapore's hot and humid weather, you'd be tempted to switch on the air-conditioning unit to keep you and your guests cool and comfortable. However, being in an enclosed space could risk spreading the virus.
Opt for fans instead and keep both windows and doors open to ensure that your home is well-ventilated – it reduces the chances of getting infected by the virus.
---
With these tips in mind, have an enjoyable Chinese New Year with your family! It's a rather different celebration as compared to the previous years, so be sure to abide by the Phase 3 guidelines!
Do you have any tips for hosting guests during this pandemic? Let us know in the comments below!