Grease, mold and stained tile grout can be a huge pain to clean. Unfortunately, they feature very commonly in our kitchens and bathrooms.
If you're a new homeowner in the midst of deciding the interior design of your new home or an existing homeowner looking to renovate your home, we'll give you tips on the best kitchen countertop material and tiles to use for your bathroom to design an aesthetically-pleasing yet easy-to-clean kitchen or bathroom!
---
For Your Kitchen
1. Choose countertops wisely
Reduce future stress by installing low maintenance countertop surface options.
Here are three top kitchen countertop surfaces that homeowners love for their easy-to-clean properties!
Quartz (Engineered Stone): A strong, non-porous, stain and scratch resistant material that can be wiped with mild soap and water. However, it can be pricey and discolour under high heat.
KompacPlus: A hardy, stain and scratch resistant non-porous material that you can go for in various designs. Though affordable, it can sustain damage from direct contact with hot items, and discolour under sunlight.
Granite: A popular choice that's not only hardy, but heat and scratch resistant as well. It needs to be sealed at least once a year in order to ensure it remains stain and moisture resistant. Note to never use corrosive vinegar cleaners on the surface as well.
Swipe <- or click on image to view gallery
Note that when choosing your countertop, the fewer elements included on your countertop (e.g. corners, ridges and seams), the better. However, when it comes to a granite or quartz countertop, the nature of the stone-cutting process means seams can be inevitable.
To try and minimise it, discuss the seam layout with your fabricator beforehand and refer to past samples to gauge the quality of their work. In the process, your fabricator should also be lining the veins properly to keep seams as 'invisible' as possible. =
In addition, go for simple, seamless kitchen essentials that are easy to wipe and don't collect as much dust to make cleaning easier. Explore our Capsule Dustproof Series that keeps your kitchenware protected from dust buildup.
2. Install closed kitchen cabinets
Although open-shelving can be very aesthetic, they leave the items on it prone to dust and grease from cooking.
Closed kitchen cabinets help keep all the grime out, and choosing flat-front ones make wiping a whole lot easier! For individuals sensitive about fingerprints, try to avoid high-gloss materials for your kitchen cabinets and pick semi-gloss instead.
Food for thought: The shaker style kitchen cabinets are well-loved by many homeowners as it adds dimension to a kitchen. However, as they come with recessed panels, dust tends to gather at the inner corners.
Within your cabinets, do lay a liner mat within each drawer or shelf to protect the cabinet and make cleanups after messy spills easier. When it's time for cleaning, it can be easily rinsed as well.
3. Go for full-sheet backsplash & flooring
If you're a homecook who's always making yummy dishes in the kitchen, stay away from designs with lots of grout lines (e.g. mosaic or subway tiles), both for your walls and floors. These collect backsplash from food and can be difficult to clean.
Instead, get rid of grout lines completely with full-sheet materials. Try granite, marble, tempered back-painted glass or stainless steel, which can be easily wiped clean with a damp microfiber cloth.
However, if you still prefer kitchen tiles (we know how good it looks too!), one way to protect them and make cleaning easier is to add in a kitchen backsplash protector.
Source for tough and stain-proof materials for flooring. For instance, vinyl is capable of withstanding falling knives or crockery without scratching, and also offers a smooth surface that's resistant to staining and easy to wipe.
4. Have an induction stove
An induction stove completely eliminates the need to scrub grime from grates and hobs. As a plus point, it's really sleek in design too!
To clean it, all you have to do is:
Use a damp sponge to wipe away any spills or buildup.
Pour some commercial cleaner over the surface and rub it in gently.
Wipe off the cleaner with a dry microfiber cloth.
Also check out on StyleMag: Effective Cleaning Tips For 15 Areas Of Your Home
5. Use fridge organizer bins & food containers
Fridge organizer bins make removal of items from the fridge for cleaning more convenient.
It also helps to keep foods separate, as you should do with your fruits and veggies. Fruits give off ethylene gas that can interfere with the ripening patterns of vegetables, resulting in premature rotting. Check if you've accurately separated your fruits and veggies in the infographic below!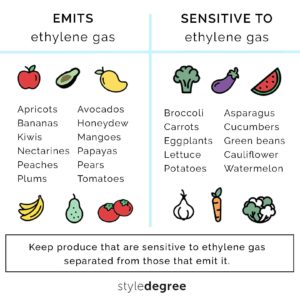 Separate bin storage means even if something goes bad, risk of cross-contamination is reduced and you'll only have to clean the bin the spoiled food was in.
Keep raw foods like meat and seafood in separate food containers as well to prevent spillage of their juices, which can be pesky to scrub.
You can also lay a liner mat on each layer of your fridge. When dirtied, simply remove and wash instead of breaking your back wiping out the fridge!
Explore our range of Fridge Organization Essentials that helps in making that monthly fridge cleanout easy!
---
For Your Bathroom
6. Install a ventilation fan
Accumulation of moisture and stale air in bathrooms often causes mould and mildew formation. Keep the air in your bathroom constantly flowing with a ventilation fan. This eliminates the problem of bacterial and fungal growth entirely for a more hygienic bathroom.
Also check out on StyleMag: 7 Non-Toxic & Natural Cleaning Sprays You Can Easily Make At Home
7. Have a 'back-to-wall' toilet
As always, to keep things easy to clean go for more seamless designs. Modern toilets often rest flush against the wall and are hence called 'back-to-wall' toilets. This means less time spent trying to reach in the tiny spaces behind the toilet unit to try and get things cleaned there.
Alternatively, go for wall-mounted toilet bowls to reduce surface area needed to clean. Pair it with nifty toilet cleaning essentials to help you amp up your cleaning regime. For instance, a wall-mounted toilet bowl scrub for convenient cleaning of your toilet anytime!
8. Install a handshower
Fixed showerheads may look grand and offer a luxurious amount of spray, but they're not of that much use when it comes to cleaning.
Instead, a handshower, also known as a hose shower, will offer you much more flexibility and greater reach. With its detachable head, it'll allow you to reach various tight spots in your bathroom to give them a hosedown.
9. Consider bathroom countertop material & basin selection
A popular choice for a durable and easy maintenance bathroom countertop material would be quartz. They are non-porous and waterproof, preventing dirt and liquid from seeping into it. Simply wipe off any stains easily. Quartz top is also heat resistant, so you'll never have to worry about accidentally causing burn marks with hot hair straighteners again.
To clean your quartz countertop, follow these steps:
Wipe off loose dirt or dust with a clean microfiber cloth.
In a spray bottle, add a small amount (a drop or two) of dish soap to clean water.
Spray the surface and wipe to clean.
Rinse with water and wipe dry with a cloth for a buffed shine.
As a bonus, some tips to help you with basin selection would be to go for options where:
There are less ridges
Water that splashes out can be wiped directly into the sink (e.g. undermount sinks)
The sink is deep and wide to prevent water from splashing out (e.g. vessel sinks)
You might also want to pair your basin with a wall-mounted faucet, which is less obstructive, creating a cleaner look and making wipe downs way easier! However, a con of these taps would be the trickier installation process that goes into it.
Tip: Extend your tap to help younger children wash their hands with a tap and faucet extender.
10. Use larger tiles to reduce tile grout used
Swipe <- or click on image to view gallery
Feeling bummed about having to eliminate tiled designs entirely for cleanliness' sake? Why not come to a compromise by going for large-tiled designs instead. This reduces the tile grout used between each piece and still gives you that sophisticated tiled-look many love!
A natural stone tile can create an earthier feel in your bathroom. It's sealed, leaving it mold, stain and humidity-resistant for easy maintenance.
Glass tile is also a popular choice for how stylish and affordable it is. Best of all, it's strong and non-porous, so you won't have to worry about scratches or grime collection!
Use an extendable sponge to help you easily reach higher portions of walls for a good scrub. Explore our range of Pristine Cleaning Essentials for a seamless cleaning experience.
11. Hang up shower curtains
As elegant-looking as glass shower partitions may be, they can get scummy real fast if you don't give them regular wipe-downs. By contrast, shower curtains and its waterproof liner can be easily washed in the washing machine.
Additional benefits of shower curtains include the extra space it can offer, so you won't have to knock limbs when helping your tot bathe; and flexibility in design, where you can change up your shower curtain anytime you like to create visual warmth or bring a pop of colour to your bathing space.
---
We hope these tips have given you some idea of ways in which you can cut down on time spent cleaning your kitchen and bathroom. Do let us know what tip you'll be trying out at home in the comments below.
P.S Save or pin this handy infographic containing these tips so that you can refer to it easily as you design your home. Follow us on Pinterest here!
Just like you, here at Style Degree we love all things that make cleaning homes a breeze! Check out our range of cleaning essentials to help you achieve a sparkling clean home.
To check out other home interior design ideas, click on the links below!
Enjoyed this post? Join us on Instagram @style_degree, Facebook and Telegram @HomeownersSG, where we share the best home organization tips and cleaning hacks to help you embark on an organized and happier homeowner life! P.S You'll be the first to learn about our latest product launches there as well.