Frustrated over the lack of space in your tiny bathroom or simply can't stand the mess inside your bathroom cabinets?
Learn how to maximise your bathroom space while keeping bath essentials neat at every corner. We have split the bathroom into 5 corners – behind the door, bathroom countertop, bathroom cabinets, shower/ bathtub area and toilet area – to help you have a smooth bathroom organization journey.
---
Click on the links below to go directly to the different parts of the toilet:
---
Behind The Door
Use Over-The-Door Hangers
If you have a small bathroom, utilising every inch of the space wisely is important. Do not overlook the back of your bathroom door as an organizing space!
With just a simple addition of a rear door hanger, your door instantaneously becomes a handy space to hang your towels and clothes.
---
Bathroom Countertop
Hang A Hand Towel
To keep your countertop and floor dry, have a designated hand drying area for your family and guests to dry their hands. It prevents any excess water from dripping all over your bathroom, keeping it hygienic.
Shop our range of absorbent Hand Towels here!
Swipe <- or click on image to view gallery
You can hang up your hand towels using a wall hook and attach it next to your sink area. If you have bathroom cabinets with long handles, you can loop the hand towels over it.
If you have children at home, consider adding a tap extender so they'll have an easier time washing their hands after using the bathroom. It also prevents water splashes, so there'll be no water puddles on your countertops!
Keep Toiletries On A Rack
The sink area is often where things start getting messy and cluttered.
Follow these 3 steps to reduce clutter:
Discard any toiletries that you have not used at all for the past month – be strict about this and purge anything that you no longer use!
Sort the others according to types (e.g body wash, shampoos, facial wash)
Arrange them into standing racks
Alternatively, you could also use a rotating multi-tiered organizer to hold your different bathroom essentials.
Browse our range of Standing Racks here.
Use Trays For Smaller Items
For your smaller miscellaneous items such as cotton buds and nail clippers, store them in a tray on your countertop. Everyday facial products such as facial cleansers and toners can be placed in these trays as well. It keeps them looking neat and organized instead of a cluttered pile of items.
If you have any old jam jars lying around, repurpose it to store your cotton buds and cotton pads. Label it accordingly and place it on your bathroom countertop – it'll give your bathroom an exquisite look.
Tip: Add an aromatic reed diffuser and/or a small potted plant on your bathroom countertop. It purifies and creates better air quality by removing various air pollutants.
Utilise Wall Space For Storage
Toiletries
For toiletries such as toothbrushes and toothpaste, mounting them onto the wall saves space and provides convenience. Use a toothbrush and toothpaste holder – the built-in toothpaste dispenser will help you dispense toothpaste without making a mess!
To keep your bar soap from slipping or glueing itself to the sink, you can place it on a soap wall holder. It improves reachability and saves you countertop space, especially if your bathroom doesn't come with a countertop.
Grooming Supplies
If blow-drying your hair is part of your daily habit, a smart move is to hang it on your wall with a hair dryer wall holder. It makes your hair dryer easily retrievable and keeps your wires untangled!
For your shavers and razors, store them in a basket and place them near the electrical plug. Extra razor blades should be kept away from the bathroom as the warm and moist bathroom environment would cause it to rust.
Also check out on StyleMag: 15 Best Space-Saving Home Interior Ideas To Maximise Space
---
Bathroom Cabinets
Demarcate Drawer Space With Dividers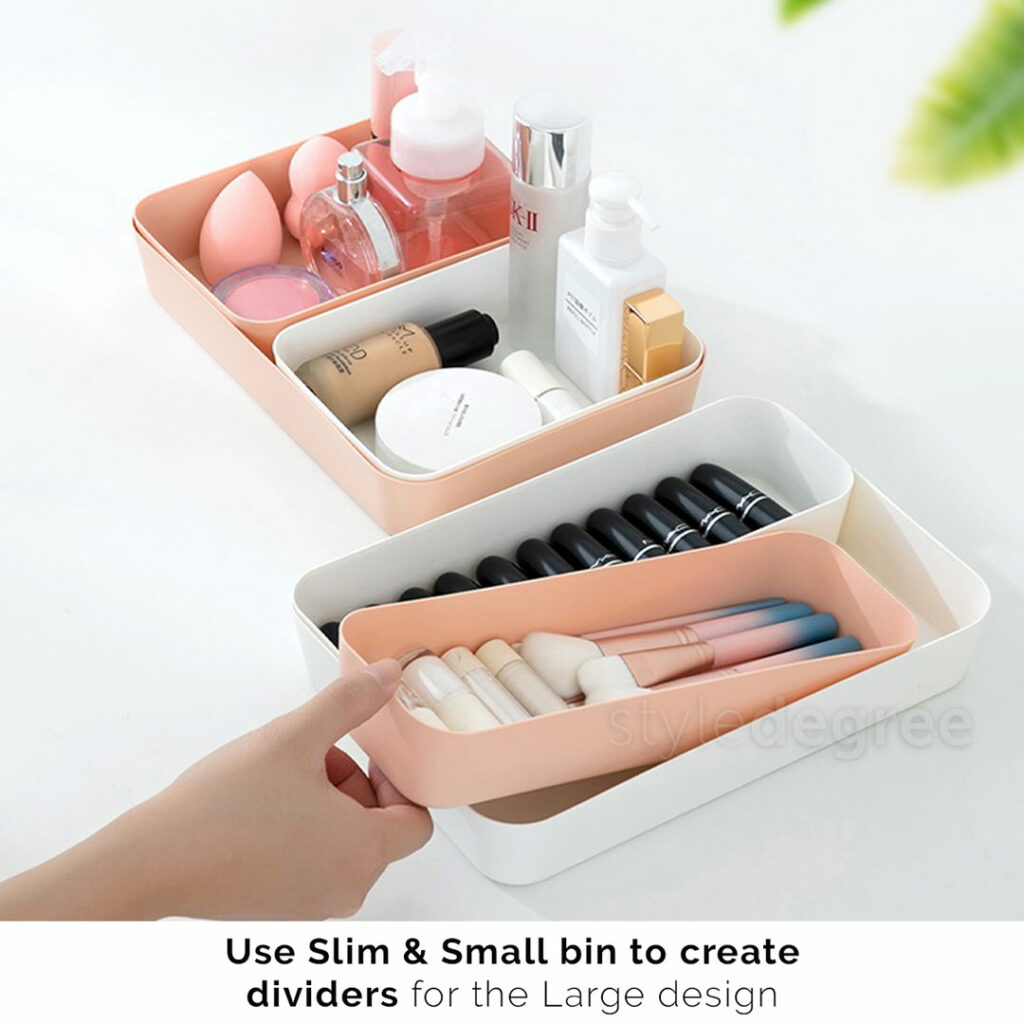 For your bathroom cabinet drawers, organize your toiletries and essentials with a drawer organizer. These organizers divide up your bathroom drawer space for the different essentials so you can easily locate them when you need it.
Alternatively, upcycle old food containers or food tins (e.g mooncake tins) to make your own drawer divider.
Create a Pull-Out Drawer System
If your bathroom cabinet only has shelves, consider using bins or organizers as a pull-out drawer. Corral your toiletries or cleaning supplies in these bins, label them and slide them into your cabinet shelf for easy access to items at the back of your shelf.
You can also use a lazy susan as an alternative to a pull-out bin. Store your spare toiletries in it and simply turn to grab what you need. You'll no longer lose products at the back of your cabinets.
Check out our range of Lazy Susans to see which one is perfect for your needs!
For the higher shelves, you can store your extra toiletries such as shower gel refills and additional toothpaste tubes. For your lower shelves, you can consider storing your first-aid kit or toilet cleaning supplies.
Do not store medications in your bathroom – the warm and moist environment would reduce the potency of your medicines. Check out our StyleMag article on Storing & Organizing Your Medicines The Right Way At Home.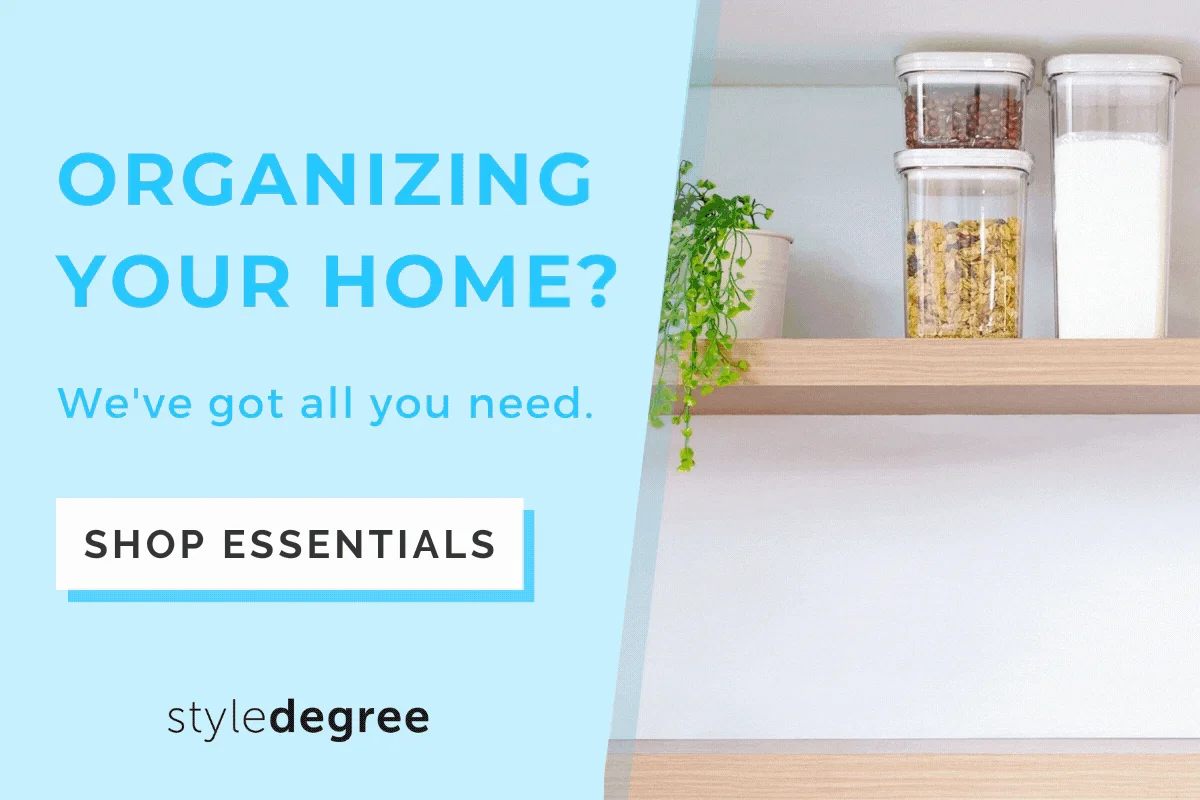 Maximise Shelf Height Space With Dividers
For bathroom cabinets with taller shelves, you can add a rack organizer or an extendable shelf divider to double up space you're working with. Place your bins at the bottom and top so you can easily slide it in and out of your cabinet.
Alternatively, you could use a 2-tiered under-sink organizer or a sliding wall storage holder to fully maximise the vertical space in your bathroom cabinet. You can corral your toiletries or cleaning supplies in there and have them at easy access whenever you need it.
---
Shower/Bathtub Area
Keep Towel Bar Close To Shower
A simple rule of thumb is to keep your towel rail next to the sink or any bath fixtures in your bathroom. You're usually soaking wet after a nice shower, so it's ideal to have your towels within arm's reach.
Towel Bars vs Towel Hooks
Hanging your towels on towel bars allows it to dry faster but it takes up more space as compared to a towel hook.
If you have a smaller bathroom that is shared among your family members, you can opt for towel hooks instead as they save a lot of space. Install multiple hooks so that nobody uses the wrong towel.
Tip: Towels are top breeding spots for germs, so make sure to wash your bath towels after 3 uses and your face towels after every use to get rid of dead skin cells and bacteria.
Store Bathing Supplies On Wall
If your shower area does not come with built-in shelves, wall holders or shelves come in extra handy to store and organize your bathing essentials such as shower gel and shampoo neatly.
Tip: Only keep what is necessary for your daily bath routine to avoid building up clutter.
You can also make use of your wall space to hang up your children's bath toys such as rubber duckies. Corral all their toys inside a mesh laundry bag and hang them from a wall hook. This method allows their bath toys to easily drip dry and reduces the clutter along the ledge of your bathtub.
Reduce Visual Clutter
Having mismatched bottles creates visual clutter in your bathroom. Consider decanting your shower essentials in matching bottles for a streamlined and sleek look. You can add labels as well so you'll know the contents of each bottle!
Alternatively, you could also use a shower dispenser to store your bathing supplies.
Suspend Bathing Supplies From Bath Rods
Swipe <- or click on image to view gallery
Do you lack storage space in your bathroom? Use hanging clips to hang your personal care essentials such as facial wash – simply hang these clips over a tension rod or shower curtain rod.
It keeps your products dry and easily retrievable.
Add A Standing Rack
If you aren't a fan of hanging items on your walls, you can opt for a bathroom standing rack! Utilise racks that feature drainage pores in each layer – you won't have to worry about water accumulating on these shelves.
---
Toilet Area
Over-The-Toilet Storage
No matter how small your bathroom might be, there's always space for you to organize your items. A space that is often overlooked in your bathroom is the space above your toilet.
Place an over-the-toilet storage organizer to display your plants or store extra toiletries – shampoo bottles, shower gels and extra toilet rolls. You can also install wall baskets, shelves or towel racks above your toilet to store your towels and other essentials.
Attach Cleaning Supplies To Walls
It is important to keep things clean and hygienic around the toilet area to prevent bacteria from breeding. Store your weekly cleaning tools within reach without taking up any bathroom space with a wall holder that has it all!
Cleaning tip: If you are looking for a natural stain remover to replace your existing one, consider using vinegar or Coca-Cola. Pour them on the rims of the toilet bowl and let it sit for at least an hour before scrubbing it. It is advisable to clean your toilet at least once a week to prevent bacteria growth.
---
With these tips in mind, start organizing every part of your bathroom today! Establish a bathroom decluttering session once in a while to get rid of unused toiletries that take up precious storage space in your bathroom.
Explore our range of Bathroom Essentials here.
Enjoyed this post? Join us on Instagram @style_degree, Facebook and Telegram @HomeownersSG, where we share the best home organization tips and cleaning hacks.