Ft. Adjustable Drawer Divider Organizer
If you have a messy and disordered kitchen that frustrates you everytime you enter – it might be time to declutter and organize it! Read on to find simple kitchen organization and storage ideas that will help you get started instantly.
---
1. Free Up Counter Space With Hooks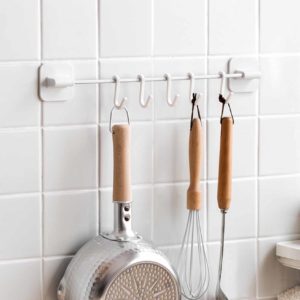 Small yet powerful, hooks are kitchen tools that come in very handy whenever you need an extra storage. Use them to hang cooking utensils and cleaning cloths!
Organization guru Marie Kondo suggests that one should design kitchen storage with the aim of "putting nothing on the counters or around the sink and stove top" as it makes your kitchen easy to use.
More counter space is available for you to prepare the cooking ingredients you'll need without feeling restricted!
Also check out on StyleMag: Incredible Ways To Maximise Kitchen Counter Space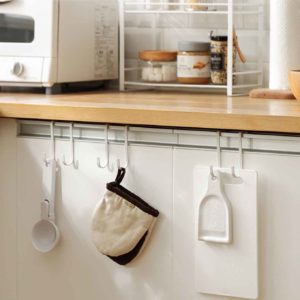 Ft. Cabinet Hanging Hooks (2pc Set)
Hang hooks over your kitchen cabinet doors if your wall has limited space. To hide them and save space, you can hang them inside your cabinets too!
2. Maximize Kitchen Cabinet Space By Stacking Smartly
After getting their kitchen design sorted out, most homeowners don't realise how high/tall their kitchen cabinets are.
Cleverly utilize vertical space in your kitchen cabinets with the help of an extendable rack. Storing kitchenware in this manner makes retrieving them much simpler. We know the struggle homeowners face, trying hard to 'pull' out a plate from a wobbling stack!
If you feel that storing frequently-used pots and pans on your countertop is easier than drawing them out from your kitchen cabinets, make full use of your corners too with a corner rack organizer.
3. File Pots & Pans Upright In Kitchen Cabinets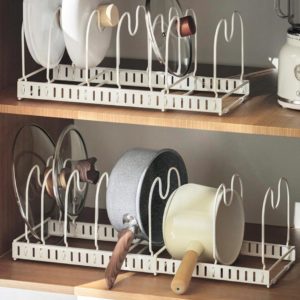 Ft. Extendable Pots & Pans Adjustable Rack
Pots and pans piled on top of each other in your kitchen cabinet? File them upright with a rack to grab them effortlessly when you cook.
Need other tips for organizing pots and pans? Watch how we organized them here!
4. Use Clear Storage Containers In The Pantry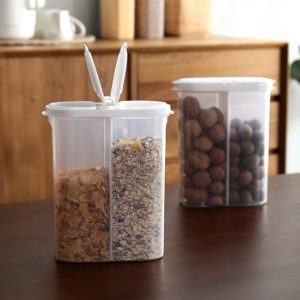 Rather than using rubber bands to tie up half-used packaged food, airtight food storage containers provide greater convenience and ease of use. This will keep dry goods fresh and away from pesky ants!
Especially if you have open shelves, using clear containers will allow you to see all your cereal, grains and baking goods at a glance. Put back stock in storage bins and boxes and store them away into a kitchen cabinet.
Tip: Label containers with the contents inside as well as their expiry date for easy reference.
Also check out on StyleMag: A Guide To Decanting & Storing Pantry Dry Food
5. Make Fridge Items More Accessible
Ft. Klear Stackable Fridge Organizer Bins
Feel stressed every time you open your chaotic fridge? With clear bins, you can find everything you need at a glance and see what needs to be restocked when you head to the supermarket. Prevent mixing up your produce, drinks and snacks by compartmentalizing them too!
Oftentimes, you end up with expired sauces and tubs in the back of your fridge. Tackle this by utilising a lazy susan turntable to make sauce jars more accessible. Simply turn and grab what you need!
Also check out on StyleMag: Best Ways To Use A Lazy Susan Turntable At Home
6. Tidy Up Drawers With Organizers
Shallow Drawers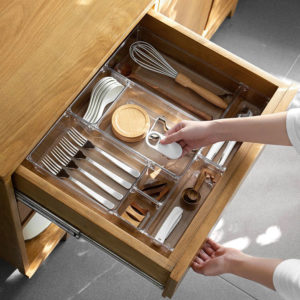 Ft. Clarity Customisable Drawer Organizer
If you're sick of digging through your drawers for utensils, invest in drawer organizers to compartmentalize your kitchen needs! Available in different sizes, create and customise your own configuration of organizers according to your drawer.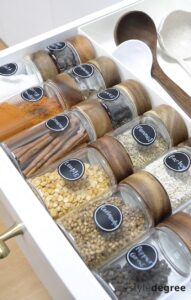 Ft. Scandinavian Mini Herb & Condiments Containers
Tip: Clear countertop space by storing herb and spice jars in drawers too!
Deep Drawers
Ft. Adjustable Drawer Divider Organizer
Use deeper drawers to store bulkier items like dinnerware, bulky utensils or backstorage of essentials such as paper towels. To keep them organized, allocate spaces for storing different items and use adjustable drawer dividers. Line your drawers with a liner mat to prevent items from sliding around.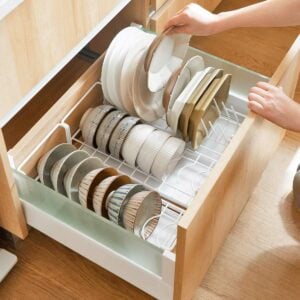 Ft. Grande Slim Plates & Bowls Cabinet Organizer
With deep drawers, you can file dinnerware upright too for easy retrieval!
7. Don't Forget The Undersink Area!
The dark area under your sink is always overlooked, and that shouldn't be the case. Utilise the space to store cleaning supplies, tools and backstock.
You can use the dead space between pipes with tension rods and storage bins and store supplies such as sponges and scrubs! Check out what else we used to organize our undersink area in the video above.
---
Whilst a kitchen can get messy after cooking, start by cultivating the habit of putting back dinnerware, ingredients, and kitchen tools to their rightful position after use.
Check out our whole collection of kitchen organizers for storage and organization here.