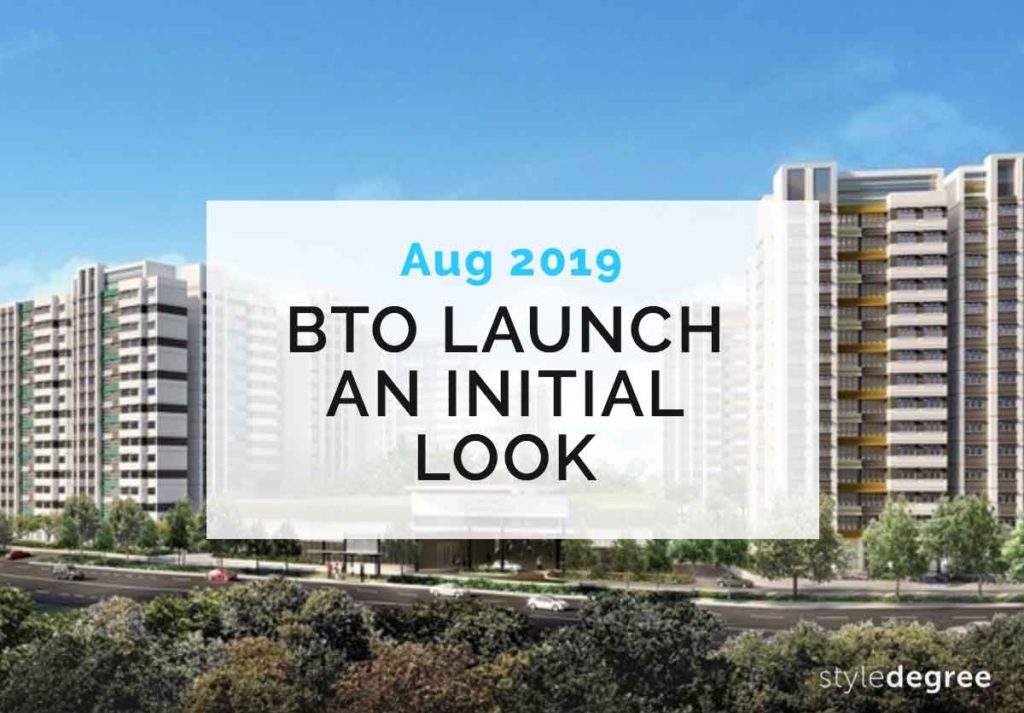 General Outlook
Both the August and November 2019 BTO sales launches are unique as they are the first to be announced way in advance. This allows potential applicants to do their research and to plan ahead.
Of course, juicy details (like the price) are not announced until the application window officially opens. Nonetheless, let's get a head start and here's our initial take on the August 2019 BTO launch!
---
1. Punggol
Expected Price
Using past BTO sales launches as a yardstick, we can make a smart forecast on the upcoming BTO prices in Punggol. In August 2018, a development just stone's throw away from the current plot was priced as follows:
2-Room Flexi: $103,000 onwards
3-Room: $188,000 onwards
4-Room: $286,000 onwards
5-Room: $393,000 onwards
BTO flats prices have been rising by a few thousand dollars and hence, be sure to add $3-5 thousand to the above figures to get a rough estimate of the upcoming prices!
Location & Amenities
Similar to the August 2018 launch, the main attraction of the Punggol launch is that the plot resides just besides the waterfront. (see map above) This means future residents are able to enjoy a lovely sea view and easy access to the surrounding parks.
In terms of transportation, the nearest LRT station (Punggol Point LRT) is just 600m away which means residents are just 2 stations from Punggol MRT where Waterway Point, Punggol Bus Interchange and Punggol Primary School are located.
Looking into the future, Punggol Coast MRT is also an upcoming station that is just 500m away and is only one stop away from Punggol MRT, thus bringing you closer to the town center! Besides, Punggol is on track to becoming a "Digital District" and creating 28,000 jobs in the process. Hence, this bodes well for job & rental opportunities for residents as well!
As a young, fledging non-mature estate, this BTO plot is almost certain to have plenty of upcoming developments.
Past Subscription Rate
What is Subscription Rate you ask? Well, it is the number of times the application for a particular BTO launch exceeds the number of units available. For example, a subscription rate of 2 means that the number of applicants is 2 times the number of units offered!
In August 2018, the subscription rate for Punggol Point Woods and Punggol Point Cove are as follows:
3-Room: 3.0
4-Room: 4.2
5-Room: 7.4
As expected, the demand for flats in Punggol are one of the highest in Singapore. This is due to the attractive waterfront location, predicted price appreciation and good nearby amenities. To get your best chance at ballot box, be sure to check out our BTO Guide where we cover the various priority schemes you may opt for!
---
2. Tampines
Expected Price
Once again, we will be using the previous Tampines BTO launch in November 2018 to forecast the price of the upcoming launch.
2-Room Flexi: $134,000 onwards
3-Room: $240,000 onwards
4-Room: $352,000 onwards
5-Room: $472,000 onwards
Given its status as a mature estate, we can expect higher prices in the upcoming BTO launch as well. Nonetheless, you will still be able to apply for selected grants to ease the burden on your wallet and your CPF account!
Location & Amenities
As a mature estate, most applicants will be interested in the area to stay close to family and to be near to places where one grew up. That itself is a huge draw!
On the other hand, Tampines North MRT Station is only about 400m away. The station is situated along Cross Island Line (CRL) and will opened by 2029. The first phase of the line will connect riders to other mature estates such as Hougang and Pasir Ris.
Other amenities are nearby parks and a proposed commercial area which should include some shopping facilities. Of course, the "Big 3" shopping malls of Tampines (Tampines Mall, Century Square and Tampines 1) are just a couple of bus stops away!
Past Subscription Rate
In November 2018, the subscription rate in Tampines GreenGem are as follows:
3-Room: 4.0
4-Room: 4.7
5-Room: 6.2
While the November 2018 Tampines BTO is still over-subscribed, it is surprising to see that the application rate is comparable to new non-mature estates such as Tengah and Punggol. Mature estate like Tampines tend to have a much higher subscription rate.
Some reasons may be because of higher prices and that the BTO lot is not situated close to Tampines MRT. Similarly, this might happen to the August 2019 sales launch and one should take advantage of the relatively lower subscription rate for a higher chance to be successful.
P.S. Do be aware that the November 2019 sales launch will feature a BTO plot that is right beside Tampines MRT and it is expected to face a high application rate.
---
3. Summary
The August 2019 BTO launch features 2 options for family with varying needs and preference! The plot at Punggol will cater to water-loving families while Tampines will be attractive to families wanting to live in the east, near families and friends.
Regardless of your preference, we wish you all the best in your application and do learn from our 6-Part BTO Guide which will help you make a well-informed housing decision!
Have a question on BTO-ing, Punggol or Tampines? Leave them in the comments and our team of experts will answer them for you – free of charge!