General Outlook
The November 2019 BTO sales launch features 4,571 flats in 3 estates: Tengah, Ang Mo Kio, and Tampines. The Tengah projects are the pioneer estate to have shorter waiting times of 2 – 3 years (compared to the previous period of 3 – 4 years).
This is also the second exercise for which the new BTO balloting process applies. As announced in May, the wait time for balloting has reduced from 6 weeks to just 3 weeks, and BTO sale launches will be announced 6 months in advance. This allows couples to plan their BTO selections in advance, and know results of their balloting much sooner.

In this continuation of our BTO guides, we weigh in on the pros and cons of each location in terms of Launch Price, Location & Amenities and Past Subscription Rate. Let's get started now!
---
1. Tengah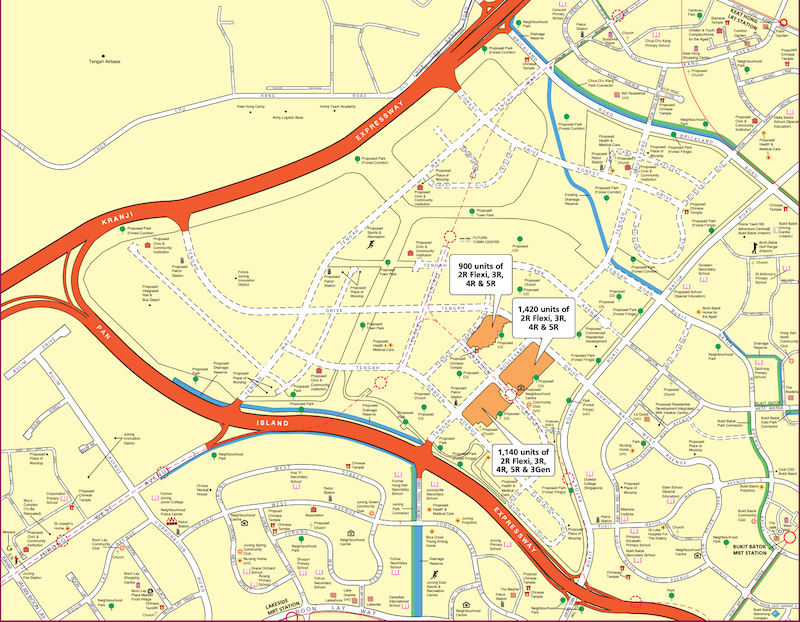 Launch Price
In the May 2019 BTO exercise, there were some 2,000 flats in Tengah up for sale, less than the 3,460 flats available for November 2019. As a non-mature estate in a new town, the prices also tend to be much lower than other areas nearby, such as Jurong.

In May 2019, a BTO development a stone's throw away from the current plot was priced as follows:
2-room Flexi: $106,000 onwards
3-room: $192,000 onwards
4-room: $309,000 onwards
5-room: $415,000 onwards
As seen above, 4-room and 5-room flats decreased by 2-8% in the November 2019 BTO launch. On the other hand, there is a slight price increase for 2-room and 3-room units.
Compared to May 2019 BTO, the November BTO exercise will also include 3Gen flats in addition to 2-room Flexi, 3-room, 4-room, and 5-room flats.
3Gen flats are slightly bigger than 5-room flats, and are meant to accommodate multiple generations of families in the same space. In a 3Gen flat, there are 4 bedrooms, 2 of which have attached bathrooms.
The most recent BTO launch with 3Gen flats was the February 2019 BTO launch, where both Jurong West and Sengkang had 3Gen flats on offer. Prices ranged from about $382,000 to $380,000 for a 3Gen flat previously, which is lower than the ones offered during this November 2019 BTO launch.
Location & Amenities
As a relatively new town, there aren't a lot of current amenities in Tengah. However, there are many proposed parks, roads, and facilities that will be coming up in the future 'Forest Town'.
Although Tengah is encouraged to be a car-free town, it is situated just beside the Pan Island Expressway (PIE) and is connected to it via Tengah Boulevard. Within minutes of each project, there are proposed community centres, churches, Chinese temples, making it a good investment for growing families.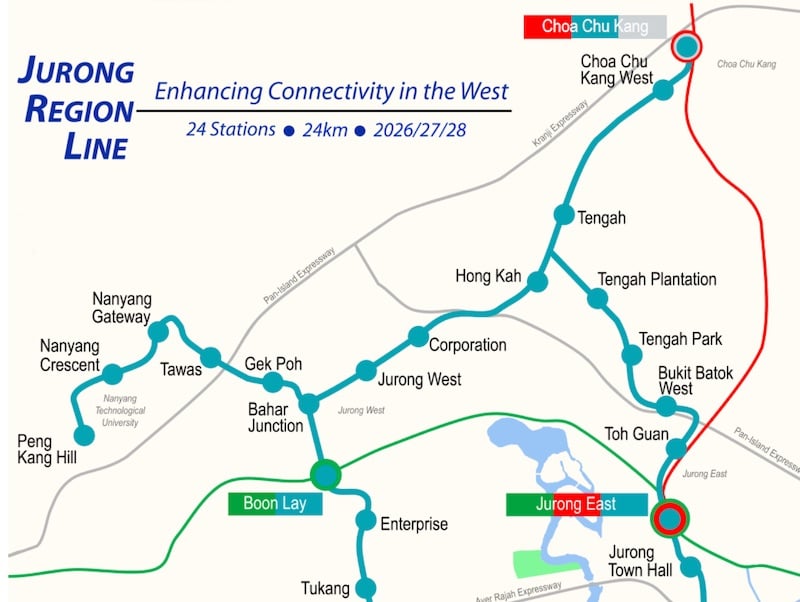 The three November 2019 BTO estates are also located within the Plantation district, and are situated minutes away from the site of the future Tengah Plantation MRT station on the Jurong Region line, due to be opened in 2027. It is a mere 4 stops away from Jurong East MRT, which is home to major shopping centres such as Jem, Westgate, Jcube, as well as Ng Teng Fong General Hospital.

As announced, the Plantation district will also have a community farmway, and aim to help residents connect with nature through urban farming and a car-free town centre. Families looking to lead an environmentally-friendly lifestyle will enjoy this break from the busy city centre.
Past Subscription Rate
As Tengah is a new town, subscription rates haven't been very high, but, if we look at the May 2019 BTO, there was still an encouraging number of applicants looking to set up home in Tengah.
The subscription rate for the May 2019 BTO was 2.2, which means that for every flat offered, there were 2.2 applicants! Here's a breakdown for each type of flat:s
2-room Flexi: 0.5
3-room: 1.4
4-room: 3.4
5-room: 3.2
Disclaimer: The "Food for thought" section is solely based on sentiments found on forums/discussion groups related to the housing scene in Singapore. It is not representative of our thoughts. We stand on an unbiased point of view.
Food for thought: Based on the previous Tengah launch, sentiments from Singaporeans include high interest in Singapore's first new town in 20 years, and the planned size of Tengah (which is projected to grow to about 700 ha, about the size of Bishan).

However, there are concerns about the location, which is only accessible through PIE and doesn't directly include an interchange to other parts of Singapore. At the same time, with the amount of effort being pumped into making Jurong Innovation District a large industrial park, it might be good for young couples who are planning to work in that area.
---
2. Ang Mo Kio
Launch Price
As a mature estate, it's not common for Ang Mo Kio to have BTO flats up for sale. The last time this happened, it was back in May 2016, and prices for the 590 units were impressively high. These were their prices:
May 2016 BTO – Ang Mo Kio Prices
2-room flexi: $142,000 onwards
4-room: $382,000 onwards
5-room: $515,000 onwards
3-Gen: $541,000 onwards
As seen above, prices for 2-room flexi and 4-room flats have increased 2% and 18% respectively. As expected due to the maturity of the estate, Ang Mo Kio BTO prices are the highest compared to other locations in the this launch.
Location & Amenities
Successful applicants are in for a treat; the upcoming November 2019 BTO flats in Ang Mo Kio are minutes away from Yio Chu Kang MRT Station and Bus Interchange. Being this close to the town centre also means that residents will be right next to neighbourhood amenities such as the Yio Chu Kang Community Club, Ang Mo Kio North Neighbourhood Police Centre, and schools such as Anderson Primary School and Presbyterian High School.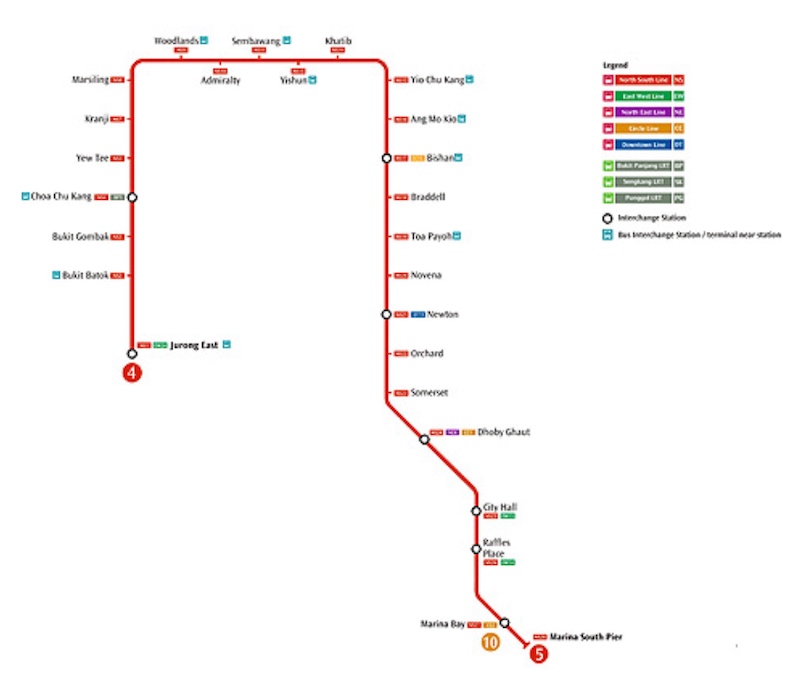 As Yio Chu Kang MRT Station is only 7 stops away from Orchard MRT and one stop away from the bustling Ang Mo Kio Hub, these flats would be a great fit for young families that are looking for proximity to schools and amenities.
Ang Mo Kio MRT, in particular, has a cinema within AMK hub, and a library 15 minutes away. Bishan, a mere 2 stops away, also connects to the Circle line, making it easy to travel across Singapore. Families with young children would also enjoy being so close to city centre and other facilities.
Past Subscription Rate
As a popular mature estate, Ang Mo Kio flats have been wildly oversubscribed each time they have been offered. The last time Ang Mo Kio BTO flats were offered in 2016, the subscription rate was 6.9, meaning that there were a whopping 6.9 applicants for each flat offered.
During the May 2019 Sale of Balance Flats (SBF) exercise, flats for sale in Ang Mo Kio had a subscription rate of 13.7 as well, showing that demand is high, even for older flats.
Food for thought: Singaporeans on forums have always been interested in BTOs within mature estates, due to the anticipated high selling price. As Ang Mo Kio is quite a central location, there is quite a lot of buzz online about this upcoming BTO. Sentiments indicate that it will be oversubscribed.
---
3. Tampines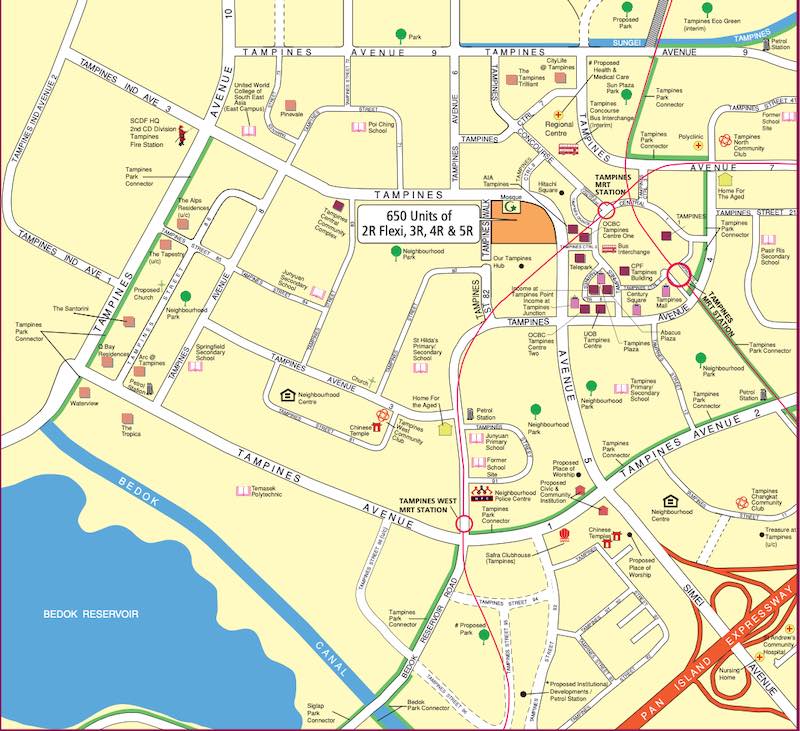 Launch Price
Projects have been popping up constantly in Tampines, as the town undergoes expansion and development. In the most recent September 2019 BTO, there were some 649 flats offered in Tampines.

This time round, the November 2019 BTO sales launch in Tampines has 650 units of 2-room Flexi, 3-room, 4-room, and 5-room flats, but the project is located much nearer to the main Tampines MRT station. Hence, prices are relatively higher as seen below.
Following a similar trend, prices for the November 2019 BTO launch is higher than the September 2019 launch, perhaps due to a much better location.
Location & Amenities
Talking about Tampines MRT Station – with the opening of the Downtown line 2 years ago, Tampines has become even crowded.
There are already 3 malls near Tampines MRT station – Tampines Mall, Century Square, and Tampines 1. At the same time, the new November 2019 BTO flats will be right next to Our Tampines Hub, the massive new neighbourhood mall that includes a library, a community club, and many other facilities. This doesn't even include all the busy offices that are sprinkled around Tampines MRT station, making it an ideal location for busy working couples.
Past Subscription Rate
In the recent September 2019 BTO, subscription rates were a reasonable 2.2 across the board, allowing for a strong chance for applicants to get a home. However, the September 2019 BTO flats were located much further from the town centre, so this upcoming November 2019 BTO exercise might have much higher subscription rates.
Food for thought: Sentiments from Singaporeans on forums indicate that the upcoming launch will be popular with couples or families looking to be near amenities and community events. At the same time, there is concern about noise issues due to the proximity to Our Tampines Hub.
---
Summary
The upcoming November 2019 BTO launch provides 3 different options for families looking for a flat – young couples looking to build their life might prefer the new town Tengah, while families with young children might prefer to raise their children in Ang Mo Kio, near a range of schools. For families that are more comfortable in the East side of Singapore, or have family living there, Tampines might be the best option.
We will keep this guide updated as more information comes in about the November 2019 BTO, so before that, why not check out our Ultimate BTO Guide first?
Meanwhile, stay in the know about the February 2020 BTO launch!
The February 2020 BTO launch will consist of 1,420 units in Sembawang and 1,620 units in Toa Payoh. The Sembawang units will be located right next to the soon-to-be-opened Canberra MRT station, and the Toa Payoh units will consist of units that are in-between Braddell and Caldecott MRT stations.
Get latest housing news as well as useful tips on home organization, home decor by joining us on Instagram (@style_degree), Facebook and Telegram channel (@HomeownersSG)!
Have a question on BTO-ing, Tengah, Ang Mo Kio, or Tampines? Leave them in the comments and our team of experts will answer them for you – free of charge!