If this is your first time moving house in Singapore, you're probably feeling overwhelmed with the list of things to be done, or more specifically the packing. Don't worry as we are here to help you navigate the ups and downs of your road to a new home.
Read on for a step-by-step guide on this approximately 2 months moving house journey leading up to and after Moving Day. Plus, tips (and printable packing labels below!) to make moving easier for everyone.
To learn more about a specific period of time in your moving journey, click on the time period.
We've teamed up with CYC Movers, a reputable moving company in Singapore since 2003, to bring our StyleFans an exclusive offer, so read on to find out what it is!
---
Overview Of Moving Into Your New House
There're a list of to-dos in each step of the moving house journey to help you spread out your load. Read on for detailed insights and useful tips to make your moving process a smooth one!
---
Before Moving Into Your New House
2 months before
1. Change your address in Singapore
Under the National Registration Act, you must report a change of address within 28 days of moving. In order to ensure that your letters, bills, and subscriptions reach your new address instead of your former home, update your address as soon as possible.
In order to update your NRIC, you should first prepare proof of your new residential address. Any of these documents can be used so long as they are dated no later than 3 months ago:
Bill, statement or letter from HDB
Cable TV bill
Credit card or bank statement
Insurance bill, statement or letter
Service & conservancy bill from town council
Telecommunications or internet bill
Tenancy agreement for residence
Utilities bill from participating retailers listed here
Bill or letter from LTA* (e.g. road tax)
Bill, statement or letter from IRAS* (e.g. income tax or property tax)
Statement or letter from CPF*
*Issued within the last 12 months
Then, bring your documentary proof as well as your NRIC to the nearest neighbourhood police centre/post or to the Citizen Services Centre, which can be found at this address:
Citizen Services Centre, Immigration and Checkpoints Authority. 3rd Storey, ICA Building. 10 Kallang Road, Singapore 208718.
There is no charge required for changing of address and the application will be processed immediately if a documentary proof is provided.
While your address will be automatically updated with these participating public agencies, you will need to inform other private institutions and non-participating public agencies yourself. Some institutions you may need to update include banks, insurance companies, telcos, memberships, and subscriptions.
---
2. Complete any works on your new house
Finish up renovation works at your new place before shifting in. This minimises disruptions to your life once you are living there. Some areas you should fix up would be:
The electricity and plumbing
Security (changing of locks and keys)
Appliances and devices (such as installing air-conditioners)
The bathroom
Paint jobs
3. Hiring movers – cost & important tips
Settle on a date and moving company early to secure the best date and rate! On average, a 3-room flat costs $500 (3-5 hours), a 4-room flat costs $700 (4-6 hours), and a 5-room flat costs $900 (5-7 hours).
You should also confirm with the moving company if they offer complimentary boxes and wrapping material. If the company is kind enough, they can offer up to 20 free boxes, as well as help in disposal of unwanted things. In addition, packing materials such as bubble wraps and dish packing papers are also made available for a small fee.
You may also choose to buy packing and wrapping material online. Typical costs are as follows:
Boxes: $2.50 (approx. 38cm x 38cm) – $4 (approx. 40cm x 60cm)
Shrink wrap: $13
Bubblewrap (20ft): $9/roll
Finally, remember to consider these key points before settling on a mover to hire:
Confirm if the movers provide just basic moving services, or if they offer packing or unpacking as well, or both.
Good reviews from previous clients
Expertise with handling delicate pieces (like artifacts or instruments)
Check if the movers provide comprehensive insurance coverage.
If you're on the lookout for movers, CYC Movers is a trusted professional moving company in Singapore since 2003 and they specialise in the provision of residential and commercial relocation solutions.
CYC Movers believes in providing a trusted and assuring moving experience by paying close attention to your concerns, priorities, various considerations pertaining to your move. And of course, to the properties that you are entrusting them to have them moved safely to your new home.
We're glad to be able to partner up with CYC Movers to bring you, our StyleFans an exclusive offer from them!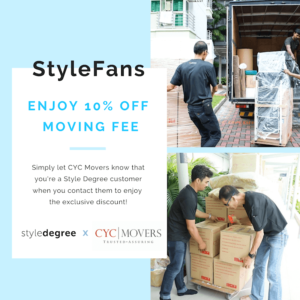 Mention that you are a Style Degree customer who has purchased at least $150 worth of items from us – do share with them proof of receipt, and you'll get to enjoy 10% off (up to $50 off) your moving fee.
You can get a quote for your upcoming move over at their website, or by calling +65 6278 5150.
In the process of engaging a moving company, a common question homeowners have is:
"What do I do with all the carton boxes after the move?"
CYC Movers has clarified that you may keep some of the boxes if you wish to, or simply call them to come and retrieve the boxes once you are done unpacking.

If you have any other questions in mind prior the move, it's always good to communicate with the moving company you have engaged to avoid confusion and miscommunication.
---
4. Declutter your house
Eliminate any old or unwanted items from your home early to prevent the unnecessary hassle of sorting through them nearing Moving Day. A commonly used method to declutter is the 4 container method to separate out your items into specific categories – Trash, Recycle, Donate, Keep and Sell to help you stay organized while purging.
Also check out on StyleMag; 5 Home Decluttering & Organizing Methods To Inspire You
Keep a lookout for items that are still in good condition and consider giving them to someone in need. This can be in the form of clothes or food. Small acts of kindness make all the difference!
Also check out on StyleMag: 2022 Ultimate List Of Places To Donate Your Old Clothes & Items in Singapore
---
1 Month Before
5. Take pictures of your old house
Before packing, take reference pictures of the way your old house was set up to help you with replicating the same placement in your new home.
Photos of your old house and any important items can also help you claim insurance in the event of any discrepancies during the moving process.
Take note of:
Scratches, dents, damages
How wires are connected for devices and appliances
Whether devices are able to power start (take a video)
6. Begin packing
You should start packing away any items that are not in immediate use, such as winter wear or sports items. While packing, consider if you will need the item before the move to save you the hassle of reopening sealed boxes.
6.1 Pack smart
Pack room by room to keep items together for efficient moving and unpacking. Keeping small parts bagged and packed together with the larger dismantled pieces will make assembly easier as well.
Tips for packing cardboard boxes:
Line the sides & empty spaces with crushed paper: Provides protection for your goods.
Heavy items to the bottom: Gives the box a solid base and prevents light items from being crushed.
Fill your box to the brim: Boxes are stacked during transportation, and weight on a half-empty box may cause it to collapse.
Other useful packing tips:
6.2 Label your moving boxes properly
In the lead up to the big day, start packing your items away into moving boxes. The trick to a smooth-sailing packing and unpacking process lies in the way you label!
For a fuss-free experience:
Step 1: Label each box with a consecutive number (e.g. Box #1, Box #2, Box #3) and destination (e.g. Kitchen, Bedroom) as you pack. You may also choose to colour code your boxes if you are a visually-oriented person. Create an inventory list with the contents of each box number listed down. You now know exactly where everything is!
Step 2: Label each box by level of priority, with a 'H', 'M' or 'L'. High priority boxes will be what needs to be unpacked first at the new house, while low priority boxes can be left on the back-burner for a while longer.
Sounds like a lot of work? Fret not, we've prepared FREE printable labels that have incorporated all the steps above.
Click here to view all labels and download a copy. Print it on sticker labels so you can stick it directly onto your boxes!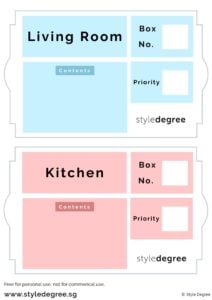 Tips when labelling
Writings on labels should be done using waterproof permanent markers to prevent writing from being smudged by rain or moisture.
Put labels on the sides of boxes so you can read them even when boxes are stacked up.
---
1 Week Before
7. Prepare an essentials bag
At this stage, you should have completed most of your packing and are left with only the daily essentials. As moving is a tiring process, you may not have the energy left to unpack on the first day. Save yourself the hassle of looking through all the unpacked boxes for bath towels by setting aside a set in advance.
Include these in your essentials bag:
A set of clean clothes
Toiletries
Toilet paper
Chargers
Medicine
Wallet and cards
Note: Make sure to have an essentials bag for each family member.
8. Take pictures of your new house
Remember to take photos of your new house before moving in, to confirm that any damage to the house was not caused by you (especially if you're answerable to a landlord!). That way, you can claim compensation from the relevant parties easily.
---
Welcome To Your New House
It's finally Moving Day, and all your hard work over the past few months is finally paying off. It's rare that you get a chance to do a total overhaul of your house, so if you ever wanted to get organized, this is a good time.
Here are some tips to help you make your new house — a home!
Also check out on StyleMag: Ultimate Guide To BTO Door Opening & Moving In Ceremony
9. Tips for unpacking
Unpacking can be just as stressful, if not, more tiresome than the packing process. Here we walk you through a systematic way to unpack so you can kick back!
Step 1: Bring out cleaning essentials, such as mops and brooms, first. While the house is likely to be visibly clean, you would want to do a deep clean before furniture and larger items go over the spot for years.
Step 2: Unpack your rooms by order of importance. For instance, the kitchen (important for meal preparation and refrigeration of foods), followed by the bedroom and the bathroom. Bring out only the essentials and leave the rest for another day when you are feeling refreshed.
10. Keep your new home clean & organized
This may be a good time to do an overhaul of the way you organize. Try out organizational zoning and new organizational products in common clutter hotspots that will help you keep your home effortlessly clean!
Also check out on StyleMag: The Most Important Rule When It Comes To Organizing
10.1 The kitchen
Behind kitchen storage cabinets, clutter tends to build up fast. Make use of kitchen organizers to maximise your wide tall cabinets and container bins to group similar items together.
Check out other ways to keep your kitchen tidy with 4 Kitchen Organization & Storage Ideas Anyone Can Follow.
10.2 The pantry
A place for sugar, spice and all things nice, the pantry is also prone to mess and attracts pests if not properly maintained. Transferring your dried goods into clear airtight containers is the trick to achieving a aesthetically pleasing and clean pantry.

Make it a point to clean out your pantry every 3 months, and try out these 4 Organizing Rules To A Beautiful & Tidy Kitchen Pantry.
10.3 The fridge
Don't hide the mess in your fridge behind closed doors. Instead, find out How To Organize Your Fridge & Keep It Clean. Try categorising your items and designating a place for everything, so everything is in its place! Maintain this with a regular clearance every 3 months as well.
10.4 The bathroom
Probably not the most spacious room in your house, the bathroom is a place that is quickly filled with clutter from beauty and cleaning products. This is where utilising wall space will be of help! Attach wall holders to store them and free up space. For instance, a rear door hanger to allow hanging of clothes or towels.
For more ideas, learn How To Organize Every Corner Of Your Bathroom.
After unpacking and putting everything away, your new home is clean and beautiful. Keep it that way by cultivating good habits such as putting things away as soon as you're done with them and decluttering regularly!
Also check out on StyleMag: Home Organization & Decluttering Challenges To Take On (+ FREE Checklist)
11. Say 'hi' to your neighbours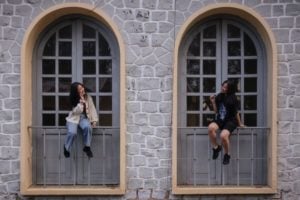 These are the people you'll be staying with for the next few years and relying on for help to water your plants when you're away on holiday! It can be a little awkward for both parties so here are some tips to help get the ball rolling.
Smile. A smile goes a mile. While it's known that a big smile makes you more likeable, a study has also shown that smiling when you first meet someone helps ensure that they will remember you.
Be friendly, but not invasive. Keep the conversation short so the neighbours feel comfortable and know that you are open to communication.
Talk about common topics. If you see that they have children and you do too, that's a good place to start. You can also ask them about upcoming events in the estate.
Throw a housewarming party. Invite your neighbours for drinks and refreshments and take the opportunity to get to know them better in a relaxed setting.
---
If done right, moving can be a moving experience. Keep in mind that at the end of all the hassle, you'll have a beautiful new place to call your own!
We hope this step-by-step guide to moving house in Singapore has been of help in this exciting period of your life, and remember to let us know which tip was most useful in the comments down below.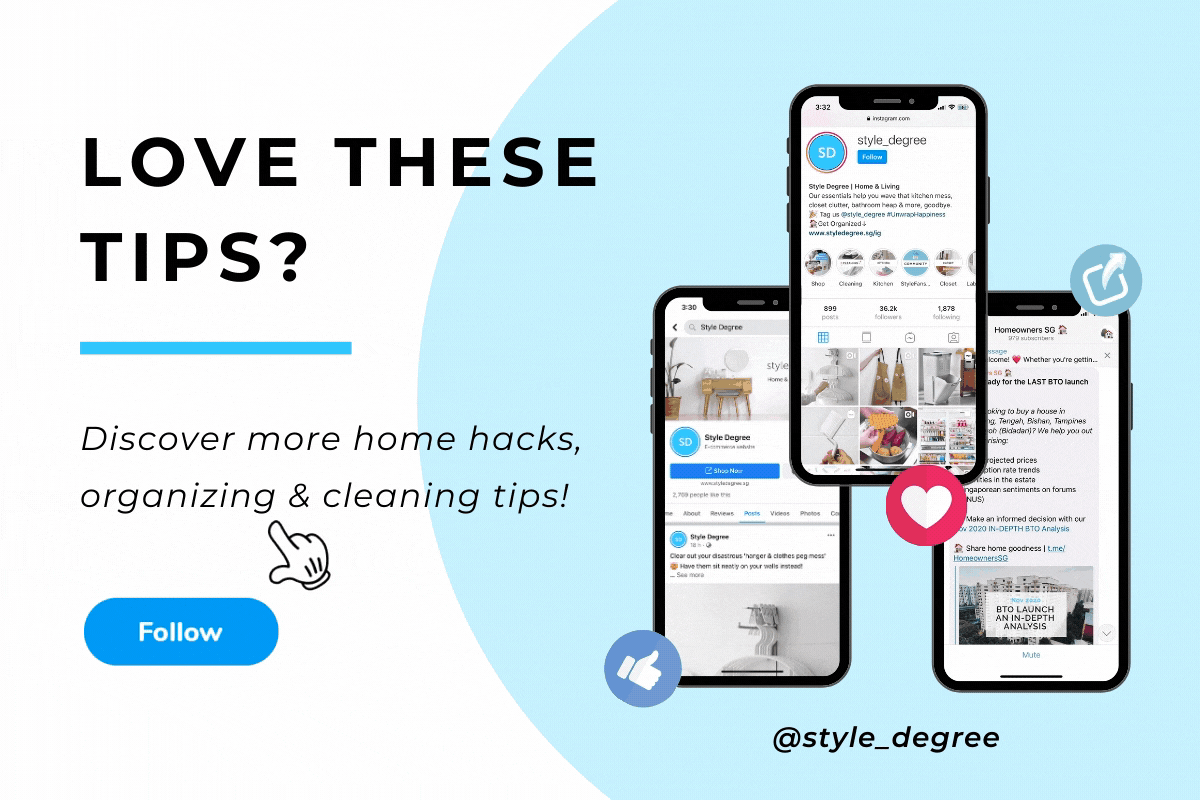 Get useful tips on home organization, decor and more by joining us on Instagram (@style_degree), Facebook and join our Telegram channel (@HomeownersSG)!