There's nothing worse than coming home, only to smell gross odours lurking around. Luckily, these hot spots for funky smells are easily identifiable, as well as solvable.
Here are several common odours you should keep a lookout for, along with a guide to eliminating them.
---
To navigate to the solution directly, click on the individual common home odour.
---
1. From The Kitchen
Causes Of The Smell
Lingering smells from cooking e.g from curry and deep frying.
Odours coming from the sink
Kitchen cabinet
How To Get Rid Of The Odours From The Kitchen
1.1 Lingering Cooking Smells
If closing your kitchen doors and turning on your cooking hood still doesn't prevent the odour from permeating the house, use vinegar. Pour ½ a cup of white vinegar and a cup of water on a saucepan, bringing it to a simmer over the stove. During the process, the vinegar will evaporate into steam, overcoming the stink in the air.
For coffee lovers, don't discard your used coffee grounds! They are actually a good deodoriser. Simply place a bowl of coffee grounds on the kitchen counter to neutralise the odour.
1.2 Kitchen Cabinets
As for smelly kitchen cabinets, scrub the inside and outside with a clean cloth dipped in a solution made of equal parts water and vinegar.
Sprinkle baking soda inside to absorb any leftover odours, leaving the doors open and letting it sit for 24 hours. Wipe it away with a clean sponge in the water-vinegar solution.
For strong smells that are hard to eliminate, place a bowl of coffee grounds in the cabinets, which helps absorb the odour. Putting an open container of activated charcoal inside is a good way to combat the stench too.
1.3 Sink
For milder smells emitting from the sink, the classic method is to pour boiled water down the sink drain.
However, stronger smells require tougher action. Use ½ cup of baking soda and coarse salt, 1 cup of vinegar, and boiling water. Pour in the coarse salt, baking soda, and vinegar via this respective order. Cover the drain to make sure the bubbling reaction works to full potential, then pour in the boiling water to dissolve the salt.
2. From Clothing
Causes Of The Smell
The formation of mould or mildew due to excess moisture hiding out from long periods of storage.

Insufficient ventilation in enclosed spaces, such as closets, storerooms, and service yards. Balconies may also be positioned where direct heat and lighting can't reach the garments for them to dry properly.

An unclean washing machine can also cause the horrible smell in your garments.
How To Get Rid Of The Musty Smell In Your Clothes
The good news is, you don't need to move homes just to get the ideal sunning space. Get rid of the strange smells easily with these handy solutions below.
Method 1: For dry clothes that are affected, sprinkle a large amount of dry baking soda on the garments, and leave it overnight for the bad smells to be absorbed. Baking soda will neutralise the odour, leaving your clothing fresh without fragrance.

Once 24 hours is up, take the clothes out, shake off the soda, and hang them up for several hours. This process can be repeated until the odour disappears.
Method 2: For more severe stenches, soak your clothing in a solution of water and either oxygen bleach or laundry detergent. Wash and hang it dry after. Take note of your garment's care label instructions before doing so.

Also read on StyleMag; A Guide To Laundry Care Symbols (+ A Cheatsheet For Homeowners)
Maintenance Tips
Singapore homes don't exactly have the best on offer when it comes to ventilation, but there are ways around this issue.
When hanging your load in a place without sufficient sunlight and air, let it get as much ventilation as possible. One such way is by turning on a small electric fan. This improves the limited circulation you have, and will discourage musty smells from growing.
For a DIY fabric freshener, mix ½ cup of water, ¼ cup of rubbing alcohol, with 5 drops of lemon essential oil and lavender essential oil respectively. Test the spray solution on a small section of fabric to see how it reacts, and whether there are oil stains left behind.
3. From The Wardrobe
Causes Of The Smell
Wardrobes are usually built and positioned near the walls, with the doors restricting airflow within the space. The humid and contaminated air promotes mildew growth and hence, the musty smell.

A huge number of clothes crowding around inside.
How To Get Rid Of The Musty Smell In The Wardrobe
Method 1: Fill a bowl with white or apple cider vinegar, and place it on your wardrobe floor. Close the door and leave overnight. If the odour still lingers, add ½ a cup of vinegar to a bucket of warm water. Scrub at the wardrobe walls with the solution.
Method 2: Place coffee grounds that are fresh and unbrewed in a bowl, putting it on the wardrobe floor. Sprinkle in vanilla extract for a better scent, and leave it overnight.
Maintenance Tips
Prevent moisture from cropping up in your closet. If you have any damp garments, let them dry completely before putting them inside.

If your wardrobe is situated near your bathroom – a place with high levels of humidity; always keep wardrobe doors closed to prevent humidity from entering. Additionally, dehumidifiers are another measure for reducing moisture buildup in the wardrobe's interior.
Cedar wood moth balls works well in absorbing odours and moisture while keeping insects and moths away from your wardrobe.
4. From New Furniture
Causes Of The Smell
Chemical treatment of the furniture, resulting in odours.
How To Get Rid Of The Smell In New Furniture
4.1 Wood Furniture & Sofas
Step 1: Ventilate the affected area, and open windows for a few hours of cross breeze.
Step 2: Sprinkle baking soda on the surfaces of the wooden furniture. Be sure to cover the drawers and cabinets, too. On the sofas, leave it for up to 15 minutes, but if the smell is severe, keep it overnight. Leave it to sit overnight and vacuum in the morning.
Step 3: Combine 4ℓ of hot water and a cup of white vinegar. Dip a clean cloth into the bucket, squeeze out any excess liquid, and wash the surface of the wood furniture. After a few hours, the smell of white vinegar will be weakened.
Step 4: Place activated charcoal bags inside drawers and cabinets for the new wood smell to fade. For sofas, line them along the corners.
Step 5: Spray an effective odour neutraliser around the room. Include floors, walls, and window treatments if the smell strongly affects them.
4.2 Carpets
Method 1: For materials such as carpets, baking soda will go the extra mile for you by absorbing the smell. Sprinkle baking soda over it at least once a week, and let it sit overnight. Vacuum the carpet the following day.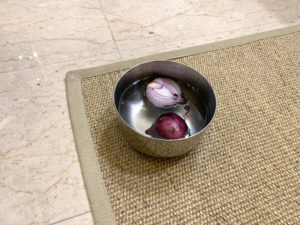 Method 2: An alternate unique method is to keep apple, onion, or celery halves submerged in a bowl of water, next to the affected carpet. Again, leave it overnight. The next day, the odour will be gone.
5. From The Storeroom/Bomb Shelter
Causes Of The Smell
Moldy walls or flooring

Insufficient ventilation
How To Get Rid Of The Smell In The Storeroom
Method 1: To get rid of the mold, spray vinegar directly from the bottle where it's needed. Come back after a few hours and scrub the mold away with a brush. It can also prevent mold when sprayed and left to dry.
Method 2: As for insufficient ventilation, put a fan in the space and regularly run it. The effective way to banish the musty odour is to place a large bowl of bamboo charcoal/charcoal (that's right, those used for BBQ) in the room to absorb the smell. Don't forget to replace it occasionally to keep its effectiveness.
6. From The Bathroom
Causes Of The Smell
High humidity levels and poor ventilation

Lingering post-poo odour

The burst seal from under the toilet bowl

Clogged toilet
How To Get Rid Of The Smell In The Bathroom
Method 1: When dealing with high humidity levels in the bathroom, target the main offenders – tiles in the cubicle. After every shower session, wipe the tiles with a clean cloth, Use a rubber blade on the shower glass as well.
Method 2: To get rid of post-business stinks, drip a few drops of essential oil inside the toilet paper roll.
Method 3: Burst seals from the toilet bowls will cause water, waste, and sewage to splash outside of the bowl. You can caulk the damaged area again to prevent leakage, but if the problem persists, get a professional to help out.
Method 4:
Here's a simple trick to unclog your toilet – natural toilet bombs.
Watch the video above for a tutorial on how to make your very own cleaning bombs. Baking soda and citric acid react with the water, releasing carbon dioxide bubbles that adds to the scrubbing intensity.
Store the cubes into an airtight jar. When needed, throw a couple of cubes inside the toilet bowl. Wait for them to fizz for 10 minutes, then flush.
7. From Pets
Causes Of The Smell
Pet urine that has sat for a long time, seeping into fabrics and linens.

Moist fur (which is where the phrase 'wet dog' comes from).

Excess debris, like hair and dander left behind in parts of the home.
How To Get Rid Of Pet Odours
Method 1: To remove fur and dander, vacuum your apartment thoroughly, especially the upholstered furniture plus window curtains and blinds.
Sprinkle baking soda all over affected areas. Depending on the odour's severity, let it sit for several hours up to overnight, then vacuum again.
Method 2: To remove pet urine odours, mix these ingredients – 1 cup of hydrogen peroxide, 1 teaspoon of vinegar and baking soda respectively, plus 3 drops of wild orange essential oil – in a spray bottle. Orange has been proven to be an effective agent in helping to improve stale smells in rooms.
Note that you may have to double or triple the portion of ingredients, depending on the affected area's size.
8. From The Shoe Rack/Cabinet
Causes Of The Smell
It comes from the shoes themselves. Due to retention of sweat and dead skin, odour-producing bacteria can grow well.
How To Get Rid Of The Musty Smell From The Shoe Rack
Method 1: Take the shoes off the rack, then spritz with a solution made with an equal amount of white vinegar and water. Wipe away with a soft cloth after 1-2 minutes.
Method 2: Check your footwear for foul smells, and trace back to the pair that caused it. Sprinkle baking soda in the shoes with the unpleasant stench.
Should the odour be strong, place a wad of newspaper in the shoes after the baking soda. This helps to absorb the stench. Leave it until the next day.
Method 3: Herb sprigs – like lavender, basil, and sage – are great help in getting rid of odours. Tie them together, place them in your shoes, and leave overnight. Air your shoes the following day, and repeat this step every night until the odour is gone.
Maintenance Tips
To keep shoes well maintained, use a small dehumidifier in your shoe rack. It helps balance the humidity levels of the space, and keeps it dry to prevent the growth of mould and mildew.
9. From The Washing Machine
Causes Of The Smell
Soap and detergent residue on your washing machine drum's surface.

Other parts of the washing machine traps moisture easily, like the rubber seals and washing machine lid.
How To Get Rid Of The Musty Smell In The Washing Machine
Step 1: To clean your washing machine, you'll have to first remove the detergent drawer. Soak in hot water, then use a clean, old toothbrush to scrub at any mould or residue. Afterwards, rinse thoroughly and allow complete drying before putting it back in.
Step 2: For washing the drum, add 1 cup of vinegar to it, then run a hot wash cycle. Once done, open the front door and air dry the insides.
Step 3: With a damp cloth, wipe the rubber seals. Lift them away from the metal to get at any hidden residue. Don't forget to wipe your machine's surface.
Maintenance Tips
Leave your washer door and detergent drawer open after each load wash, so that the interiors can dry properly. Don't forget to check your water hose for any bending, leaks, or excess dirt. It's a good idea to replace it often, every 3 to 5 years.
---
We hope this guide has helped you with some interesting methods to get rid of the unpleasant smells in your living space. With effort, you can get a fresher, more aromatic home!