First things first, congratulations on clinching that Built-to-Order (BTO) flat! It has been a journey balloting for various BTO sales launches and hoping that you will be the lucky one isn't it?
With that process checked off, you and your partner may be overwhelmed with these new questions at this point.
How do I choose a BTO unit?

What can I do to avoid a sun facing unit?

How to choose a good Feng Shui flat?
We're here to offer some practical considerations to help you in the decision-making process to make that Built-to-Order, built-to-YOU!
Disclaimer: Feng Shui is a highly subjective topic and there may be varying views. This is just an introductory guide for new homeowners and we stand on an unbiased standpoint. Ultimately, do what you are comfortable with.
---
1. Check & Monitor The HDB BTO Site Plan
It would be wise to view HDB's site plan to help you understand any upcoming projects near the area. Consider if you are willing to share a space with developments such as new MRT stations, places of religious practice and schools.
For instance, in December 2014, the Fernvale Lea's future residents were taken aback when they learned that a Chinese temple and columbarium would be built next to their completed block. Moral of the story? Reviewing the site plan will keep you in the know and prevent any sudden shocks after you have moved in.
Feng Shui Standpoint: It is not ideal to stay near temples and places of worship as the energy near them will be more '阳' ('yang', meaning active). This leaves your unit with a more '阴 ' ('yin', meaning passive) energy and will result in health and relationship issues.
---
2. Consider Height – Low Floor vs High Floor
"Is it really good to choose the highest floor?"
"What are the pros and cons of a high and low floor?"
"How much more do I have to pay just to bag that higher floor?"
We've consolidated the pros and cons of selecting higher versus lower floors HDB BTO flats below. However, do note that factors such as noise, privacy and nature elements are subjective and may differ from areas.
As a general rule of thumb, look at the site plan to get a general sensing about what's in your environment. Also, ask friends/family members who are currently staying on a lower or higher floor about their living experiences. These would help you make a better flat selection choice!
While you may be tempted to get a higher floor, there is a hefty price tag attached to it. Based on Singapore property portal 99.co's estimation, you can expect an approximately 0.5% increase in unit price per additional floor.
Feng Shui Standpoint: The higher your unit, the further away you are from '地气' ('di qi', meaning energy from the ground). This may affect the health of babies or elderly staying in the flat, who do not go down to the ground floor often.
---
3. Avoid Sun Facing Units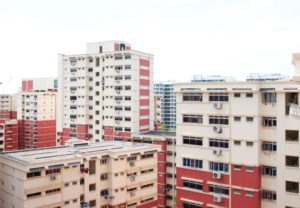 Do relatives advise you about choosing a "non sun facing" unit but you are unsure of where the sun rises and set?
Homes that aren't subject to direct sunlight are valued in Singapore as it means your home will be cooler, especially in the already humid climate!
You can use a sun calculator to help you determine the direction of the sunrise and sunset in your BTO area. For instance, here is an example of the upcoming May 2020 Choa Chu Kang BTO. The orange circle depicts the location of sunrise.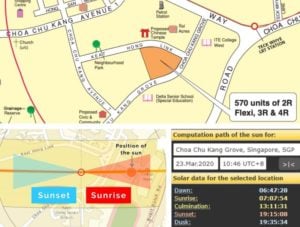 Tip: One point you may want to consider would be to choose a unit where the sun falls directly on hanged laundry. This way, your laundry dries faster with direct sunlight.
You can also make use of HDB's site layout and floor plan to determine if the unit is sun facing. To simplify, remember that the only directions you should consider for your future BTO unit are North facing, South facing, or South-East facing. This is simplified in the diagram below.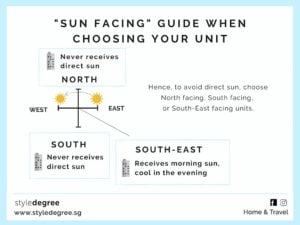 ---
4. Stay Away from Noisy Areas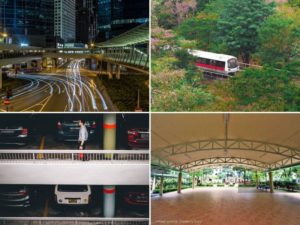 If you are an individual that's sensitive to noise, you might want to avoid selecting a flat unit that is close to:
Main roads (traffic noise)
MRT stations or tracks (specifically MRTs that run above ground)
Multi-storey car parks (tyre noises)
Multi-purpose halls (where wedding, funerals and events are usually held
For those that aren't sensitive to noise, having a unit near an MRT station may fetch you a better resale price in future! But be prepared that HDB units that are within 500m of an MRT station are priced at least 10-15% higher on average.
Feng Shui Standpoint: Stay away from MRT stations and tracks as the screeching sounds cause bad energies. The building may also receive negative energies, especially if the track is the same height or taller then your unit.
---
5. Avoid Communal Rubbish Chutes
Nowadays, HDB BTO flats do not come with a rubbish chute in the unit. Instead, you share a common one with the other homeowners on the same floor. Avoid being near the rubbish chute as it may be smelly, dirty and unpleasant, especially if you have an inconsiderate neighbour that does not dispose of their waste properly.
A check of HDB's site layout and floor plan will help you determine if the unit is near the communal rubbish chute, as illustrated with one of the upcoming Tengah BTOs below.
Feng Shui Standpoint: Passing by a communal rubbish chute before returning to your unit will bring along the bad energies of the rubbish chute into your home.
---
6. Guarantee Your Privacy
If you are someone that likes their privacy, consider picking a unit far away from the lift, rubbish chute, or other HDB entrances. This is to lower the frequency of passers-by and strangers peeking into your unit!
---
7. Additional Feng Shui Pointers
Disclaimer: Feng Shui is a highly subjective topic and there may be varying views. This is just an introductory guide for new homeowners and we stand on an unbiased standpoint. Ultimately, do what you are comfortable with.
7.1 No Central Toilets
According to Feng Shui, the toilet being in the centre of the home will negatively impact wealth accumulation and fertility.
You can determine if the toilet is in the centre of your home by drawing a box over the unit's floor plan and dividing it into nine equal parts, like the image above.
7.2 No Facing Neighbours
Your neighbours will become the people you rely on for years to come, so it's natural to want to foster good relations! From a Feng Shui point of view, directly facing your neighbour's main door with yours is undesirable as it promotes an interchange of energy between both units. This increases the likelihood of disagreements.
Getting Ready For HDB Flat Selection Day
Keep yourself updated on the availability of the BTO units as the date to make a flat selection at HDB Hub nears. If you are invited to attend a flat selection appointment, you will be notified to visit My HDBPage to view the invitation package, accessed via SingPass. The invitation package will contain the flat list and a list of documents to bring along for the flat selection. Read carefully and prepare beforehand!
When you attend the appointment to select your flat, you are required to have a valid HDB Loan Eligibility Letter (HLE) if you are taking a housing loan from HDB. In addition, you must bring along the following documents, of all persons listed in the application:
Identity cards. If you are employed, or serving National Service under the Singapore Armed Forces/ Civil Defence/ Police Force, you must provide a certified true copy of your Singapore pink/ blue identity card from your Personnel Department
Passport for non-citizens
Birth certificates of your children
Your birth certificate and your parents' marriage certificate if you are buying a flat under the Multi Generation Priority Scheme or Married Child Priority Scheme
Marriage certificate, if you are married; or divorce certificate, if you are divorced
Death Certificate of spouse, if spouse is deceased
Student Pass or Letter from School/ College/ Institute of Learning for persons who are 18 years old and above
Income documents for assessment of income ceiling to buy a flat
Income documents for assessment of income ceiling if taking CPF housing grant(s)
Either a doctor's certification of pregnancy, or your child's birth certificate, if you have applied for a flat under the Parenthood Priority Scheme (PPS)
Make a wise choice in your unit selection based on your queue number. Strike a balance between what you want and what you can get. Pinning all your hopes on your dream home may backfire if the unit proves too popular, so try to shortlist multiple units instead. Remember that ultimately, it is being with your loved ones that will transform the space into a home!
Also check out on StyleMag: The Ultimate 6-Part BTO Guide
---
Stressful as it may all seem, your efforts will all be worth it when you finally collect your keys and step into your new home.
May these practical considerations be helpful in guiding you towards your desired home. Let us know which you found most useful in the comments below!
Get useful tips on home organization, decor and more by joining us on Instagram (@style_degree), Facebook and join our Telegram channel (@HomeownersSG).