Are you waiting for your BTO and looking for short-term options in the meantime? Even with the recent drop in waiting times for Build-to-Order (BTO) flats, it can still take up to 3 years before your BTO flat will be ready.
During that period of time, you might wonder:
Can I rent a flat while waiting?

What types of flat or rooms can I rent?

What are the rules around renting?

Or should we just move into our in-laws' house for now?
---
What type of rental options are available in Singapore?
To help you visualise clearly, here's a summary of the rental choices you have while waiting for your BTO to be ready.
Fret not, we will explore each option in greater detail and provide you with helpful considerations (e.g eligibility, rental prices, important things to note) to help you make a wise decision on where to stay.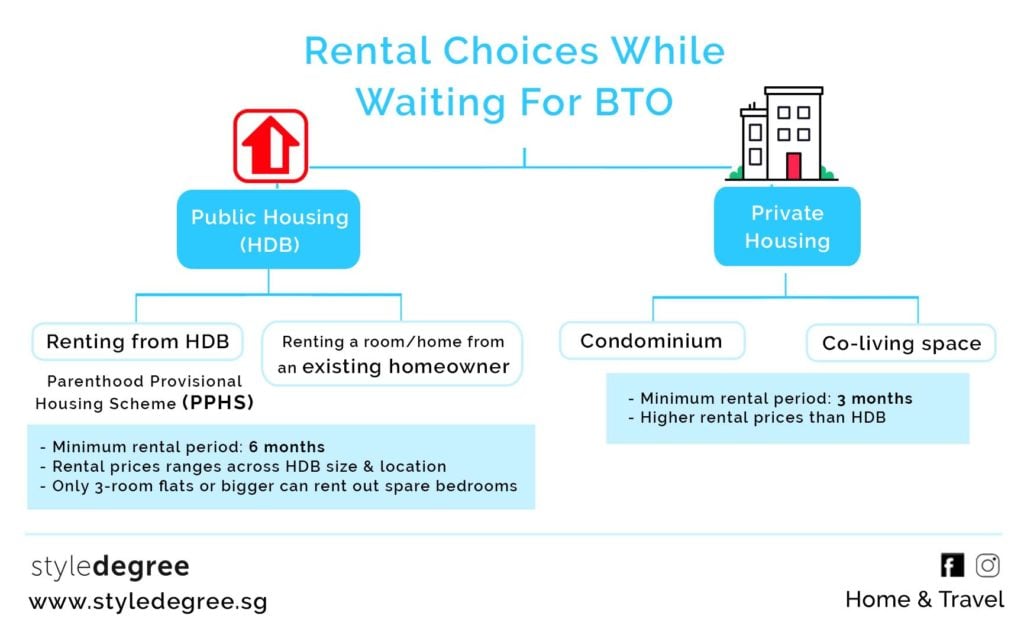 ---
HDB Rental Flats
HDB offers one main type of rental schemes for couples and families who need a place to stay: the Parenthood Provisional Housing Scheme (PPHS). While HDB homeowners themselves can also lease out their homes, that is considered a separate scheme from the PPHS, and has to be initiated by the homeowners.
Renting under the Parenthood Provisional Housing Scheme (PPHS)
1) Eligibility & Rules
Firstly, let's look at the PPHS: this is the main offering from HDB to bridge the gap for couples waiting for their BTO. The eligibility criteria is similar to those in applying for a BTO, but there are some differences:
You should be a married couple, or applicants under the Fiancé/Fiancée Scheme, or a Divorced or widowed parent with children (Priority will go to married couples waiting for an uncompleted HDB flat!)
If you get a PPHS and are not yet married, you have to submit your marriage certificate within 3 months of key collection
You must be a Singaporean Citizen, and the other applicant should be a Singaporean Citizen or a Singaporean PR
You cannot own an existing HDB flat (if you co-own a current flat, you have to give it up within 6 months of key collection for the PPHS flat)
You can share a PPHS flat with another eligible household! However, there are caps on the total number of people allowed in the house (for both 3-room and 4-room flats, the maximum is 6 people)
2) PPHS rental prices
PPHS rental flats are also only available in certain areas, and each area comes tagged to a different monthly rent amount. After you sign the tenancy agreement with HDB, you'll immediately need to pay a one-month rental deposit as well as the relevant stamp fees. The image below shows details about the rent amounts and areas available under the PPHS rental living arrangement: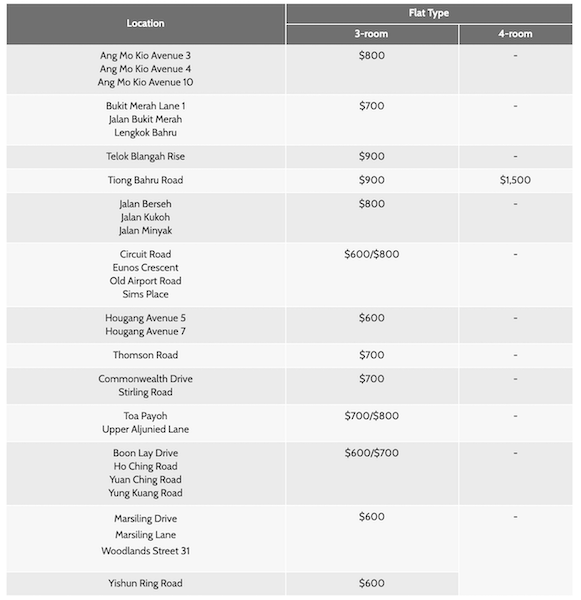 ---
Renting a room or house from an existing HDB homeowner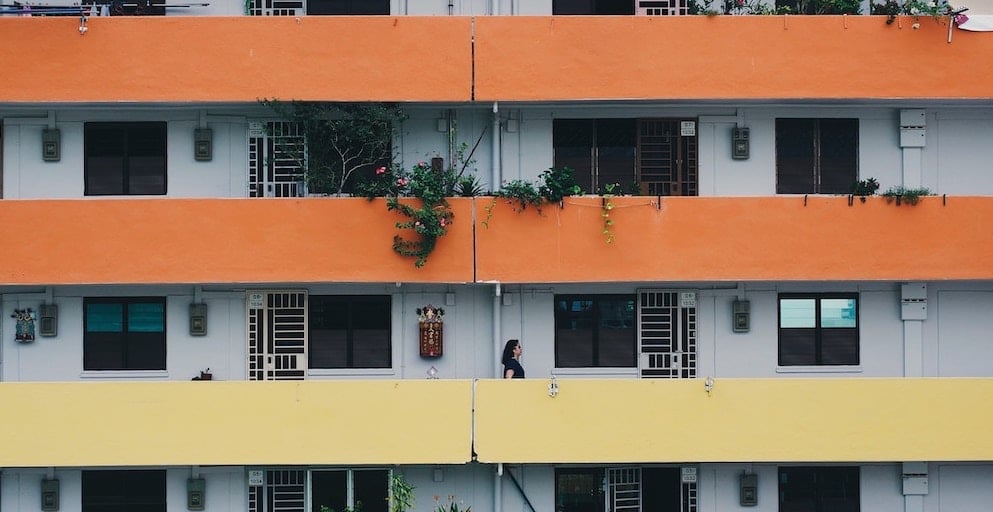 Another housing option newly-weds can consider when waiting for their BTO: renting a HDB flat/room from the registered homeowner.
1) Eligibility & Rules
If you're renting a room in an HDB, just remember these 4 rules:
Only 3-room flats and larger can rent spare bedrooms' out
For both 3-room and 4-room flats, the maximum number of occupants living in the house is 6 people
Proposed tenants have to be approved by the HDB before they can move in
Rooms can be rented out to Singaporean Citizens and Singaporean PRs, as well as non-citizens who are legally residing in Singapore for work-related purposes (with a valid S-pass, etc.).
If you're renting an entire HDB, there are additional rules that apply; for example, only Singaporean Citizens can rent out their flat, so be sure to check that your landlord is a Singaporean Citizen, not just a Singaporean PR. At the same time, 1-2 room flats can be rented out, but there is a maximum of 4 occupants. There's also a percentage quota, similar to the ethnic quota for BTOs, where only 8% of the neighbourhood (or 11% of the block) is allowed to be rented out to non-citizens.
2) Things to take note of
Both HDB room rental and house rental have a minimum occupation period (MOP) for the homeowners, so be wary of homeowners who start renting out their houses once they move in; as per the HDB rules, they can only start renting out their houses after staying in them for 5 years! There is a slight difference for resale flats that were bought before 2010, with the MOP reduced to 3 years.
3) HDB rental prices
For rental from HDB homeowners, the rental amount is decided between the homeowner and the tenant, but there's still a minimum of 6 months' rental. If you stay for more than 3 years, you'll have to work with the homeowner as they have to renew the application for your tenancy.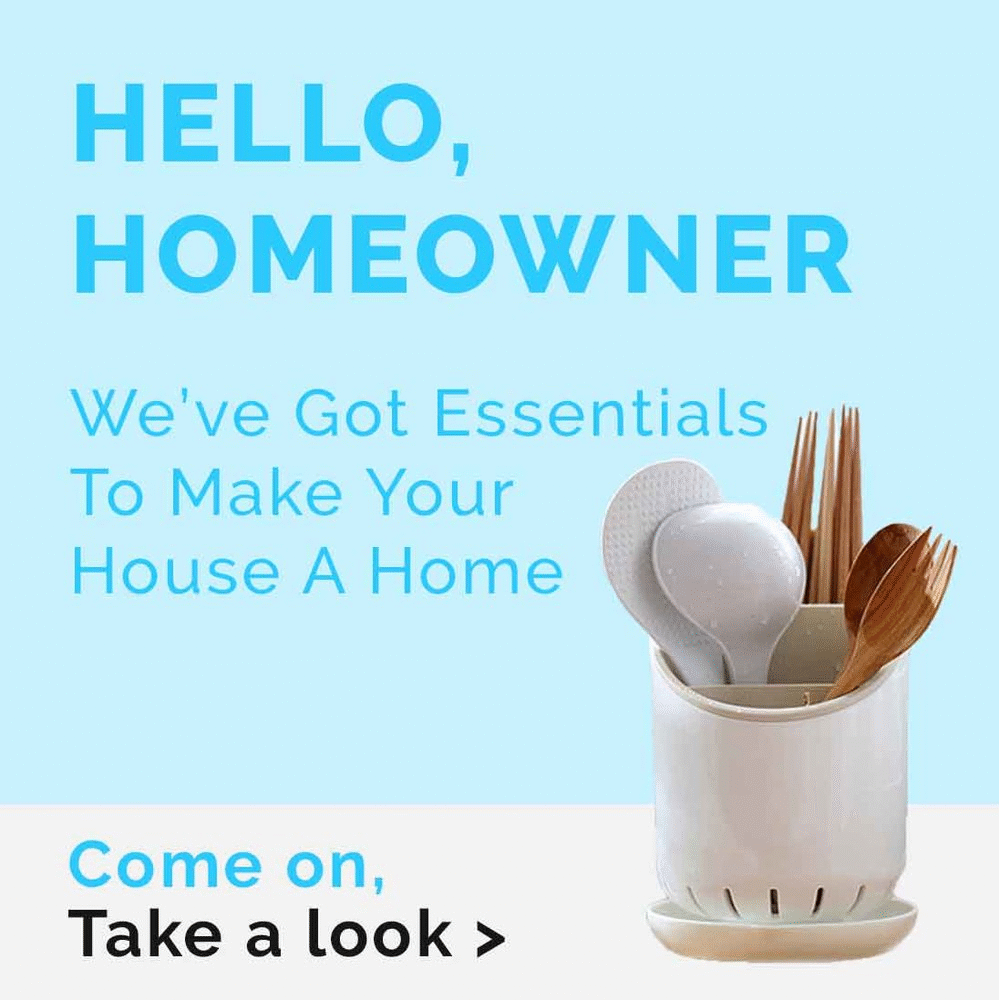 ---
Private Condominium Rental
In terms of private condominium (or other types of private property) rental, the rules are a lot more complex; since the tenancy agreements can differ across different landlords, it can be tough to know what to look out for.
1) Eligibility & Rules
There are two main rules from the Urban Redevelopment Authority (URA), though:
Minimum rental period is 3 months.
Maximum number of unrelated persons living in a home is 6. (Unrelated refers to occupants who are not related to each other, or the homeowner. If you are moving in with other family members, you can have more than 6 persons.)
2) Things to take note of
There are a few tips and common arrangements for private property rentals; for example, most landlords prefer a minimum of 2 years' rental, with an option for early termination by the tenant. That way, they won't have to keep finding new tenants every year. If you are looking to stay at least 2 years, then, you might be able to get some wiggle room in the rent amount, as landlords are more likely to be willing to rent to you.
3) Private condominium rental prices
Rental prices vary wildly by the area and property you want to rent. Single bedrooms can go for $800, while entire 5-room condos go for $4,000 a month. It depends on the arrangement between the landlord and the tenants.
---
Co-living spaces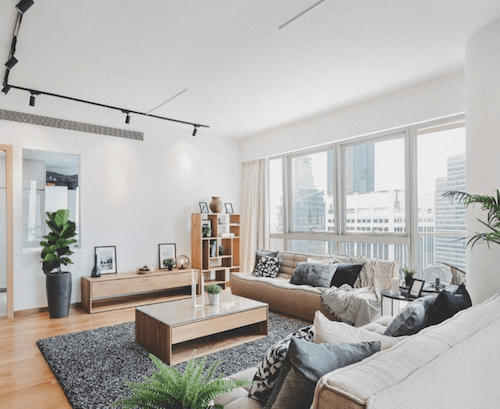 You could also consider co-living, a new concept that allows for hostel-like sharing of communal spaces, with the Wi-Fi, cleaning, and other frills for hotel-like privacy. That might be more interesting for couples who like to mingle with other like-minded people. Each co-living space will have different rules and requirements.
Either opt for a private bedroom in a co-living space or a 1,2, 3 bedroom apartment. Depending on location and size of the space you are looking at, prices ranges from $800 to $2200 (and more) per month. Most co-living spaces in Singapore has a minimum rental period of 3 months.
---
Should you rent from HDB or private while waiting for your BTO?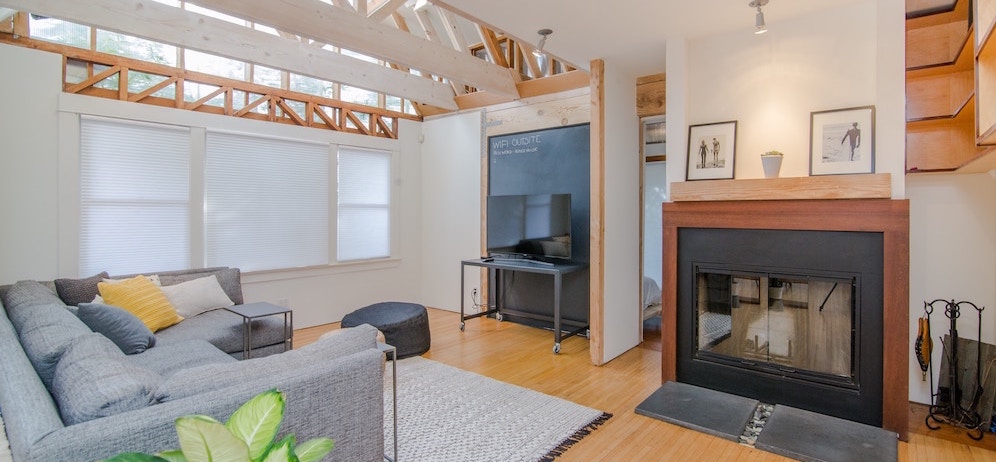 That answer will help you decide what arrangement suits your needs best. Both HDB and private rental generally require the tenant to manage electricity, PUB and gas bills, so you also need to add that to your living costs. Regardless of the option chosen, you need to remember that there is a minimum of 3 months rent (no short-term Airbnb options here!).
If you need a space for less than 3 months, it might be better to just stay in your in-laws' house for the time being (ahem, time to forge a healthy relationship with your MIL 🙂). However, if you're looking for a longer-term solution, we hope that these rental options have given you enough information to make a choice!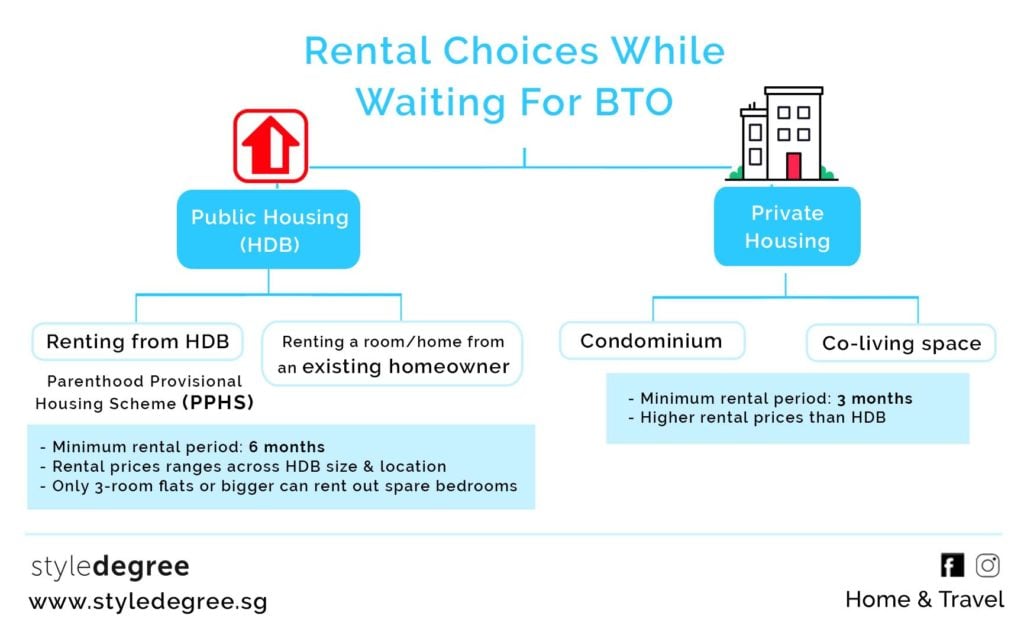 ---
While your rental home may be just a temporary home, keeping things organized is still a must! Opt for functional home essentials you can conveniently bring over and use them to your future BTO home.
Get useful tips on home decor, home organization by following us on Instagram (@style_degree), Facebook and join our Telegram channel (@HomeownersSG)!