Is one of your New Year's resolutions to have a neat and tidy home? Home organization has gained a lot of traction, especially during COVID-19 lockdown in 2020. As you start spending more time at home, you'd start to realise how much clutter you've collected.
We are often affected by our surroundings, so it's important to keep our space functional and void of items that evoke negative emotions. An organized home will also improve your mental health – it helps you stay calm and in control, increase productivity and reduces stress.
With all these benefits in mind, read on to find out the home organization trends in 2021 to help you get started in your journey!
---
1. Clear Containers Are All The Rage
Ever since the release of popular Netflix series Get Organized With The Home Edit, arranging your items by colour in clear storage bins have been extremely popular among organization enthusiasts.
If you have no idea what's going on, check out our StyleMag article on 8 Best Organizing Tips From The Home Edit Netflix Series.
There are many reasons why clear containers are popular among homeowners – not only does it keep your belongings visible, but it gives your home and shelves a uniform and streamlined look.
However, if you prefer to keep your items out of sight, don't be afraid to purchase opaque containers. Alternatively, you could opt for natural material baskets such as rattan storage baskets.
Also check out on StyleMag: How To Choose The Right Storage Container Box For Singapore Homes
---
2. Save Space With Collapsible Home Essentials
As homes are getting smaller, people are finding smart storage solutions to maximise space. One of those solutions is going for collapsible home essentials. Items such as mop buckets, storage and food containers are bulky and take up lots of room when not in use.
By opting for collapsible items, you can simply fold and stow it away in narrow spaces to keep it out of sight!
Browse our range of collapsible home essentials – from your living room to your closet!
---
3. Organize WFH Workspace To Improve Productivity
Before COVID-19, most people didn't pay attention to their home workspace as it's rarely used. However, with work-from-home being the default mode of working, you'll be spending ample time in this space, making it a key organization area for 2021.
Having an organized workspace will improve your concentration and productivity. Start by stacking your papers neatly in a document tray and storing your daily writing supplies in a stationery holder.
You might want to consider investing in a monitor riser or a laptop stand as well – having your monitor placed at eye level improves your sitting posture.
Also check out on StyleMag: Boost Productivity With These Desk Organization Ideas For Office & Home
---
4. Creating A Pinterest-Worthy Pantry
As your family members continue working and staying home, your kitchen pantry becomes an even more central part of your home. Everyone's heading to the pantry to grab refreshments in between classes and work.
Keep your pantry organized by decanting food items into stackable food containers – it gives your pantry a clean and streamlined look while utilising every inch of space. For snacks, consider arranging them in pull-out bins to keep the snacks at the back of your cabinet accessible.
To make it easier for your family members to locate the different food items, remember to label the containers and bins!
Also check out on StyleMag: 6 Organizing Rules To A Beautiful & Tidy Kitchen Pantry
---
5. Take Advantage Of Vertical Space
Swipe <- or click on image to view gallery
When you're working with a small space, every square foot of your home matters. Oftentimes, there are many areas that people overlook as storage space. For instance:
Ceiling Space: Implement floor to ceiling shelves or suspend ceiling desks/shelves fully utilise vertical space.
Wall Space: Maximise wall space by attaching wall holders or pegboards. They are great as customisable storage solutions to suit your needs.
Base Cabinet Space: Utilise wasted space underneath your cabinet by implementing a toe-kick drawer – this shallow drawer is perfect for storing your baking sheets and trays.
You can also take advantage of vertical space in enclosed areas:
Kitchen cabinets: Add shelf risers in your cabinets to maximise height space while keeping your essentials organized and accessible.
---
6. Opt For Closed Storage System
Throughout 2020, you probably collected a lot of things from your late-night online shopping trips. Choose closed storage solutions such as floor-to-ceiling cabinets instead of open shelving.
While open shelving might be all the rage before, it's currently an impractical storage solution due to its high maintenance. You need to put in extra time and effort to consistently ensure the items on these shelves are looking neat so it won't be a sight for sore eyes.
On the other hand, closed storage solutions is a cleverly disguised storage solution that allows your home to look neat and tidy whenever you need to attend a last-minute video conference.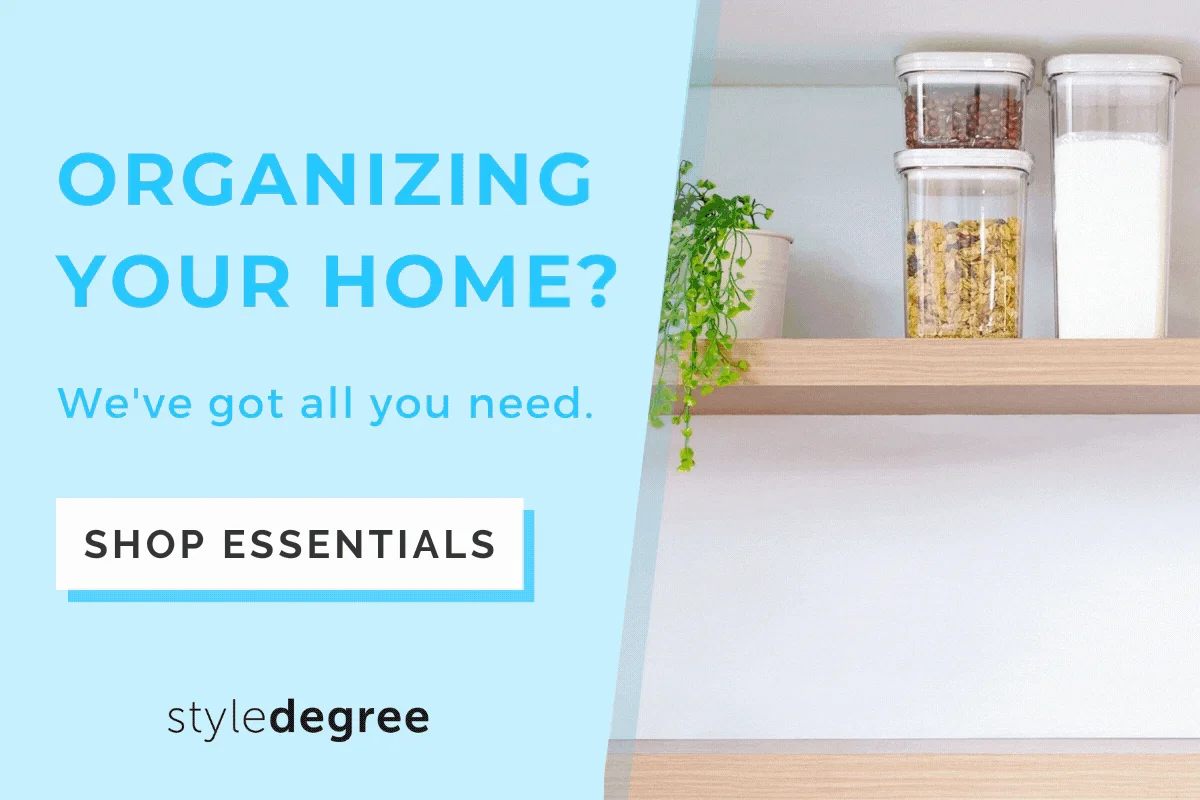 ---
7. Having Smart Storage Solutions
Swipe <- or click on image to view gallery
With homes getting smaller, it's important to implement smart storage solutions in your home. One way you can create a smart storage solution in your home is by opting for dual-function furniture – more specifically furniture that incorporates storage. Some furniture that features additional storage are ottoman, bay window seats, sofas and bed frames.
Another smart solution is furniture that can easily be tucked away when not in use. Furniture such as pull-out dining table, kitchen countertop extension and foldable wall-mounted desks don't take up too much space and keeps your home multi-functional.
Swipe <- or click on image to view gallery
Also check out on StyleMag: 15 Best Space Saving Home Interior Ideas To Maximise Space
---
8. Only Keeping The Essentials
As you spend more time at home, you'd have noticed the presence of clutter taking up valuable real estate space.
Take the time to look through all your belongings and set aside items that you no longer use. Sentimental items might be hard for you to part with, but you can always take a picture of it and store it on your phone.
Discard items that are no longer in pristine condition and donate those that are still usable. Check out our StyleMag article on Ultimate List Of Places In Singapore To Donate Your Old Clothes & Items.
---
9. Embark On Bite-Sized Projects
You want to organize your home, but you're overwhelmed by all the different areas you need to tackle. Don't worry about it – the key to decluttering and organizing is by embarking on small-sized projects.
You don't have to start with organizing your whole closet or kitchen; instead, start with small home projects that will have a big impact. You can start organizing areas such as your bathroom or kitchen drawers – you probably don't store any sentimental items in these spaces, so it'll be easier for you to declutter.
Upon completing these small projects, you'll see the difference it makes to your home, thus inspiring and motivating you to take on bigger decluttering projects!
---
10. Adopting Good Habits
You went through a lot of trouble decluttering and organizing your home. It's a tiring and tedious process that you probably don't want to go through again. To ensure that your home remains neat and organized, start adopting simple organizational habits!
They don't have to be difficult habits – it's all right to start with simple habits such as placing back your items after using or making your bed every morning. Fostering new habits takes time; continue doing these small tasks everyday and soon enough, it'll be second nature to you to clean up after every use.
Also check out on StyleMag: Healthy Habits For A Clean, Organized Home
---
With these organization trends in mind, it's your turn to get up on your feet and start your organizational journey! Working from an organized and personalised space will make you feel happier and more productive.
Are there any other organizing trends that you're a fan of? Let us know in the comments below!