Complaints about a messy closet/wardrobe and having insufficient space to fit in all your shopping buys, we have heard it all.
There are many types of wardrobes in Singapore, from sliding door wardrobes to walk-in wardrobes. No matter which type of wardrobe you have at home, these tips are sure to help you get your wardrobe in order in no time!
Learn how to not only organize but also maximise your wardrobe space in your HDB or condominium to the fullest!
---
1. Use Wardrobe Organizers For Intimates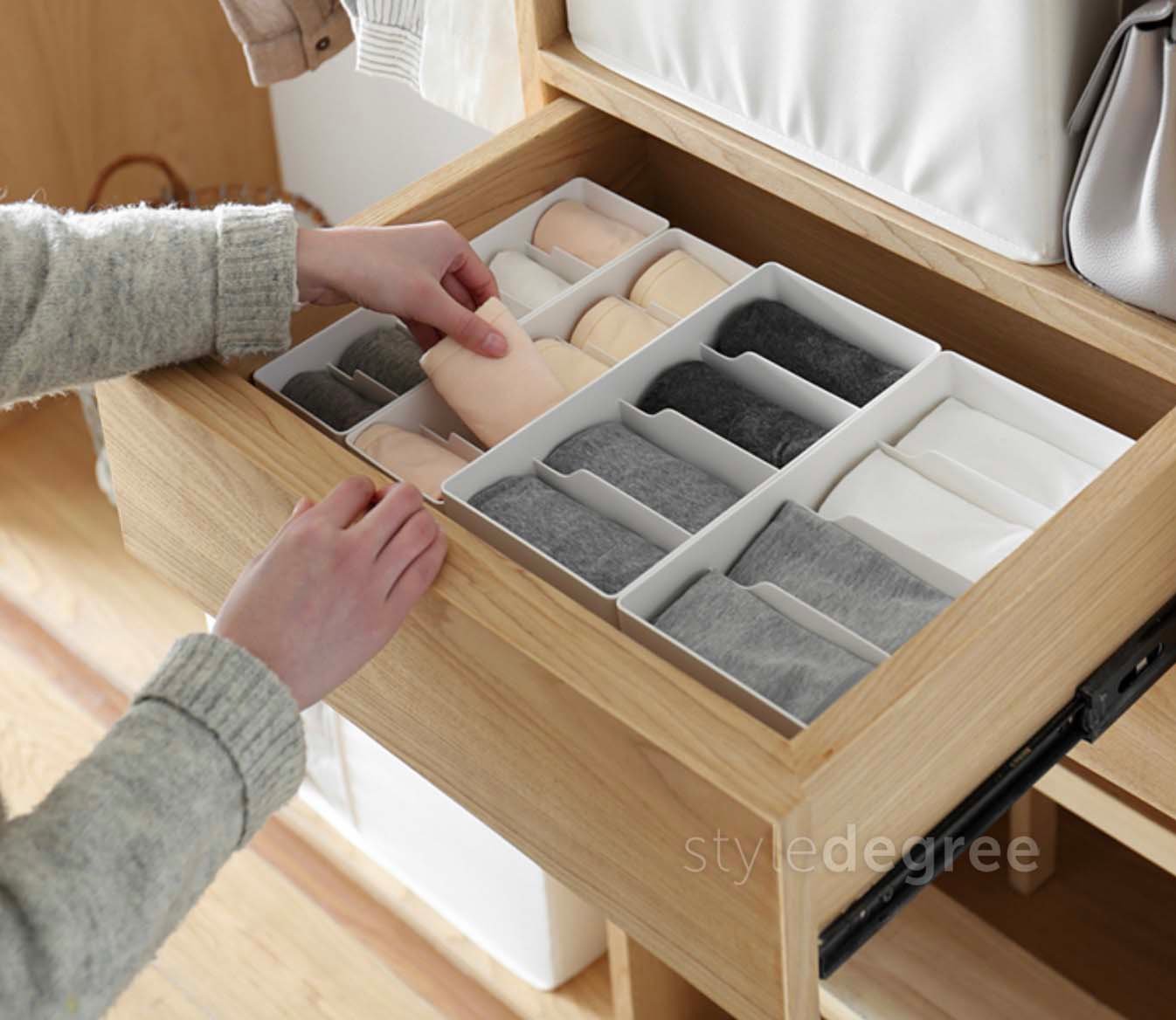 When storing your intimates, utilise compartmentalised storage to keep them neat and tangle-free. They're simple to use and easy to maintain – anyone can have their undergarments, bras and panties arranged tidily!
These storage organizers are best placed in the drawers of your wardrobes; they keep them hidden and untangled.
Do you know how to fold your undergarments properly? Watch our IG video to learn how to fold your lingerie and keep it organized!
---
2. Have Dedicated Organizers For Accessories
If you have messy piles of scarves, hijabs, belts and ties in your drawers, hang them up neatly in your wardrobe using our Accessories Multi Hanger – it gives you an easy view of what accessories you have. 
However, if you have too many hijabs, hanging them on a hanger might not be ideal. An alternative would be utilising storage bins – just roll up your scarf and file it in the box!
Tip: Separate your hijabs based on your preferred categories such as print, colour or occasion. For those that you wear daily, keep them in a separate box so you can access them easily. 
We know that women and bags are inseparable. So to keep your prized possession organized, utilise hanging bag organizers to neatly tuck away your handbags in your walk-in wardrobe.
---
3. Hang Multiple Clothes On 1 Hanger
Do you find yourself using too many hangers just for your bottoms? You can maximise your wardrobe space by utilising space-saving hangers such as multi-clothes or collapsible hangers – they can hold more than 1 clothing item at a time!
Arrange your bottoms by colour or type, depending on your preference. For example, denim on 1 hanger and formal trousers on another.
DIY Hack: Use tabs from your canned drink to create more hanging space! Simply loop 1 hole of the tab through the hanger and slip another hanger in the bottom hole.
Image source: The Shabby Creek Cottage
---
4. Use Uniform Hangers For An Organized Look
This simple organization tip will make a huge difference to your overall wardrobe organization. Using uniform hangers helps your wardrobe look neat and coordinated.
Remember to choose hangers of the same shape, type and preferably colour too. This tip helps in making your closet look organized effortlessly!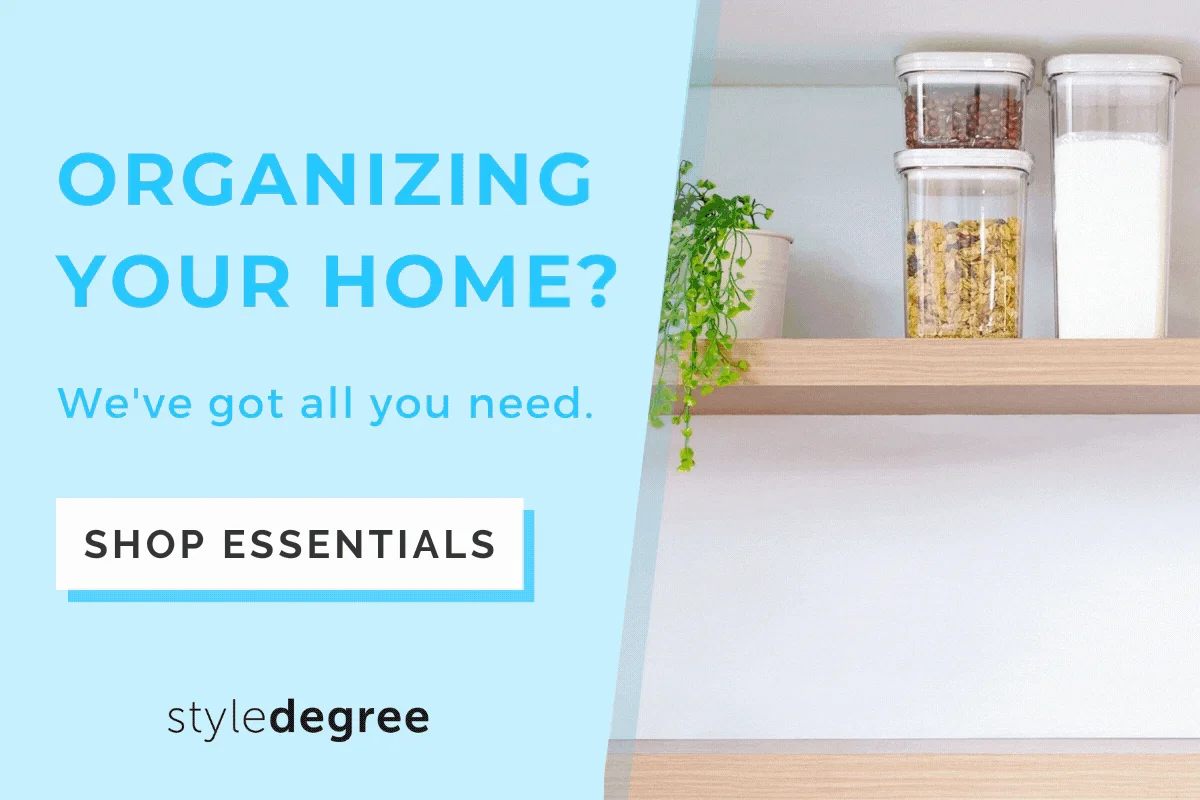 ---
5. Categorise Your Clothes
Image source: Moodfit
Sorting your clothes properly will help you find your clothing pieces easily. Organize your clothes in a system that makes sense for you. If you aren't sure how to start categorising your clothes, here are some ideas:
Category followed by colour: Group all your similar clothes together (shirts, dresses, blouses) and arrange them according to colour. This method creates an organized wardrobe and saves you time when you're getting dressed in the morning.
Length of clothing: Create a visually organized wardrobe by hanging your clothes from the longest to the shortest. Start with hanging your longer clothing pieces on the far left, working your way horizontally to the right with your shorter pieces.
---
6. Hang, Roll Or Fold?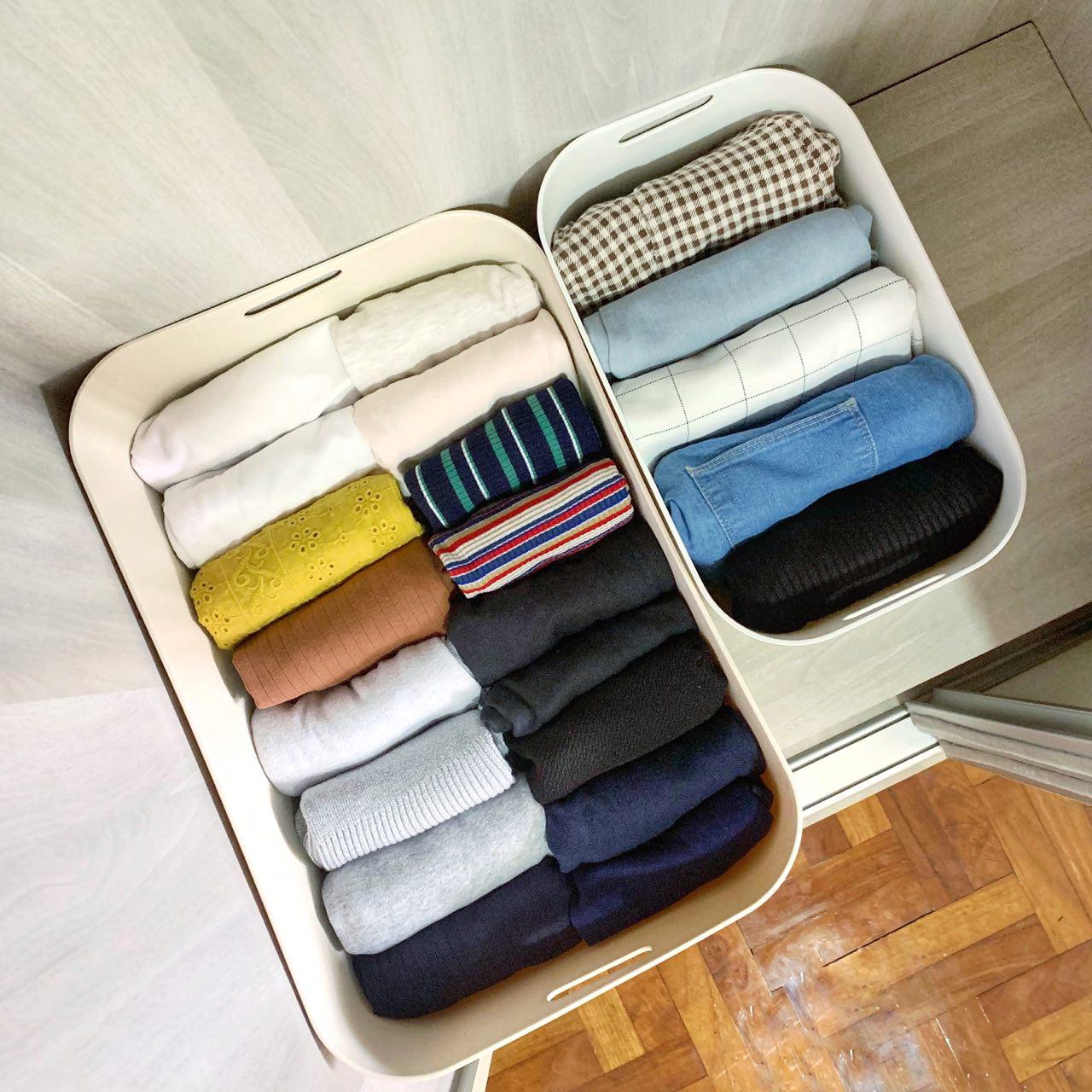 Are you lost as to which clothes you should hang, fold or roll? If you don't have too much space to work with, hang up your delicate (skirts, dresses) and sturdy (suits, coats) clothing items.
For your denim and sweaters, fold in and stack it up on a shelf. It's advisable to fold your sweaters and knitwear as it might lose its shape when hung up. Folding your clothes also reduces wrinkles and creases in your clothes.
Tip: Use shelf dividers to prevent your folded clothes pile from sliding into another pile and creating a mess!
T-shirts, pyjamas and workout clothes can be rolled and stored either in your drawer or a storage box. You can also fold and store your clothes upright as per the Marie Kondo way!
"When it comes to storage, vertical is best."

– Marie Kondo
Also, check out on StyleMag: 10 Best Decluttering & Tidying Lessons From Marie Kondo's Netflix Series
---
7. Place Frequently-Used Clothes At Eye-Level
Image Source: iStock
To maintain an organized wardrobe, hang your frequently worn clothes in front and centre of your wardrobe to keep it accessible. This prevents you from rummaging your wardrobe and wasting your organizing efforts.
Tip: Prepare and plan your outfits with our Outfitter Clothes Hanger to avoid messing up your wardrobe's organization.
For clothes that require folding, it can be hard to keep it neat and organized. The 'cheat way' of ensuring that it stays neat at all times comes with the help of our Easy Reach Clothes Organizer (5pc Set). Lift and retrieve your clothes in a fuss-free manner with an easy-to-grasp tab!
---
8. Stow Seasonal Items Separately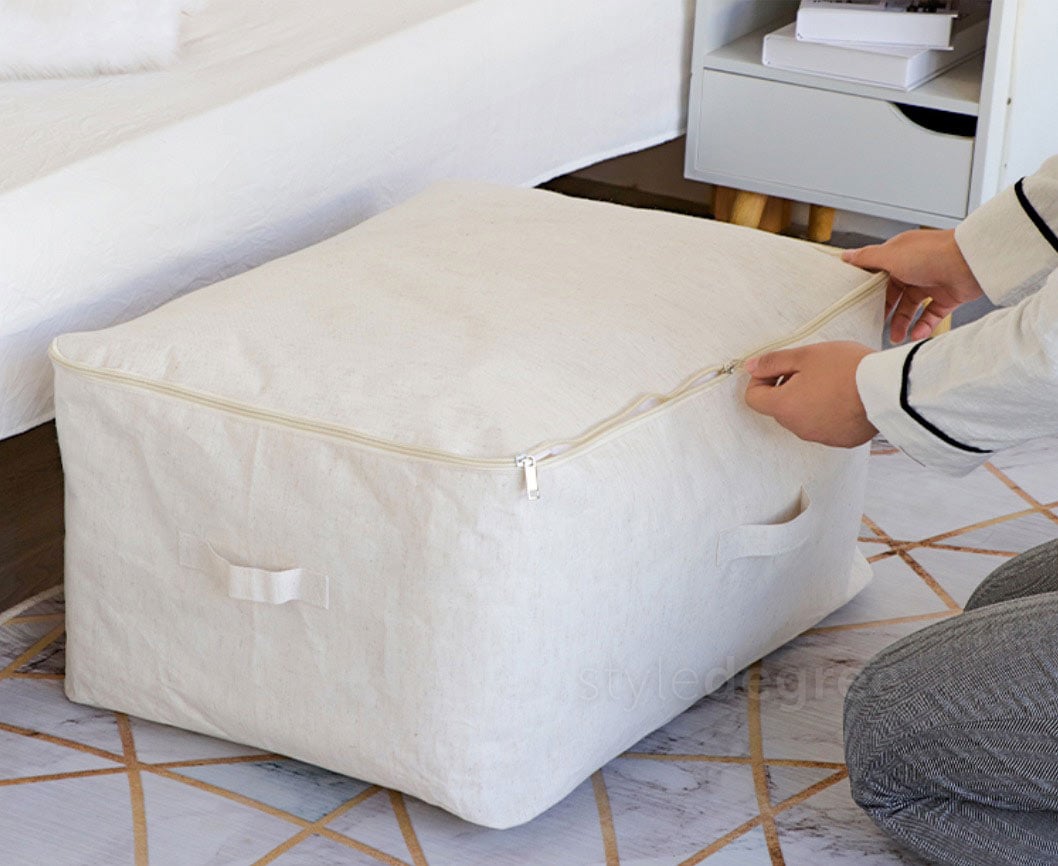 Ft. Canvas Quilt & Clothes Storage Bag
Save precious wardrobe space by keeping seasonal items such as thermal wear, and winter jackets in storage bags or boxes and stow them in the top compartments of your wardrobe or underneath your bed to cleverly utilise space!
Similarly, extra bed sheets, pillows and blankets should be stored separately in a dedicated space.
---
Rather than complaining about a messy closet/wardrobe, act on it. Start by optimising your space with the right hangers, keeping in mind the important organization tips and rules.
Also check out on StyleMag: 14 Best Small Master Bedroom Design Ideas For Maximising Space
Which organization idea had you go "wow"? Let us know in the comments below!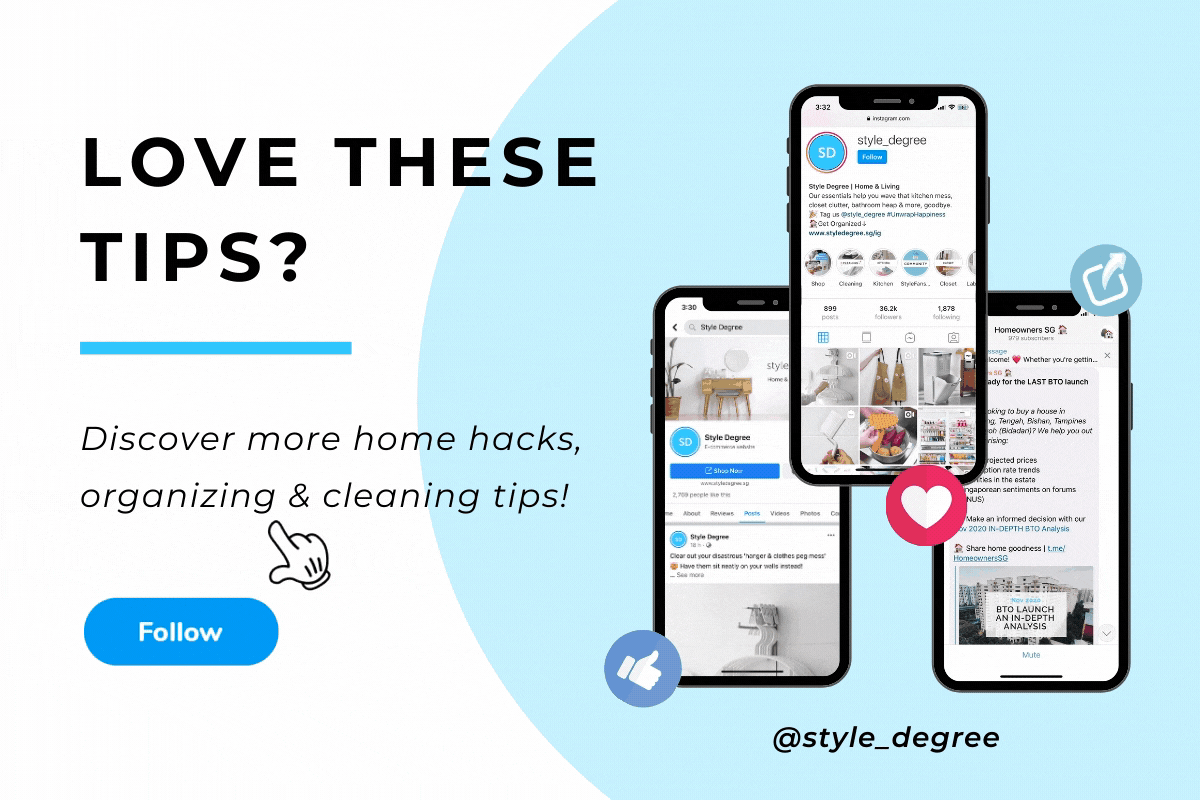 Follow us on Instagram, Facebook & Telegram!