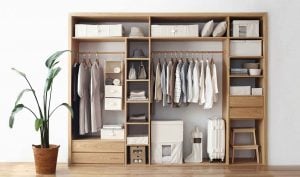 The demands of our daily lives, the endless to-do lists. While we all wish to be organized and tidy, its hard sometimes. Fret not now!
If you're unsure of how to start, you could simply start by learning these 5 simple steps to decluttering by Marie Kondo's KonMari method.
Take baby steps to decluttering and soon you will realise that it being free of clutter is possible.
---
The KonMari Method
It is a system and philosophy for tidying your home and leading a life that sparks joy. This method was devised by Marie Kondo, an organizing consultant in Japan. She has released numerous books on decluttering and organizing your home, with one of her books, "The Life-Changing Magic of Tidying Up" achieving New York Times best seller.
These are her steps in detail which you could follow through to get started in decluttering. Remember, organization takes time and effort. Take small steps at a time and you will be on your way to an organized life!
Step 1: Decide what is your ideal lifestyle
For instance, when decluttering your wardrobe, one's ideal lifestyle could be "easy to find the clothes needed", "clean", "neat". When tidying, think of your ideal life and always keep in mind that this is how you want to live and this is why you are tidying up.
Step 2: Choose a category to start with and bring everything into one spot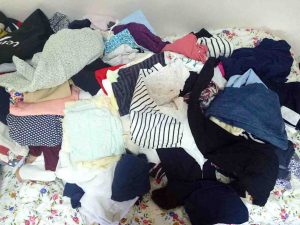 For a start, you can start with decluttering your clothes. The main point to note is that you have to empty your whole wardrobe and put all your clothes into one centralized location. In this way, you will be able to thoroughly declutter everything and nothing is left out!
Step 3: Start sorting, asking yourself if it "sparks joy"
Slowly, one by one, hold your clothes in your hands and feel it for yourself. Ask yourself these few questions –
Does it make you feel happy when you put it on?

Does it spark joy in you?

Does it gives you that confidence?

Do you see yourself wearing it?
If it does, then confidently keep that piece of clothing. Always remember to choose the things you feel happy to keep and will cherish it.
Step 4: Discard the items that do not spark joy in you, and say "Thank You" before discarding
One important thing to do before letting go of an item is to say "Thank You" to the item. Thank it for serving and supporting you till now. "Letting go" of an item doesn't always have to mean that you just throw it away, it can also mean "gifting". Donate them to the charity and benefit the needy and less privileged instead.
Step 5: Re-organize your items in a vertical way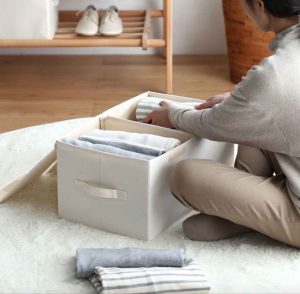 For clothes, fold them up and store them vertically (not flat down!) so that you are able to see what is in your wardrobe in a glance. Interestingly, Marie Kondo has her special way of folding her clothes, in which you can learn how to do it from the various tutorials available on Youtube.
When you re-organize your long and heavy items (e.g dresses, blazers) back into your wardrobe, hang them starting from the heavy and longs ones on the left to the lighter ones on the right as seen below.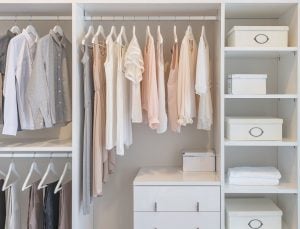 All in all, Maria Kondo believes in decluttering by category, starting from clothes to books, papers, komono (stationeries, electronics and kitchenware) and finally to your sentimental items.
When deciding whether to keep or discard an item, one has to question whether the item "sparks joy". In this way, you will be able to get rid of unnecessary items that result in mess and only keep those that you require.
Try out these 5 simple steps and share with us how your decluttering session went!
Check out our range of home organizers available, from closet to kitchen and to bathroom, we've got you covered!