Been bogged down by a horribly messy office space or workstation but have no idea how to get yourself out of this rut?
In her new book Joy at Work: Organizing Your Professional Life, organizing guru Marie Kondo and organizational psychologist Scott Sonenshein teamed up to deliver some timely advice on what you can do to create a cleaner work space.
Here's how you can declutter your workspace and become more productive at work, even whilst working from home with kids around!
---
Creating A Productive Workspace
1. Consider your relationship with your workspace
Just as Kondo states, we spend most of our time at work and deserve a clean workstation to channel our creative juices at. She recommends asking yourself these questions before you get started:
"Am I honestly feeling positive about working here right now?"
"Does working at this desk every day really spark joy for me?"
"Am I sure that I'm giving full scope to my creativity?"
"Do I really want to come back to this tomorrow?"
Answer these questions honestly to help you get in touch with how you truly feel about your workspace environment. A resounding 'yes!' to all questions would signal a high level of joy at work.
Otherwise, any feelings of doubt or unhappiness would probably point towards giving tidying up your workstation a try. A clutter-free desk can significantly boost productivity and bring you greater joy in your workspace!
Also check out on StyleMag: 10 Best Decluttering & Tidying Lessons From Marie Kondo's Netflix Series
2. Create a calm, uncluttered workspace
Remove all other items off your desk and select one item that sparks joy when you look at it. Kondo keeps a crystal or small vase of fresh flowers on her desk.
Then, set aside a spot for your work essentials, items that are vital to get work done. Keep these items on a little tray or basket and bring them out only when work begins to make the distinction between private and professional life clearer. It comes in especially handy if your worktop is a shared surface, such as your dining or kitchen table.
To help you with the workspace clearing process, common problem areas for clutter such as paper and emails are addressed in the following points!
2.1 Decluttering work essentials
Work essentials would pertain to items like your stationery and company items like your identification tag. Keep any items that can be categorised into any of these 3 categories:
Things that directly allow you to feel joy. e.g. a favourite pen or a photo of your loved ones
Things that you use frequently to make your daily work easier (functional joy). e.g. staplers, tape
Things that will contribute to your future plan for your career (future joy). e.g. invoices
Everything else that doesn't spark joy can go.
Tip: While Kondo suggests considering if an item sparks joy for you to help you decide whether or not to keep it, it's not often that you'll feel enthused by work-related items. In this regard, Kondo suggests a simple variation of "Will this help my company prosper?" to help you decide!
2.2 Decluttering papers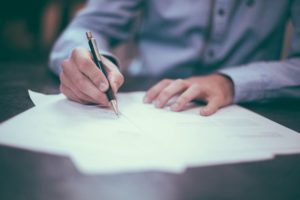 For papers, Kondo's advice is to dispose of anything that cannot be categorised into these 3 categories:
Currently in use
Needed for a limited period of time
Must be kept indefinitely
Don't stack your papers. When stacked, we tend to be misled by the notion of endless storage space. There's also a false sense of awareness of what needs to be done when things lie forgotten at the bottom of the pile of papers.
Instead, store your papers vertically. This ensures you know how much paper clutter you've accumulated and makes retrieving the relevant documents easier as well.
Also check out on StyleMag: How To Get Rid Of Paper Clutter For Good (Bills, Letters & Receipts)
2.3 Decluttering emails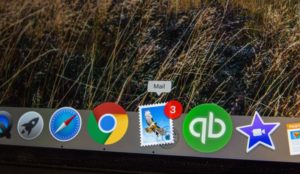 Set aside time at the start and end of each day to run through your email inbox. This eliminates the problem of constantly checking mail throughout the day. Repeated distractions leave you unproductive as your focus is taken away from the task at hand.
If you need a guideline to work towards, it might help to know that in Kondo's case, her email inbox never exceeds 50!
2.4 Decluttering books
For any bookworms out there, good news! Kondo says that there is no fixed number of books you should hold on to, because the amount that feels right will differ from individual to individual.
In making the decision whether a book should be discarded, take each book in your hand and consider if you feel moved by it. Your shelf should only be filled by books that you feel happy with, even just by looking at them!
Tip from Kondo: Put aside thoughts of whether you'll re-read a particular book or if you've attained mastery of all information within when making your decision. The book should be one that you love wholeheartedly!
---
How To Stay Productive Even When You WFH With Kids
Now that you've decluttered and created a tidier workspace for yourself, it's time to get down to work.
For those that are still struggling to remain focused and productive when working from home, here are some tips to give you that extra boost towards a more productive you!
Let yourself know that work has begun
Perform a signalling action at the start of each workday to let your mind and body know that it's time to get down to business.
Keep it simple, so that you'll feel more inclined to do it every day! For instance, Kondo strikes a tuning fork and diffuses a stimulating essential oil like peppermint to tell herself that it's time to get into work mode.
Note: Just as you marked the start of your work day, end it off with a simple ritual. Be it switching off all notifications or switching on some calming music, make it a point to transition into a mood of rest and relaxation.
Communicate when sharing a workspace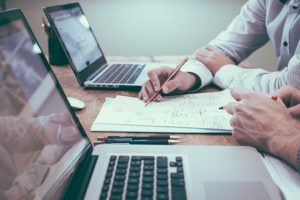 If you and a family member are both working from home and need to share a workspace, it can be difficult to lay down the guidelines and achieve workplace harmony at first.
Understand your partner's needs and work schedule so that both of you can support and complement one another in the workspace. Be open to sharing what you need from each other. Kondo and her husband choose to write out their goals in a sketchbook so they can understand where there are conflicts and come to a consensus.
If your partner is prone to mess, you can put their work essentials in a separate box or tray and pack them away so that you can focus in the workspace.
Also check out on StyleMag: 10 Stylish Yet Functional HDB Study Room Designs
Keep your children occupied
For parents who are finding it difficult to juggle work and childcare at the same time, Kondo has some useful tips to make the situation more manageable.
She recommends giving your children a daily schedule that is regimented. Activities can include reading, doing puzzles or even helping out with meals to achieve structure in their lives.
Ensure that they are aware of what your schedule for the day is like as well, to lessen the chances of them interrupting your work.
Tip: It's natural for children to throw tantrums, so try to take them in stride! Kondo's advice is that you should address the feelings that led to the tantrum, and be sure to honour their feelings by acknowledging what has caused your child distress after listening.
---
If you've been having a rough time working from home, we hope some of these tips resonated with you and will still make a difference in your professional life once you're back in the office too.
Just as tidying the home sparks joy in our lives, tidying the workplace sparks joy in our work, helping us to become more organized and achieve better results.

We can truly spark joy in our work life only when we have put every aspect of it in order, including emails, digital data, work-related tasks, and meetings.

Marie Kondo, Joy at Work: Organizing Your Professional Life
Learning to integrate your private and professional life in a common space may not be easy, but with some effort, it can be done, with great results! Let us know what you'll be trying out in the comments down below.
Get useful tips on home organization, decor and more by joining us on Instagram (@style_degree), Facebook and join our Telegram channel (@HomeownersSG)!