Looking to convert a spare room or corner of your home into a study room or home office? Perhaps you've bagged a 5-room HDB unit and are looking for ideas for that 'suggested study' area you have in your living room.
In either case, carving out a study room in a small HDB flat is no easy feat, but we're here to show you how you can make it work through creative desks, innovative corner solutions and more!
---
Get Creative With Your Desk
1. Set up a floating standing desk in your bedroom
Carve out a simple study or work area in your HDB bedroom with a simple partition wall that also provides ample storage space.
A floating standing desk gives your workspace corner in your bedroom a brighter and airier feel. Besides being unique, research has also shown that desk installed at standing height are a healthier option for office workers, lowering the risk of weight gain and blood sugar levels.
When you're tired from standing and want to sit, simply pull up a bar stool to perch on so you enjoy the best of both worlds.
Absolutely in love with this look? Turn this unique table into a total statement piece by sprucing it up with some of your favourite reads and potted plants!
2. Utilise small nooks & crannies
Swipe <- or click on image to view gallery
Clever carpentry can help you maximise space even in your small HDB flat, so don't let those nooks and crannies go to waste. Slipping study tables and shelves into odd spaces can turn them into study corners or storage spots.
A key benefit of a corner-wrapping workstation is how it creates a neatly divided workspace for two people to share. With both parties facing away from one another, there's no need to worry about privacy or staying focused!
3. Have a recessed desk
Love a little cosy home office in your home while not taking up too much of your precious space? A recessed desk is a simple way to give an illusion of a larger space.
Bring the corner to life with home accessories such as vases, trays, baskets and photo frames. Instagram and Pinterest-worthy? Of course!
4. Work from your bed
While this might be frowned upon by productivity experts, squeezing in a desk at the foot of your bed might just be an ingenious solution if you are tight on space.
You get best of best worlds, not spending money purchasing a work chair and being able to work from the comfort of your bedroom.
5. Stay productive with an organized desk
Having a clean desk means a clearer mind. If you've been struggling with all the multitude of distractions around you, then it's time to take a step back and get organized!
Purge any unwanted or unused paper clutter or items. Here are some common desk items you might want to sort through:
Stationery (e.g. pens with dried ink)
Papers
Cables/Wires
Electronics
Miscellaneous Small Items (e.g. paper clips, thumbtacks)
Also check out on StyleMag: How To Get Rid Of Paper Clutter For Good (Bills, Letters & Receipts)
Put items that you use frequently on your dominant side (e.g. right for right-handers) to avoid constantly reaching around for items. This prevents interruptions when you're trying to focus. You can leave these frequently used items on your desk, but pack away everything else in drawers or shelves.
Make it a point to set aside time at the end of each work day or week to get your desk organized before you leave to keep it neat in the long run. Keeping everything organized can also be made easier with desk organizers for your papers and stationery.
---
Jazz Up Your Walls
6. Fill the space with colours
Swipe <- or click on image to view gallery
Colours are a great way to add personality and liveliness to your study room/home office area.
Tip: Divide up your study room into various zones for different purposes with colours. For instance, in the first photo, a reading nook is demarcated by a pink pastel wall whereas the blue pastel wall sections out the working area.
Refer to this colour chart to get some inspiration on what colours you can opt for. Different colours evoke different emotions, select something that speaks to your heart and will be easy on the eyes.
If you prefer white walls, jazz up your study room by using your furniture as accent pieces.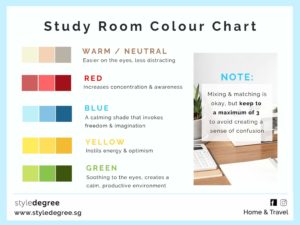 7. Get pumped with a feature wall
Visually enhance your room by creating a feature wall that will liven up the environment so you feel ready to work.
Curate your environment to reflect who you are as a person and what you believe in. Check out these amazing ideas to get you started on that feature wall!
7.1. Install floating shelves
Swipe <- or click on image to view gallery
Maximise vertical space and transform the area above your study desk into an open-shelved mini library. Let your creativity run wild and try out different floating shelving options to spruce up your space!
Display some of your personal figurine or book collections. Or put up some pictures of friends or family. As a rule of thumb to creating a gorgeous vignette, group objects of varying heights together. Keep them to odd-numbered groups of 3 or 5, for greater aesthetic appeal.
Also check out on StyleMag: 10 Floating Wall Shelves Decorating & Styling Tips
7.2 Carve out recessed shelves
Swipe <- or click on image to view gallery
By contrast, a recessed shelf can allow for your shelving to be seamlessly integrated into your study room, with no jarring protrusions or unsightly corners.
Install LED lighting under the shelves to make the objects on your recessed shelf stand out especially at night. It's an effective way to bring ambience and mood to your study room too.
7.3 Peg up your items
Keep your desk clutter-free by making use of a pegboard as a wall storage space. It is definitely a space efficient and aesthetic way to keep small knick-knacks like rolls of tape and daily reminders within an arm's reach.
Add a personal touch by pegging some of your favourite photos or inspirational quotes up on the board as well!
7.4 Get a green wall going
Have a soft spot for beautiful green houseplants? Living green walls are a great way to bring nature into your workspace, Plus, they help to reduce harmful pollutant gases (e.g nitrogen dioxide) by 40% to 60%, which can give you a cleaner and fresher environment to work in.
Choosing the right species of plant is dependent on site conditions, but you can also consider the type of look you're going for. For instance, ferns can add volume and create a jungle vibe!
---
5-room HDB 'Suggested Study' Area
Most 5-room HDB BTO units would come with a 'suggested study' area, as shown in the floorplan below.
Use this space to your advantage! Here are some ways you can clearly demarcate the area out as a study room or home office.
8. Install a raised screen
If you have some spare space in the living room, consider portioning it off into a study area by installing a desk with a raised screen to block any distractions and maintain privacy.
9. Build half-walls or partitions
Build a half-wall or partition that spans from floor to ceiling in your living room to demarcate a study room. This divides a space out from a visual point of view, but also separates the rooms so you have privacy area to work in.
10. Make it glassy
Hack down walls and install glass panelling for a brighter and open concept study room. It lets more light into your workspace, creating a visually larger home.
In this way, you'll have freedom of movement between rooms, yet can also keep others out when you need to get down to business.
---
Ultimately, the appeal of a study room lies in how it can provide a conducive environment where you can get into the right headspace and work for hours on end. Make sure to tailor the design and functionality of items in your study room to suit your needs and to boost your productivity!
We hope these ideas were creative and useful in your study of how to achieve that amazing study room in your HDB. Let us know in the comments which you'd love to have in your home.
Get useful tips on home organization, decor and more by joining us on Instagram (@style_degree), Facebook and join our Telegram channel (@HomeownersSG)!