Are you tired of asking your family members if they've seen your item? If you find yourself consistently losing track of your belongings, we've compiled 15 tricks and hacks to an organized home using common items you can find at home!
---
Click on the links below for the various organization hacks:
---
Organization Hacks For Clothes:
1. Hang Tank Tops On Shower Rings
Loop shower curtain rings on a hanger to keep your tank tops organized. To prevent the curtain rings from moving around, coil a rubber band rope around the hanger to create friction.
This is a great hack to save wardrobe space as you're storing multiple pieces on 1 hanger. You can utilise this hack to store scarves; simply loop your scarf over the shower curtain ring to keep it in place.
2. Hook Jeans On A S-Hook
Hang your jeans on an S-hook through the belt loops to keep them visible and accessible! You can also store scarves, tank tops and belts on these hooks. This hack keeps your wardrobe neat and tidy – especially if you don't enjoy folding clothes!
3. Keep Folded Clothes Tidy With Old Bookends
You worked hard to fold your clothes the Konmari way, only to have it slip down as your dresser gets emptier through the week. Keep your folded clothes upright and tidy by placing a bookend!
4. Create Non-Slip Hangers With Hot Glue Gun
Don't you hate it when your wide-necked clothes slip off the hanger? Simply pipe a zig-zag pattern of hot glue on the hanger and let it dry. The dried glue provides a rubbery grip so your clothes won't slip off easily. It's a quick and easy way to create non-slip hangers.
For a less permanent method, use 2 rubber bands and wrap it around each end of the hanger, covering as much surface area as possible.
---
Organization Hacks For Accessories:
5. Store Bobby Pins In A Sweet Container
It's easy to lose bobby pins due to its small size. Keep track of all your bobby pins by storing it in a sweet container! You can also tie your hair ties around the box – hair ties are another essential that always goes missing.
6. Spare Eyeglass Case As Makeup Brush Holder
Repurpose your spare eyeglass case to store your makeup brushes whenever you're travelling or going on a staycation! It keeps everything in one place and protects it from dust and moisture.
You can also use it to store beauty touch-up products or first aid kit essentials.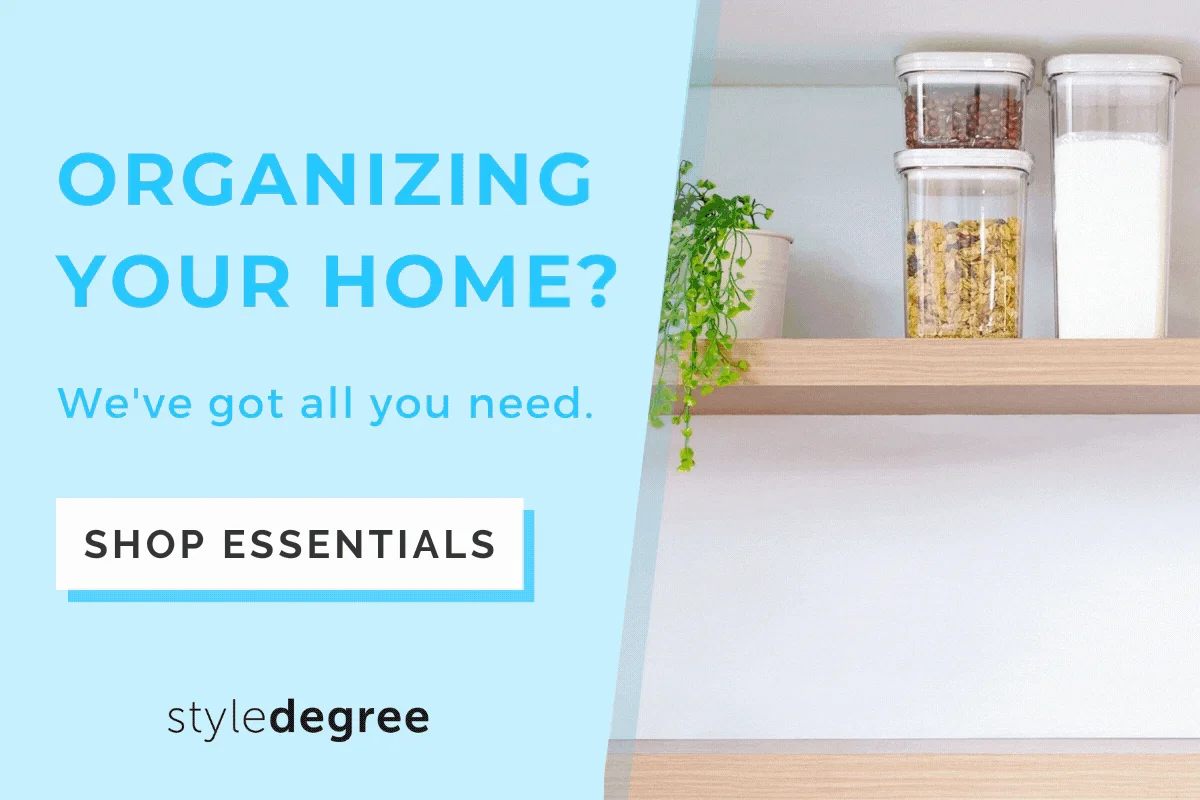 7. Organize Sunglasses On A Hanger
If you love buying and collecting sunglasses but haven't got enough space in your drawers to fit them all, this hack is for you. Hang your sunglasses collection on a hanger and access them easily. Get your shades on before heading out!
8. Wine Bottle Jewellery Stand
Transform your used wine bottles into a versatile jewellery stand! Its bottle opening can be used to hook your favourite earrings while its body can be used to organize your bracelets, watches or even hair-ties!
You can also upcycle old picture frames as a jewellery display organizer – simply staple a piece of wire to the back of the picture frame and hook up your earrings!
---
Organization Hacks For Stationery & Craft Supplies
9. Repurpose Paper Towel Holder As Ribbon Holder
Use a paper towel holder to keep your ribbons and washi tapes organized! Slide these items from largest to smallest through the rod and you're done. To dispense, simply pull the ribbon or tape of your choice and cut it off without much hassle. Tape up the ends of the ribbon when you're done so it'll look neat and tidy.
10. Upcycle Empty Tin Can To Stationery Holder
Reuse empty tin cans as a pencil or stationery holder to keep your desk organized! To spice things up, wrap the tin can with some fabric or paper – it's totally up to you and your creativity. You can use these holders separately or you can create an arts and craft station by hot-gluing different sized tins together.
11. Store Washi Tapes In Empty Foil Box
Keep your washi tapes organized in an aluminium foil or wax paper box. Slide the core of the washi tape through the wooden rod and slip it into the box. Pull the washi tape out and stick it to the serrated cutting edge for easy dispensing. To make it look prettier, you can either paint it or wrap it up with paper.
12. File Wrapping Paper In Garment Bags
Do you have spare garment bags laying around? Transform it into a wrapping paper holder! Your wrapping paper will fit nicely inside the garment bag and it doesn't take up too much room in your closet.
To prevent the edges from fraying or crumpling up, wrap the wrapping paper with some cling wrap. It also prevents it from unravelling in the garment bag!
Also check out: 10 Creative Christmas Decorations Storage Ideas For A Neat Storeroom
---
Additional Storage Hacks:
13. Gift Bags As Storage Organizers
We often receive presents in pretty gift bags in which we often put it in our drawers for keepsake. However, with just a simple addition of adhesive taps at the back of these gift bags, they can be turned into wall organizers! Pretty clever isn't it?
14. Hanging Organizers To Corral Everything
Swipe <- or click on image to view gallery
An area of the home that's often underutilised is the door space. With just a simple addition of over-the-door hangers and a hanging organizer, you instantly create plenty of storage space for your belongings.
You can use these organizers to store and organize almost anything – cleaning supplies, makeup products, pantry food items, scarves or even your sewing threads. The possibilities are endless; it's all up to you and your imagination!
15. Utilise Wall Space By Adding Magnetic Strips
Attach a magnetic strip on your wall and use it to organize small metallic items such as bobby pins and tweezers. Simply stick them back after use and access them whenever you need them.
You can also use this hack in your kitchen to organize your kitchen knives – it saves countertop space while improving the reachability of your knives!
---
Give these home organization hacks a try and let us know which one you love the most! If you would prefer storage boxes to organize your home, check out our storage collection for homeowners.
Enjoyed this post? Join us on Instagram @style_degree, Facebook and Telegram @HomeownersSG, where we share the best home organization tips and cleaning hacks