Envious of how some wall shelves can look so beautifully styled?
Believe us, you can achieve the same professional look too once you are armed with these 10 floating wall shelves decorating and styling tips.
P.S We'll uncover some rules interior designers/stylists abide by. So keep on reading to learn the secrets!
---
1. Mix large & small pieces for a balanced look
To create a cohesive look just like how a skilful interior stylist do, always use a mixture of large & small pieces.
Tip: Start with filling the space with larger pieces (e.g a tall photo frame, vase etc.). Then, slowly add on to the space with smaller accessories.
---
2. Rule of three
We will let you into this decorating secret interior designers and stylists often use – the rule of three.
When you arrange things in threes (or any odd number such as 5, 7), it is said to be more visually appealing to the eye!
For instance, stacking 3 books instead of just 2. Showcasing a collection of ceramic plates, bowls in threes or fives looks better visually.
Alternatively, if you have objects of varying sizes – small medium and tall, have them placed together. They are a match made in heaven 😉
---
3. Decide a colour scheme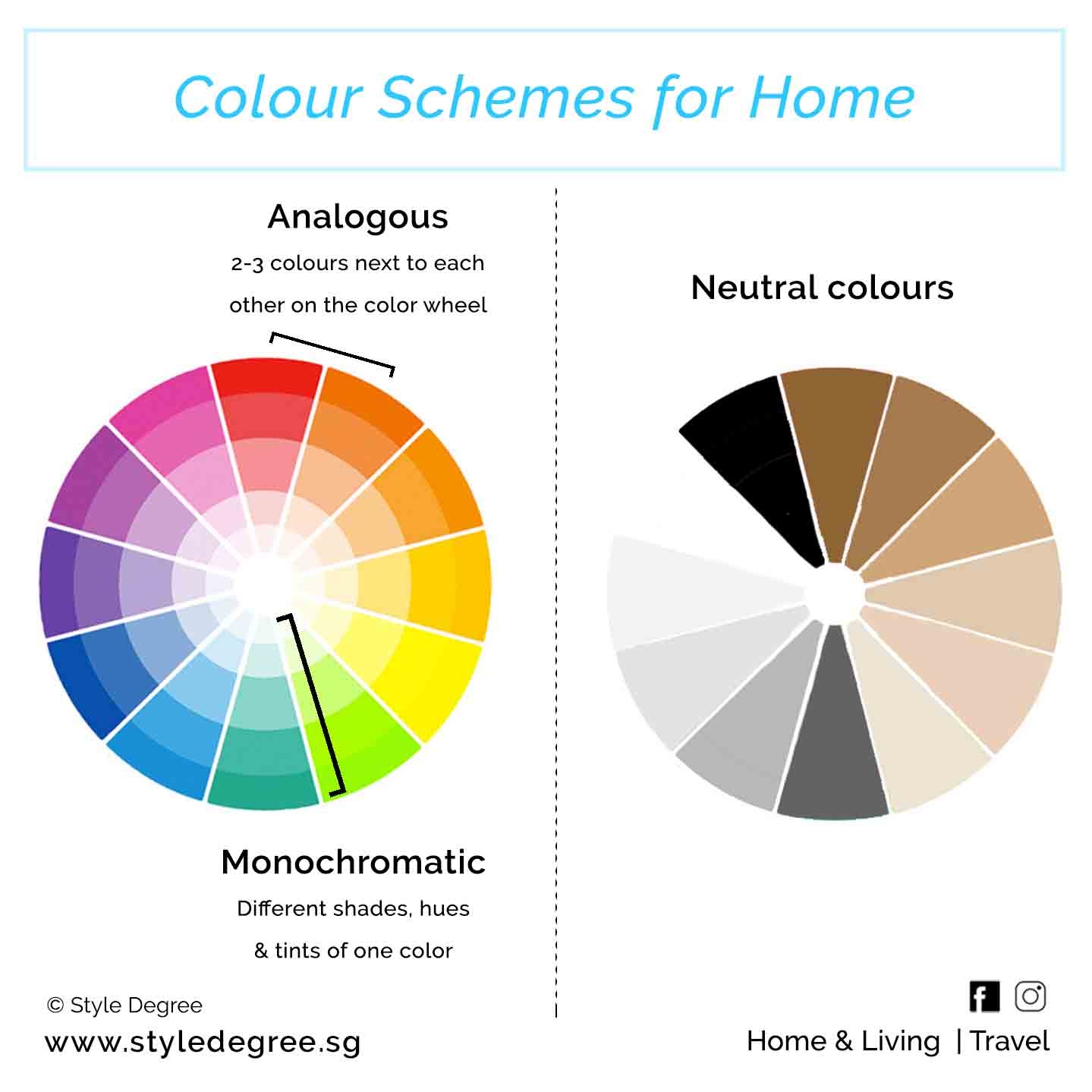 Have a base colour in mind (e.g beige, black, grey, white) and top it up with 2-3 pops of colour.
Tip: Always spread out your colours evenly throughout the whole shelf, do not clutter objects of the same colour side by side.
With colours spread in a rhythmic manner, it draws the eye to all parts of the shelf instead of just focusing on one area.
---
4. Display books and magazines
Stack your favourite books vertically or horizontally together. Vary between each direction to add style and dimensions to the overall look.
You can be particular about the colours of the book spine if you wish to. To create a colour block effect, use books of similar spine colour.
---
5. Add greenery
No doubt, plants are any stylists' favourite accessory to bring life to a home.
Brighten up your wall shelves with plants! Plus they help to purify the air in your home.
Tip: Opt for plants with a unique feature to it (e.g lovely blossom, thorns) for an interesting touch to your shelves.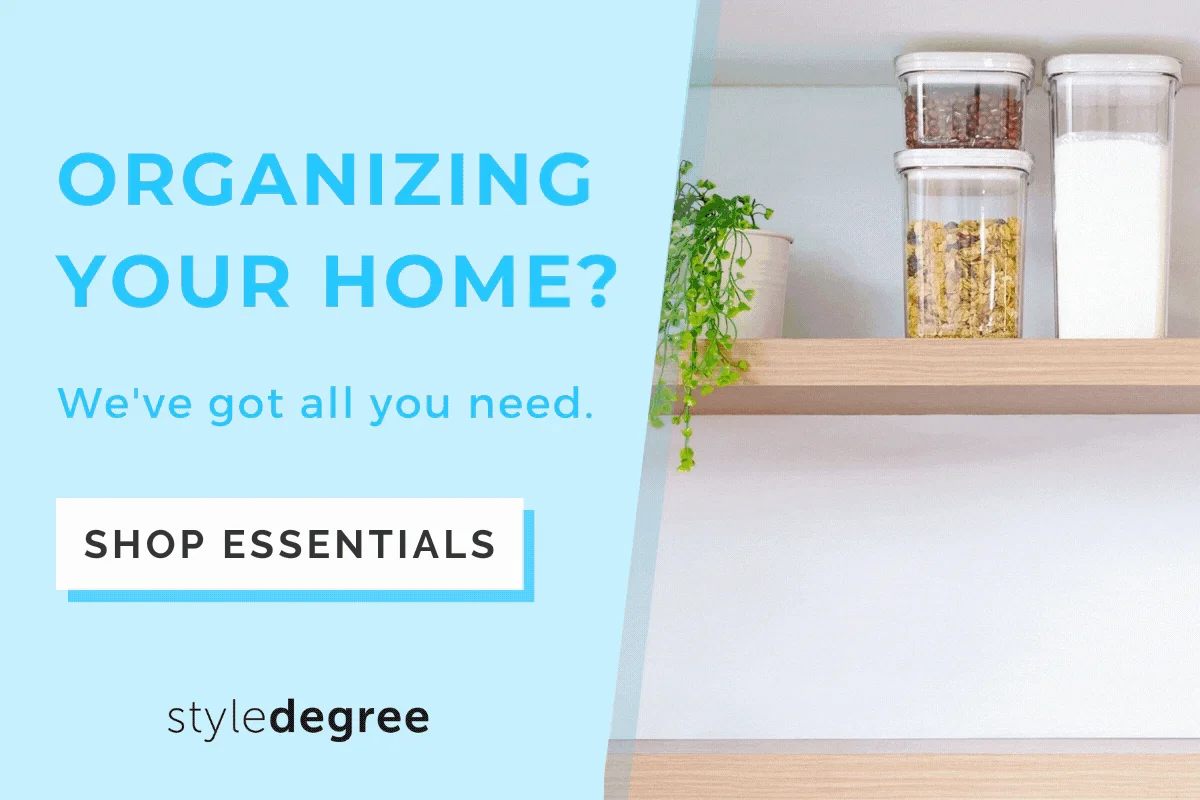 ---
6. Add storage pieces
Wall shelves need not be fully used for displaying and decorating purposes. Turn them into something functional just by the addition of baskets, boxes, jars and more!
---
7. Lean photo frames and other art pieces
Layer your wall shelves with leaning photo frames and other interesting taller art pieces (e.g geometric objects) to add visual interest through height.
---
8. Make your space look bigger with glassware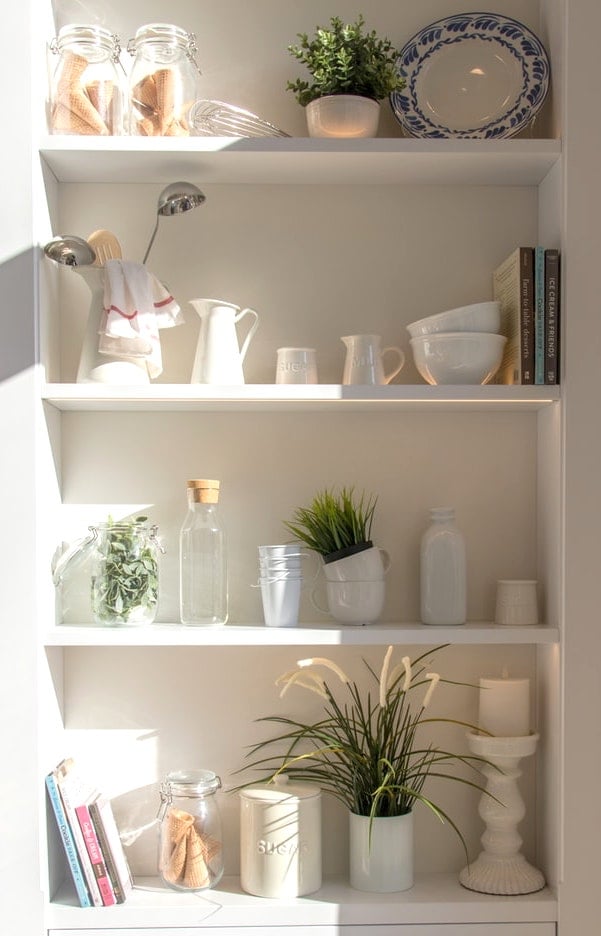 Yes, glassware has this magical impact. Glassware (e.g tableware, vases) allows light to travel around it, making the surrounding space look bigger. Their structural shapes also add interest to your wall shelves.
It is definitely a decorating hack you got to use if you are looking to style a small home!
Also read on StyleMag: 7 Ways To Make Your Singapore HDB & Condo Home Look Bigger
---
9. Allow spaces between items
Ultimately, your wall shelves should look beautiful, neat and cohesive.
Not cluttered and messy.
Ensure that objects are spaced out nicely, not too close or loose to one another.
---
10. Showcase your personality
It is your home after all.
Build it, style it and decorate it to your heart's desire and let it bring smiles to you! Don't forget to display precious memories with your family and loved ones on your wall shelves.
---
At a glance…
Here are ALL 10 decorating and styling tips summarised. Refer to this handy infographic before your start rolling up your sleeves and putting on your creative thinking caps!
We would love to see how your wall shelves turned out! Share with us your completed look by tagging us on Instagram or Facebook 🙂
Looking for unique wall shelves? View our collection of wall holders & shelves here.