Bored out of your mind while cooped up at home? Or perhaps you're looking for an easy way to get organized while you're working from home. In either case, we're helping you out by offering 28 easy home decluttering, organizing and cleaning tasks that you can do over 28 days. A task a day, it's that simple.
Read on to get the challenge sheet of all 28 tasks. Plus, bonus tips on cleaning each area of your home!
---
Join In On The '#OCDchallenge' With Style Degree
Get motivated to clean with the #OCDchallenge, which stands for 'organize', 'clean' and 'declutter'. Every day, set aside some time to complete the task for the day. As you move from one area of your home to the next, you'll marvel at how spick and span your home is becoming!
Follow us @style_degree, where we'll be sharing tips to help you along with each task every day. Remember to tag us @style_degree on Instagram stories and hashtag '#OCDchallenge' while you embark on it. We'll be picking a lucky StyleFan that will walk away with an $88 Style Degree e-gift card!
Download this challenge sheet here & pin it up on your fridge for easy reference!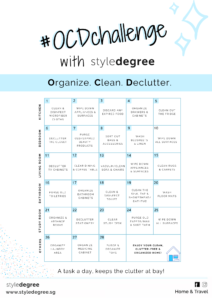 Missed a few days? Fret not, click on any of the links below to jump right into the challenge.
---
Day 1 – 5: Kitchen Organization
Start your #OCDchallenge and kitchen declutter by preparing your cloths and cleaning essentials. That way you can wipe away any layers of dust and grime that have built up in your kitchen.
Some common appliances that you can consider giving a good wipe would be these:
Microwave
Rice cooker
Oven
Kettle
Fridge
Blender
Cooking hob and hood
When wiping down your countertops and kitchen surfaces, remember to use a microfiber cloth to gently go over the surface. For wood surfaces, use a mixture of warm water with a splash of distilled white vinegar. Granite, laminate and quartz surfaces can be wiped with warm soapy water (use dish soap).
Note: Do not use vinegar on granite as it corrodes the surface.
Make use of wall holders and organizers to increase storage space and help you keep your food and condiments in check. Transfer packaged dry goods into clear, airtight containers to keep them fresh and neat!
Also check out on StyleMag: 4 Organizing Rules To A Beautiful & Tidy Kitchen Pantry
---
Day 6 – 10: Bedroom Organization
Do a purge of all old and unwanted items, so you'll have less to deal with later on. Closets containing clothes, bags and accessories are a prime spot for clutter buildup. You may also have lots of beauty essentials lying around your bedside table or vanity.
Also check out on StyleMag: How To Build A Capsule Wardrobe In 3 Easy Steps
Consider creating space for your bags, accessories and makeup with organizers so that they'll remain neat in the long run. When wiping down surfaces, clean any out-of-reach places like the top of cupboards and shelves as well.
Wash your bedsheets with water at least 60°C in temperature to kill any germs and bacteria so your sheets are kept fresh and clean!
---
Day 11 – 15: Living Room Organization
Your living room is a space where you spend time relaxing. Be it with friends and family, or curled up on the sofa by yourself to enjoy a good read, you'd want this space to be clean and homely. This is especially so now that everyone will be at home all the time.
Coffee tables are convenient for leaving items on, and hence get messy easily. Clear out your coffee table so the space feels less cluttered. If you're struggling to find a home for your remote controls and small knick-knacks, a basket or holder will ensure you never lose these items again.
If you have a carpet or rug in your living room, remember to vacuum it at least twice a week, and more often if you have a pet in the house. This is to eliminate dirt, hair dust and smaller microscopic allergens that cannot be seen.
Also check out on StyleMag: 11 Living Room Design Ideas For Small Singapore Homes
---
Day 16 – 20: Bathroom Organization
Is your bathroom brimming with bottles of shampoo, body washes and other cleaning products? Make sure to sort out those that are no longer in use and discard them. Create space for these items by attaching holders or hooks to your bathroom.
If your family shares one bathroom, it may be a good idea to create more space for toiletries so your bathroom cabinets are not filled with clutter. A standing rack or shelf will allow you to designate a shelf or space to each family member so items are easily identifiable and retrievable!
It would also be wise to clean your toilet bowl once every week as it is a common breeding ground for harmful germs and bacteria. Other germ hotspots in the bathroom you should pay special attention to would include the sink and tap, showerhead, toilet flush and bathtub.
Also check out on StyleMag: How To Organize Every Corner Of Your Bathroom
---
Day 21 – 25: Study Room Organization
Did you know that a clean work space is proven to be a great booster for productivity and stress relief? Having a neat desk can give you greater peace of mind as you feel more in control and do not need to fret unnecessarily over clutter. It also makes looking for items easier.
Keep your desk neat and tidy with dedicated stationery and paper holders. These make it easy for you to identify and grab documents at a glance! Especially if you're going to be working from home a lot.
Also check out on StyleMag: How To Get Rid Of Paper Clutter For Good (Bills, Letters & Receipts)
---
Day 25 – 28: Organization Of Other Spaces At Home
You've made it so far in this challenge, now it's time to round up all your efforts by cleaning up any other messy spots at home! Organize your laundry area and medicine cabinet by chucking unwanted items in the bin and bringing commonly used items to the front.
If you have children, spend some time sorting out their items, such as toys, books or stationery. Toys are often a haven for germs, so protect your children by keeping germ-free. Here's how you can clean some common toys:
Teething toys: In a mixture of hot water and mild liquid dish soap, soak the toys for a few minutes. Then, soak the toys for 15 minutes in a mixture of distilled white vinegar and warm water before rinsing off with cool water.
Wood toys: In a spray bottle, mix white vinegar and water in a 1:1 ratio and spray the toys with the solution. Wipe dry with a microfiber cloth.
Plush toys: Wash in the washing machine in hot water and tumble dry on low. Place it in a laundry bag to prevent damage to the toy.
After everything is complete, give your home a final thorough cleaning by vacuuming, sweeping and mopping all the dust and grime away.
Also check out on StyleMag: 13 Space-Efficient & Unique Kids Room Organization Ideas
---
While this journey may be difficult and tiring, we're sure nothing beats the satisfaction of having a clean home to call your own. Consistency is key, we hope this challenge serves as a reminder that you as a homeowner can embark on simple tasks daily to make your home house-proud!
Tag us @style_degree and hashtag '#OCDchallenge' to stand a chance to be the lucky StyleFan that will win away a $88 Style Degree e-gift card!
May the odds (and a clean home) be ever in your favour!
Get useful tips on home organization, decor and more by joining us on Instagram (@style_degree), Facebook and join our Telegram channel (@HomeownersSG).