In Singapore, there isn't much space in the home to put all the essentials you need. It's easy to accumulate clutter, especially in the tight confines of a HDB or Condo apartment.

If you're planning to do some decluttering and organizing to fully utilise space, these handy organizers may be just what you need to maintain the new spick and span look of your house! Here's a roundup of our top 26 selection of home organizers for Singapore homeowners, handpicked by us to help you get organized!
---
Click on the different sections to navigate directly to the top selection of organizers for each part of your home!
---
Kitchen Organizers
1. An All-in-one Holder For Your Kitchen Towels
With our Scandinavian Magnetic Fridge Holder, you won't have to worry about lack of space to place your kitchen paper rolls or hand towels! It comes with 6 built-in hooks at the bottom layer, allowing you to hook your oven mitts, and even cooking utensils too. Perfect for small kitchen spaces!
---
2. Keeping Your Kitchen Drawers Clutter-Free
A kitchen drawer with no storage compartments means a mess, so our Clear Tray & Drawer Organizer is perfect for preventing that! It has different sizes, so you can store your various kitchen essentials like wooden spoons and ladles for cooking, or forks and spoons for eating.
---
3. Extendable Racks To Maximise Space In Your Kitchen Cabinet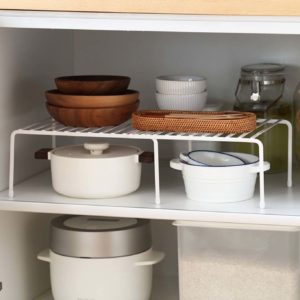 Maximize storage space in the cabinet when you use our Extendable Kitchen Rack Organizer! Its unique, dual-layer design allows you to extend it to twice the length, so you can put your pots, pans, and even plates on top or below, while remaining space-saving and accessible at the same time.
---
4. A Turntable To Make Your Condiments Accessible
If your condiments and spices are often hard to reach, our range of Lazy Susans can instantly make them accessible! Simply place it at the front corner of your cabinet, and fill it with your favourite bottles of herbs, spices, and powders!
---
5. Utilise Space Under The Sink & On The Counter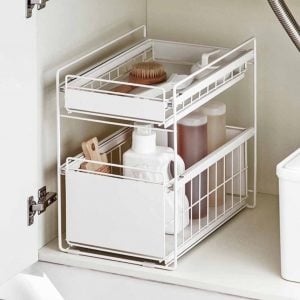 Having to arrange various dishwashing liquid or cleaning accessories under your sink area can be a taxing job. Our Dual Sliding Under Sink & Countertop Storage Organizer eases that pain by having smooth sliding layers, which improves reachability. With this ultimate organizer, arranging your under sink essentials will be more convenient than ever!
---
6. Clear Your Countertop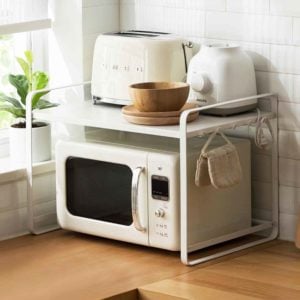 Fretting over your ovens taking up valuable kitchen countertop space? With our 2-Tier Microwave Rack, that will be a thing of the past! It has an extra layer on top, so you have extra storage space. It comes with built-in side hanging hooks, so you can hang your oven mitts and hand towels too.
---
7. Keep Your Sink Area Neat With A Towel & Sponge Holder
Featuring an all-in-one design, our Grande Sponge & Towel Holder lets you organize your towels, sponges and soap bottles in one place. It also has a sliding tray to collect excess water for disposal. Say goodbye to messy and damp sinks!
Explore our range of Basin & Towel Holders here.
---
Wardrobe/Closet Organizers
8. Use A Clothes Organizer For Easy Access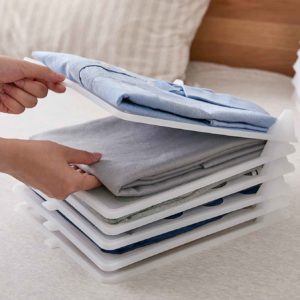 It's tiring to pick up freshly folded clothes, only to crumple them again. Our Easy Reach Clothes Organizer will help you eradicate that hassle! It has slots that allow you to place clothes on and in between. While removing your outfit, you won't mess up the wardrobe either!
---
9. Undergarment Organizers To Prevent Overcrowding
Constantly not having space to store your intimates, socks, and ties is a pain. The good news is, our Essentials Undergarment Closet Organizer offers more storage! Featuring multiple compartments, you can store your undergarment essentials without cluttering your drawer and closet. Plus, you can fold up the organizer when it's not in use, providing more space!
---
10. Make More Room For Your Clothes In The Closet
It's disheartening when your closet hanging rod runs out of space, but our Ladder Clothes Hanger offers a new angle! It makes use of vertical arrangement and is perfect for hanging your pants, jeans, shorts, and even ties.
---
11. Storage Bags For Unused Apparel
If you have blankets or clothes that don't need to be used for the humid weather in Singapore, our Canvas Quilt & Clothes Storage Bag will work wonders! Its large, spacious design allows you to store not just your clothing and sheets, but also toys and extra intimates. Your wardrobe will never get messy again.
---
12. Use Vertical Space For Your Handbags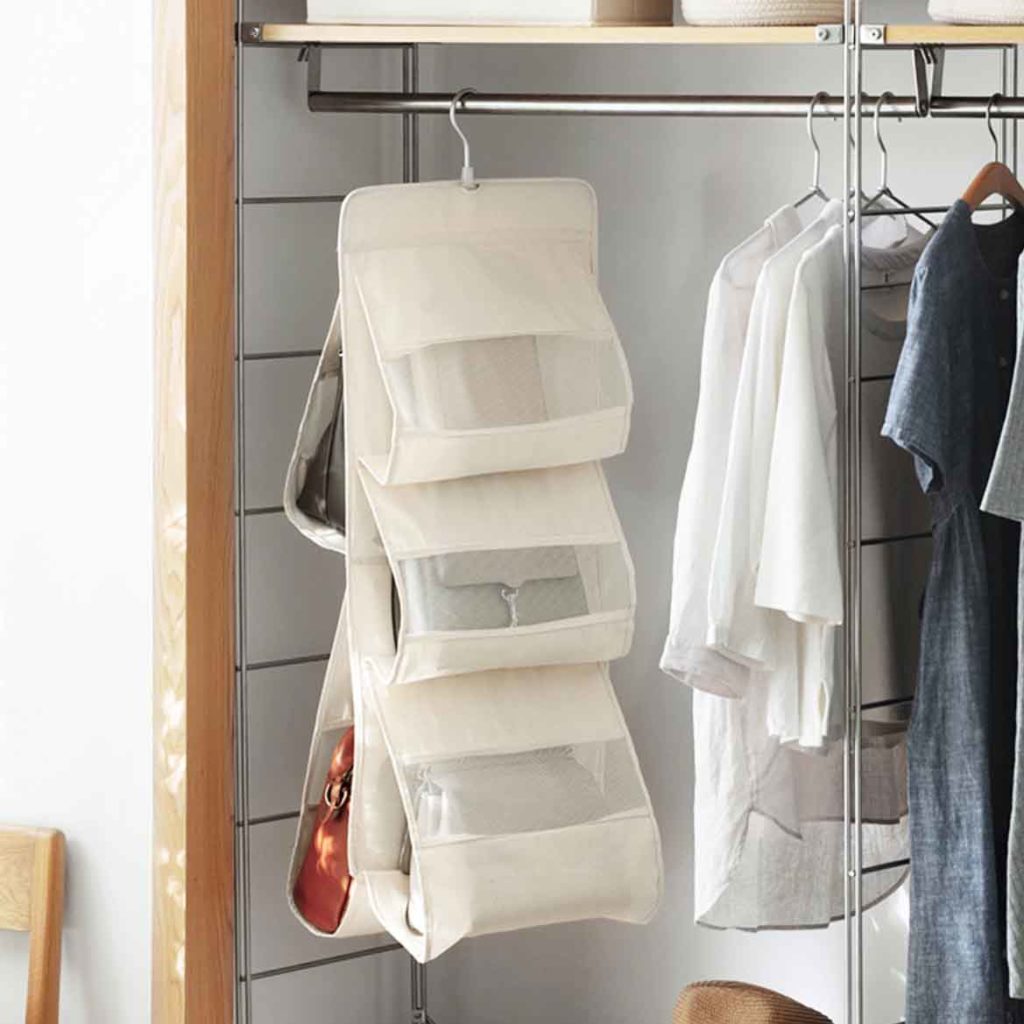 Tidy up your handbag collection with our Purse & Handbag Closet Organizer! It utilizes vertical stacking, with slots that can hold the handbags you want to use for the week. Plus, it comes with a hook to hang your bags, along with clear protective film to prevent dust and surface damage.
---
Desk Organizers
13. Say Goodbye To Desk Mess With Customizable, Multifunctional Organizers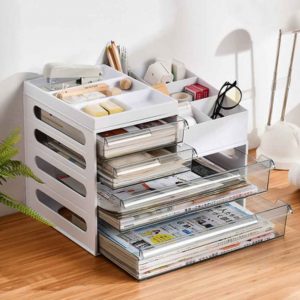 Having to sort through paper clutter? No thanks. Kick desk mess away with our Customisable Stationary & Document Desk Organizer! It has two detachable storage containers for your stationary essentials like pens, highlighters, and notepads. The slots below let you fit your notebooks, cards, and important paperwork as well!
---
14. Always Find Your Beauty Essentials In One Place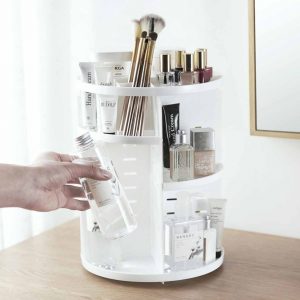 If your desk in a bedroom is full of your jewelry, makeup, and cream bottles that you don't know where to store, our Snowy 360 Rotating Makeup Organizer is for you! It has adjustable compartment slots, so you can fit in your favourite tubes, bottles, and beauty blenders. Also, it features a rotatable base, you'll be able to access your cosmetic essentials easily.
---
15. Prevent Your Cables From Tangling Up
The struggle that comes with trying to untangle cables is real. Our Minimalist Cable Management Box will solve that problem right away! It's designed to protect your charging cables and wires, and keep them neat at the same time. Now you can enjoy hassle-free charging anytime.
---
Bathroom Organizers
16. Organize Your Morning Routine Essentials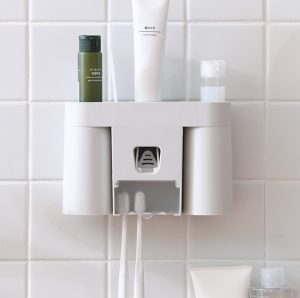 Does your sink gets cluttered with your toothbrushes and toothpastes? Our Exquisitor Toothbrush & Paste Holder is the perfect solution! Not only does it have 2 convenient cups for your morning essentials, it also has a toothpaste compartment that doubles as a squeezer. You won't need to spend precious minutes squeezing out toothpaste with this handy holder!
---
17. Make Bathroom Wall Corners Accessible
Bathing essentials can crowd precious areas in your bathroom, so our Kurve Corner Bathroom Wall Holder will solve that issue. It can also improve reachability when lined along with the corners, so your shower will be much smoother!
---
18. A Wall Holder For Your Hairdryer
Traveling to and fro from the bathroom to the bedroom just to dry your hair takes up extra time. With our Eclectic Hair Dryer Wall Shelf, you can simply install it in the bathroom, and save these few seconds! It also comes with a cable organizer hook, so your sink area can still have a neat look.
---
19. Convenient Minimalist Toilet Bowl Scrub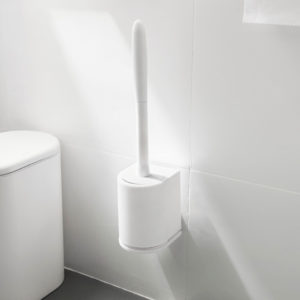 Our Minimalist Toilet Bowl Scrub (With Wall Holder) makes toilet cleaning a breeze. Mount it on your wall and it won't take up an inch of space in your bathroom! It features a slide-out drainage tray to empty excess water from the scrub.
---
Service Yard/Laundry Room Organizers
20. Keep Your Laundry Essentials In One Place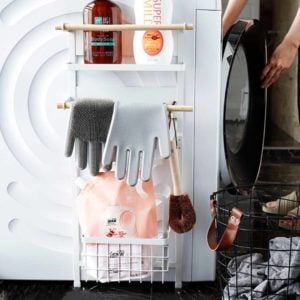 Having your laundry essentials all over the place can make each session daunting. With our Scandinavian Washing Machine Magnetic Rack, everything will be in one place and accessible! It features compartments to keep your detergent, fabric softener, and even bars to hang your gloves and brushes from. Every laundry session will now be seamless!
Pair it with our space-saving Multi-tier Laundry Basket (With Wheels) to sort your light and darks effortlessly.
---
21. An Organizer For Your Laundry Hangers & Clips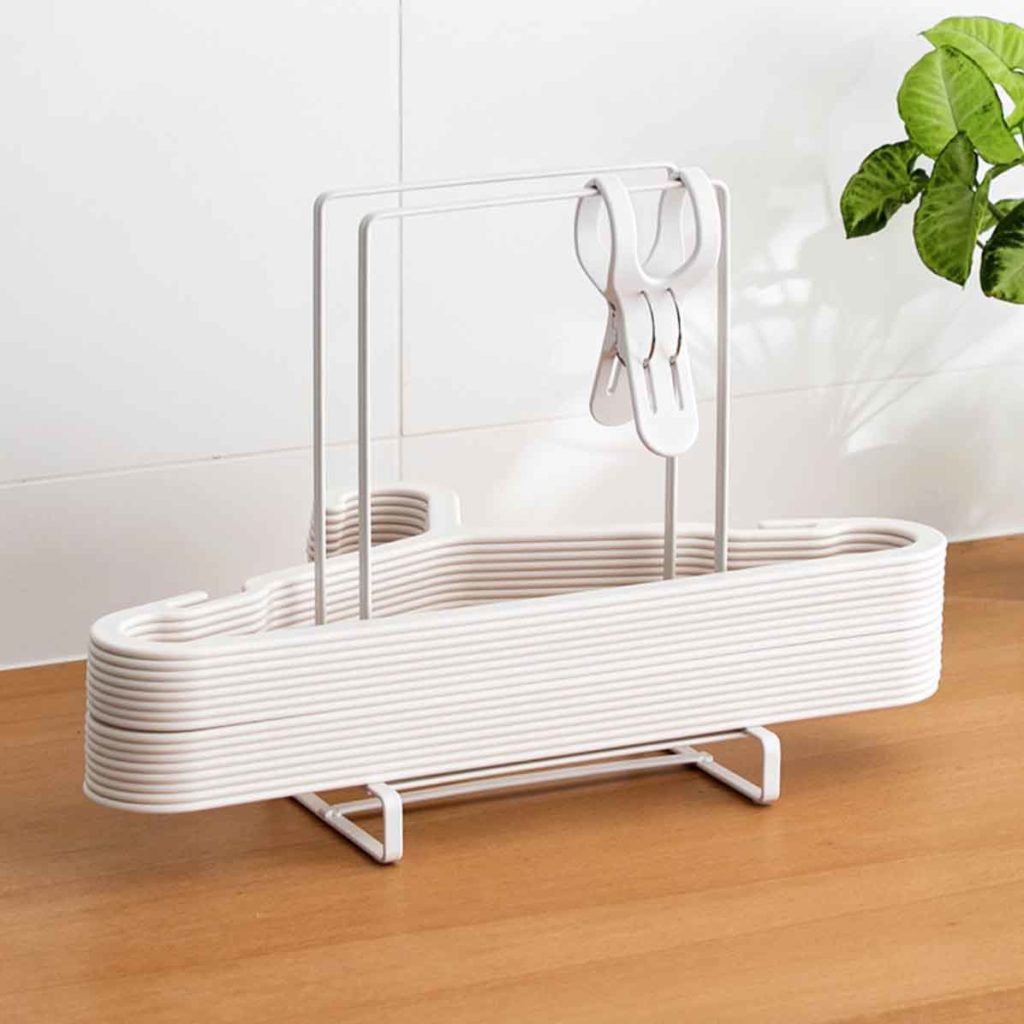 Once you have our Hanger & Clips Organizer, you'll never lose a laundry clothes peg or hanger again! The holder keeps your hangers and clothespins in one space, with a rack for your hangers and a frame to clip your clothespins.
---
22. Laundry & Detergent Powder Holders For A Smoother Laundry Round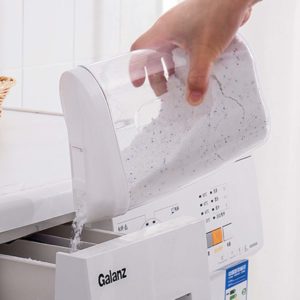 Are your laundry powders and detergents always at risk of spillages? Our Easy Laundry Powder & Detergent Holder will say goodbye to that for you! With a slider opening for a safer, tighter seal, and a clear body for easy viewing, your laundry process will be made much easier!
---
Entryway Organizers
23. An Extendable Rack For The Shoes That Don't Fit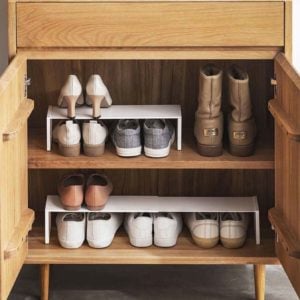 Our Extendable Shoe Rack Organizer allows you to double the space in your shoe cabinet! As the name suggests, this organizer is adjustable and accommodates any shoe rack. It's perfect for school shoes, flip flops, and other footwear you own!
---
24. A Place To Put Your Shoes Upright
Open up more space in your entryway with our Ascend Shoe Rack! This handy rack allows you to store your footwear vertically, which saves space and keeps your doorstep well organized.
---
25. Prevent Unsightly Umbrellas & Slippery Wet Floors
On rainy days, umbrellas laid out across the entryways can be an eyesore, as well as dangerous because of the excess water. Our Entryway Umbrella Stand & Holder helps hold and organize your wet umbrellas, whether big or small. It also has a tray below to collect excess rain water, so you don't have to spend excess time mopping away!
---
Bedroom Organizers
26. A Home For Your Remotes & Tissues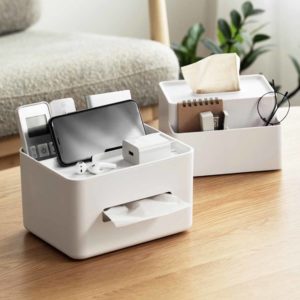 With our multi-functional Multi Tissue Holder, you get compartments for your remotes, tissue paper, and phone all in one organizer! Don't have them lying messily on your coffee table or bedroom side table ever again.
---
We hope you liked the selection of organizers, and that you found a few that suit your needs and set you on the path to a well-kept home! Which organizer was your favourite? Let us know in the comments below!