Ready to roll up your sleeves and get into the spring-cleaning mode?
To help you get started, we have 2 decluttering challenges for you to take on that will surely leave you feeling satisfied. Get ready to learn and become an organizational home-guru too!
---
Clutter Hotspots Challenge
If you are a avid reader of StyleMag (Thank you!), you will know that we are big on everything home organization!
From kitchen, to wardrobe/closet organizers and much more, we'll empower you to maximise every inch of your space. And of course, keep your home organized.
To help you out on your tidying up journey, we came up with the "Clutter Hotspots Challenge" for anyone looking for a system to get started!
This challenge revolves around 40 clutter hotspots commonly found in different areas of your homes.
Ready to take on our Clutter Hotspots Challenge? Here are your tasks.
---
Task 1: Print out our Declutter Checklist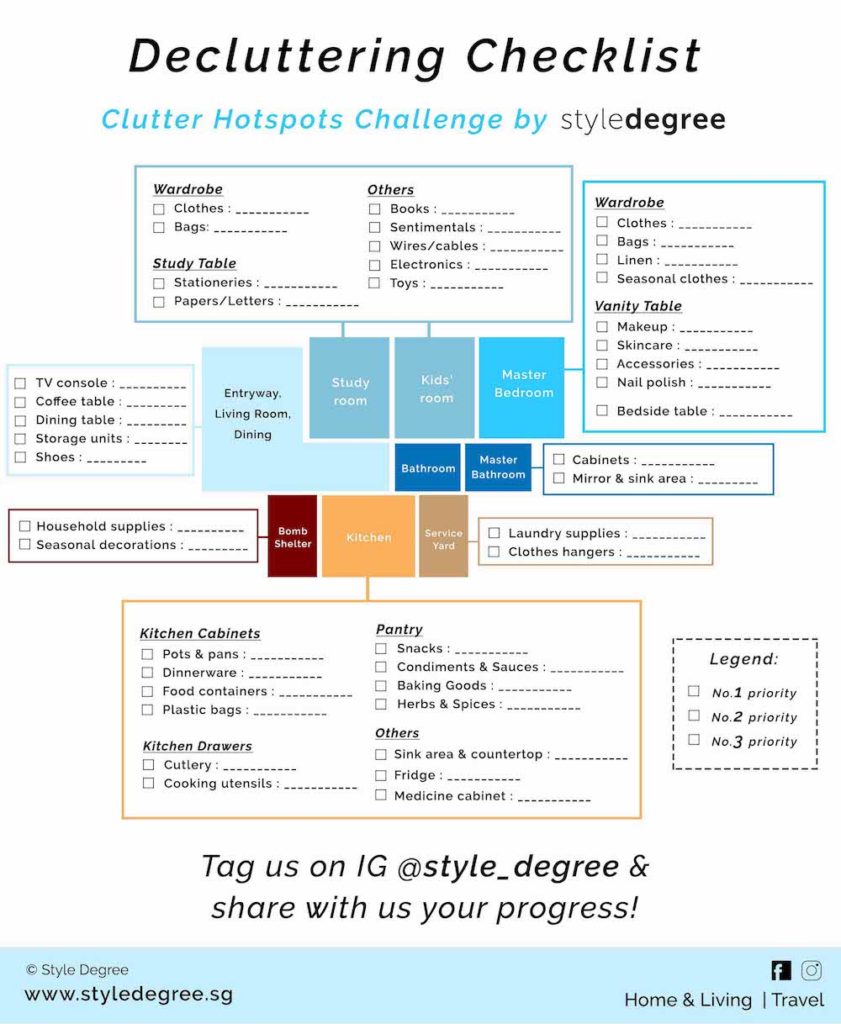 Click here to download the A4 printable version of our Decluttering Checklist.
To guide you better, the clutter hotspots are categorised according to locations based on a typical 4-room HDB flat in Singapore.
Entryway, Living room, Dining
Study room
Kids' room
Master bedroom
Bathroom, Master bedroom
Service yard
Kitchen
Bomb shelter
However, when you start decluttering, do note that you should start off with categories instead. This leads us to your second task which is…
---
Task 2: Prioritise tasks according to the amount of clutter you have
No. 1 priority (most clutter to clear)
No. 2 priority
No. 3 priority (least clutter to clear, simple organizing will do)
Use a highlighter and colour code them accordingly. Alternatively, you can number them.
We have included a "Legend" box at the bottom right for you to clearly keep track of what you have prioritised.
---
Task 3: Goal setting
You can choose to start off with the bigger tasks (no. 1 priority) or work from the bottom up by starting with the smaller tasks (no. 3 priority).
Allocate time to complete each task by penning down the date you are looking to accomplish it. If it requires a number of days, pen down a start and end date.
Note: Be realistic in your goal setting, but of course do not slack off. Dedicate more time to tasks that requires more effort.
You can set the whole Clutter Hotspots Challenge to be a 30-day or 60-day decluttering challenge, dedicating your time to various tasks weekly/twice a week/daily (depending on your personal schedule!).
---
Task 4: Stick to your goals. #dontprocrastinate
Consistency is key, keep the momentum ongoing by accomplishing small tasks weekly/daily.
Not sure HOW to start decluttering and organizing? Read on StyleMag 5 Simple Steps To Decluttering – The Japanese Way. This details Marie Kondo's sensational KonMari method that will spark joy!
---
12-12-12 Challenge
If you are looking for a simple, fuss-free decluttering project to take on, the 12-12-12 challenge devised by Joshua Becker will suit you.
The good news is, even your kids can join in this challenge too!
Simply task yourself/your family to locate
12 items to throw away,

12 items to donate,

12 items to be returned to their proper home
Do this decluttering task anytime you wish to, it can be your weekend project, or a daily 30-minute organizing routine you set aside weekly.
P.S Especially for people with hoarding tendencies, this useful tip can be your starting point to start decluttering. A little a day can amass to something big in the future.
---
Determined to declutter and organize your home?
We would love to be part of your transformational tidying up journey!
Do tag us on Instagram @style_degree and share with us your progress 💪🏼