Hiring an interior designer (ID) or an interior stylist for your home can be costly.
However, if you are willing to spend the effort to "DIY" and design your home, we have 5 best home decor tips that would definitely come in handy for you.
Act on these tips and get ready to impress your loved ones during your housewarming parties!
---
1. Have a concept and create your mood board
First and foremost, have a concept in mind. Sit down with your partner and list out elements both of you would love to have in your home.
From there, start creating your mood board. Gain inspiration from Pinterest and Instagram, explore the #homedecor hashtag, and start saving images of home interiors you really love! Pick a range of images from flooring, lighting to fabric for furniture, curtains.
As you create your mood board, you will slowly find similarities between the images you are drawn to. It can be a repetition of colours, textures, design. Ultimately, this will set the basis when you make any design decisions.
Also check out on StyleMag: 4 Steps To Creating An Interior Design Mood Board (With Free Template)
---
2. Know your colour palette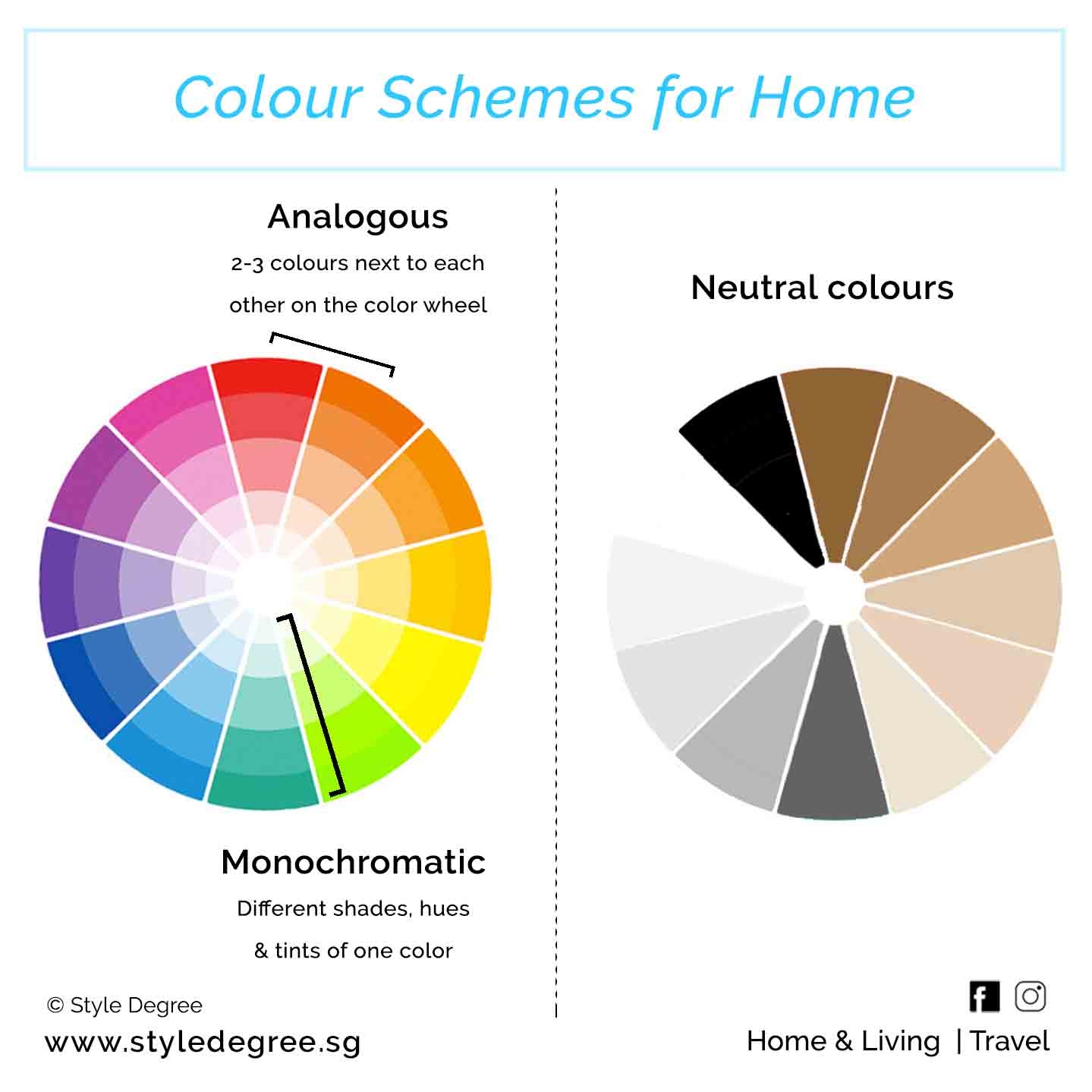 After identifying the main characteristics, you will have a clearer picture of your desired colour palette.
Interior designers and stylists rely on the colour wheel while decorating to create a balanced blend of colours. You can also play around with these 3 colour palettes below and find one that suits your personal style! For a relaxing vibe, select colours that have cool tones (blue, green) or muted hues; for a vibrant look, select warm tones (orange, red) or saturated hues.
Monochromatic colour palette + neutrals
Analogous colour palette + neutrals
Complementary colours (colours opposite on the wheel) + neutrals
Tip:  To create a cohesive look, utilize the 60-30-10 rule. 60% as the dominant colour, 30% secondary colour and 10% accent colour.
---
3. Add texture to your home via fabric/textile
Bring a dull room to life instantly with the addition of textured, patterned home accessories such as
Patterned/shiny silk/textured pillow cases
Linen draperies
Woven baskets
Carpets/rugs (great to highlight a particular furniture within an area)
Tip: Textured and tiled walls are increasingly becoming popular as it gives personality to your overall decor look. Play around with different tiles and flooring to add vibrancy to your home.
---
4. Add elements of nature into your home
The simple action of adding potted plants, floral arrangements brings liveliness to you home and creates a cosy environment.
Science have proven that indoor plants are also natural air purifiers as they absorb carbon dioxide and release oxygen that we need!
Start with easy-care plants such as mini potted cactus, snake plant and echeverias that do not require constant care.
Tip: Rather than discarding your flower bouquet, turn them into dried decorative pieces by hanging them upside down in a dry area (with good circulation) away from sunlight. After 2-3 weeks, place them in a vase and use it to decorate your home. 
---
5. Spice it up with artwork
Let your imagination run wild and transform a blank wall into a something that reflects your personality.
Depending on your preference, you can hang a huge centrepiece or combine different art pieces together to create a balanced look.
Tip: For a cost effective way, you can DIY you own wall by hanging plates instead. While this idea might seem unusual initially, try it out for yourself and be amazed by the visual effect! Our Victorian Mini Plates, might give you a head start for you to spice up your walls.
---
With these 5 home decor tips in mind, you can create a beautifully designed home that looks like you have hired interior designers to do so.
Adding textures, elements of nature and art pieces elevate your home instantly. Only you and your partner knows exactly what decor style you want to achieve, hence, do not be afraid to experiment with styles that reflects who you are truly!
Share with us how your designing process went in the comments below 🙂
In need of design inspiration for specific areas of your home? Read about our interior design ideas for your Kitchen & Bathroom!
If you are looking to jazz up your plain walls, browse our range of wall decor holders here – we hope to deliver happiness to you soon!