Start off the new year with a bang by transforming your home into a clean and organized abode.
Instead of squeezing an entire house's worth of chores in one day, why not spread out your chores across different parts of the house?
Whether you're a stay at home parent or working full time, read on for an ultimate guide to get the organized abode of your dreams!
---
Before You Clean
It's important to remember that spring cleaning isn't a race, nor is a competition with anyone else! Before cleaning a room, make sure you have your cleaning supplies at the ready.
Click on each of the categories below to find out how you can clean and organize them:
---
1. Sort Through Your Shoes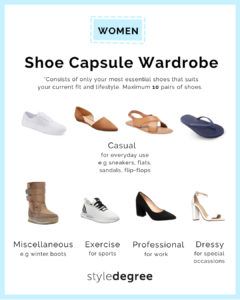 Starting off with a small and easy task: organizing your shoe collection. In truth, you're really only using 4 or 5 pairs of shoes on a regular basis.
Declutter old shoes (and pairs you don't use) by making a capsule wardrobe! Here are some categories you can sort them into:
Casual (everyday wear)
Exercise
Professional (work shoes)
Dressy (special occasions)
Tip: Use shoe organizers to maximise space in tall shoe cabinets. Check out some below!
2. Reorganize The Kitchen
Time to tackle the universal heart of the home: the kitchen. If you struggle cleaning this well-used area of your home, don't fret as we'll guide you through it.
Tip: Create 'zones' in your kitchen (and stick to it!). Refer to the above image to see how you can organize your food, cooking utensils and cleaning supplies into designated spaces.
Use kitchen organizers to corral different food stock items like canned goods, condiments and snack packages into storage containers. It'll make it easier to find them later! For more tips, follow these tips to tidy up your kitchen pantry.
Also check out 11 Clever Ways On How To Organize Kitchen Cabinets.
Fridge Organization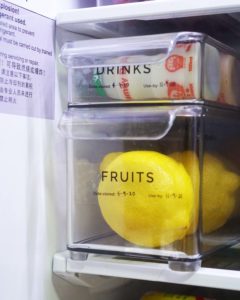 Throw out expired foods or those that have gone bad. Wipe down the shelves and trays with a microfibre cloth, warm water and dish soap. If you're worried it may take some time, you can instead follow our easy and fast fridge cleaning tips.
Corral foods into individual freezer-safe containers with pull-out handles so items don't get forgotten at the back of the fridge. For condiment bottles, display them accordingly using a lazy susan to grab them with ease.
3. Comb Through Cosmetics & Jewellery
For your makeup, ask yourself whether or not you use them often. If not, it might be best to donate new or barely used palettes. Throw out old makeup palettes — you can tell if they're expired if it smells or if the texture has changed (eg. crumbly).
Create an organization system for your makeup and jewellery to make it easier for you to get ready in the morning.
If you want a more stylish way to stow your accessories and cosmetics, make a vanity tray to combine both to display them on your dresser.
Got tarnished bracelets you don't want to let go of? Check our video tutorial below for a hack on how to make old jewellery sparkle again!
4. Clean Out Your Wardrobe
Clean out your wardrobe by cutting down on your clothes. Like your cosmetics and jewellery, review what pieces are too small or too old to wear. It is good practice to declutter your wardrobe so that it will stay neat and free of unused clothing.
After sorting through your clothing, use closet and drawer organizers to compartmentalise your wardrobe. If you have old clothes that are still in good condition, consider donating them to those who may need them.
Below are some folding methods to follow to save up closet space:
In need of more folding tutorials? Check out our Folding Hacks & Tutorials on Youtube here!
While decluttering, stay motivated and energetic through music. Click here to listen to our cleaning and organizing Spotify playlist to accompany you through your decluttering sessions.
5. Declutter Your Office Desk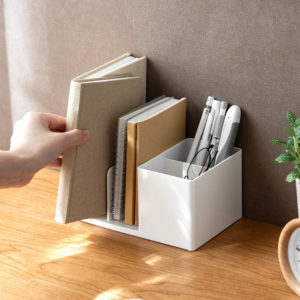 Ft. Daily Desk & Stationery Organizer (With Book Divider)
For your home office desk, you'll be focusing on organizing miscellaneous papers and stationery supplies to make working at home more efficient. Arrange your belongings by using office storage organizers to keep your office continuously neat.
While cleaning, make sure to throw out your paper clutter, like stray bills or old letters.
Tip: If possible, opt for e-receipts as it will greatly reduce paper clutter.
For more, check out these office organization ideas to boost your productivity at home.
6. Organizing Your Storeroom/Bomb Shelter
It's time to tidy up your house's main storage room: the bomb shelter, aka the storeroom! Since this area is arguably the most cluttered, make sure to pair up with another family member for extra help.
Tip: Create zones for your storeroom to organize your current belongings and for future items.
Remember, the first step to organizing is to throw out old items and declutter. Looking for a step-by-step method to organize your storeroom? Check out these tips to learn how.
7. Tidy Up Your Laundry Area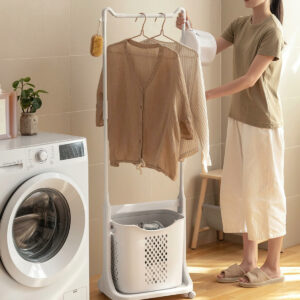 Ft. Multi Clothes Stand With Laundry Basket
Your laundry area can actually accumulate a lot more dirt and dust than you might think. One example is the washing machine.
Over time, dirt from your clothes can gather around the rubber seal and can lead to grime growing. Make sure to effectively clean it once every month with a cleaning scrub to keep it spotless.
If you feel like your current laundry area has underutilised space, check out these ways on how you could maximise your service yard.
Use multi-compartment laundry baskets to make managing dirty clothes easier.
8. Tackle The Bathroom
Ft. Pristine 180° Window & Floor Wiper
This next room in your home is a very well-used area — the bathroom! It's imperative to clean your toilet(s) once a week as the moist and damp atmosphere can quickly be a breeding ground for germs.
Make cleaning less overwhelming by writing out or following a bathroom cleaning checklist so you can track what needs to be done and what you've already scrubbed.
9. Living Room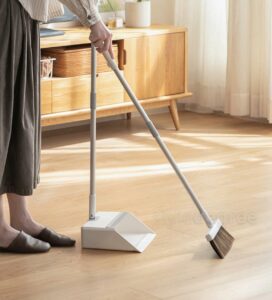 Ft. Magic Self-Cleaning Broom & Dustpan Set
Start small with something easily forgotten — your remote controls! Think of all the times you've grabbed your remote without washing your hands. Now think about all the germs that could possibly live there.
Tip: Don't forget to clean your fans and aircon as well!
Instead of just sweeping, use a lint roller to pick up hidden dust mites or small debris that you may accidentally miss. You may be surprised to know that a lint roller can pick up more than dust, and in fact has many other uses (like picking up snack debris and pet hair!).
Use a dusting spray to wipe away dusty areas, like your TV console and coffee tables. Try making your own DIY Dusting Spray instead of buying generic cleaning sprays.
10. Kids' Room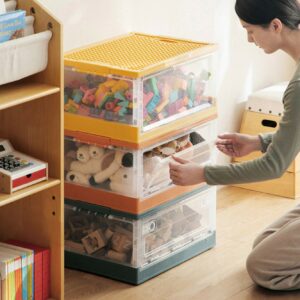 Ft. Kids Collapsible Storage Box (With Wheels)
For your kids' room, it's important to help your child go through their toy storage. Make sure to throw out any old or worn-out items that may be cluttering up their space.
Corral soft plushies, building blocks and other toys in separate storage baskets and tiered-boxes to keep them organized. Utilize vertical height to display books and hanging nets to store large items.
Give a good wipe down to any high touch areas, such as their play table.
If your kids' room is small, try following these tips to maximise kids' room space and organize belongings better.
11. Maintaining Your Home
Although your home is now spick and span, you'll soon realise that once you've organized, the challenge becomes maintaining organization itself.
Here are some takeaway tips for you to keep it up:
If you use something, put it back
Have a vision of what you want your home to look like, and how you can achieve it
Don't accumulate clutter, and always leave space in storage bins for future items
Relook common 'clutter spots' in your home every 6 months
Also check out Best Takeaways On Personalised Organizing From Netflix's "Sparking Joy with Marie Kondo"
---
Congratulations, you've cleaned 10 major areas in your home! Be proud of all the decluttering, sorting and organizing you've done. Reward yourself with something as a gift for your efforts.